Last month, Sopheakmonkol Sok was one of three Cambodians to make Forbes Asia's 30 under 30 list – a selection of the region's best and brightest young leaders across ten different sectors who are "disrupting and changing the faces of their industries"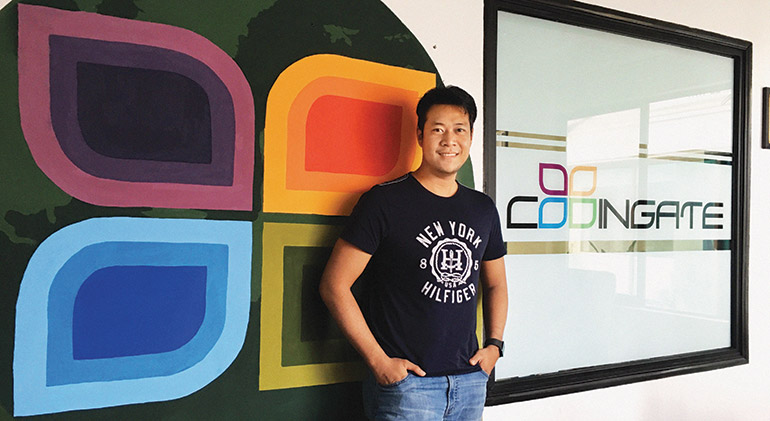 Last month, we sat down with 27-year-old Sok, after he won a spot on Forbes Asia's 30 under 30 enterprise technology list, to find out about his app and web-developing business Codingate and how Cambodian startups can attract investment.
How did you come to work in tech?
Well I've always been a gaming geek, a game lover, so that's why I studied IT. I graduated from university with a general information technology degree in Siem Reap, but was lucky to win a scholarship in 2009 to study information management in the Czech Republic. I feel like this was a game changer for me, as this broader course allows you to then have skills and experience as a business analyst. A few universities in Cambodia offer these courses now, but they didn't back then.
What are some of the challenges startups face in attracting talent?
We were quite lucky to get quite a few big projects roll in. It meant that we all worked incredibly hard, and I had to jump in to help with steering the technical stuff. I knew I couldn't do this and lead the business for long; I would burn out. So I began recruiting for a project manager. I had a friend who I knew would be perfect, but it took a lot of time to convince him. I had to prove our company structure, our visions, our clear human resources management and policies, benefits, security. If a startup can prove those things it's much easier to recruit the best people.
How can startups attract investment?
More and more Cambodian startups are now getting noticed and funded – just look at Khmerload – it's not just big internationals that are noticing our potential but also local corporate giants such as Smart Axiata, which just launched a $5m investment fund. What startups need to do is due diligence. The gift of Cambodia is that we are young and have so many ideas, but no matter how cool your idea or product is, if the information isn't clear for investors you won't get funding.
This article was published in the May edition of Southeast Asia Globe magazine. For full access, subscribe here.