Uninvited serpentine visitors have always been bothersome in Bangkok, but after the floods of 2011, an unprecedented number of snakes began popping up all over the capital. At that time, Bangkok's resident snake hunter, Sompop Sridaranop, was receiving up to 30 calls a day to help capture Burmese pythons, cobras and other slithering specimens.
A messenger for the government's marine department by day, Sompop has been moonlighting as a snake hunter ever since he signed up as a civilian volunteer for the police department more than 30 years ago. After responding to a call about a snake in a tree, he successfully bagged the large python and has never looked back. Over time word got around about Sompop's skill and bravery in handling snakes, and zoos and government agencies soon began passing his phone number along to snake spotters.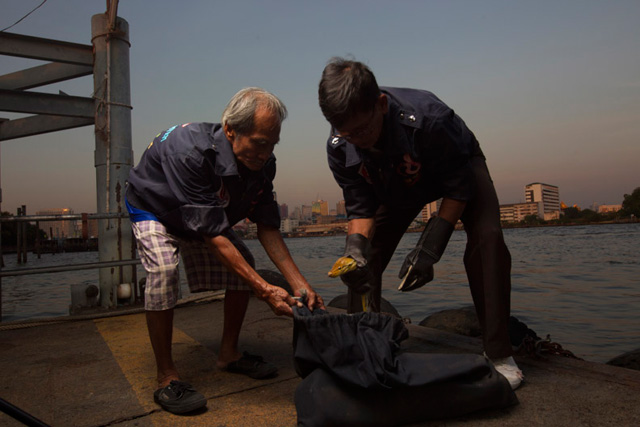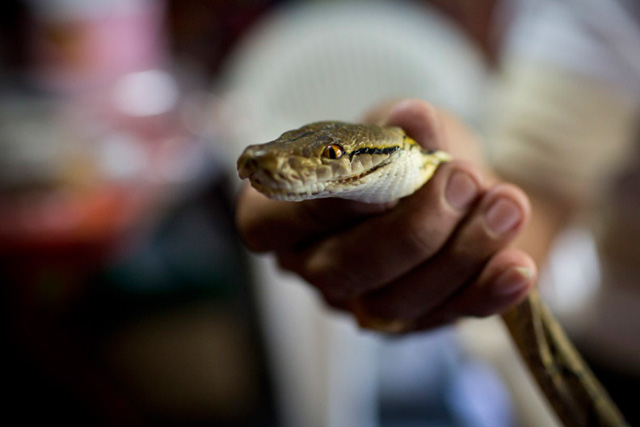 The 62-year-old is now a self-taught herpetologist, privy to the different kinds of serpents, their breeding habits and how to handle them. It has been a long process, as evidenced by the hundreds of snake-bite scars on his hands and arms.
Sompop has a dedicated mobile phone just for snake calls, which has "Jingle Bells" as its ringtone – he says it's the only tune loud enough to be heard above the roar of his motorbike. With handcrafted, homemade snake-catching tools, a uniform bearing the moniker "Snake Hunter" and a posse of neighbourhood volunteers who often accompany him on calls, Sompop and his crew bring to mind a Thai version of Ghostbusters.
The Snake Hunter estimates that he catches about 500 snakes a year, and he keeps all of them in containers on the first floor of his modest lodgings until he can rehome them. Sompop passes the cobras on to the Red Cross Snake Farm, where they're used to produce anti-venom, while he gives the pythons to friends to be released back into the wild.