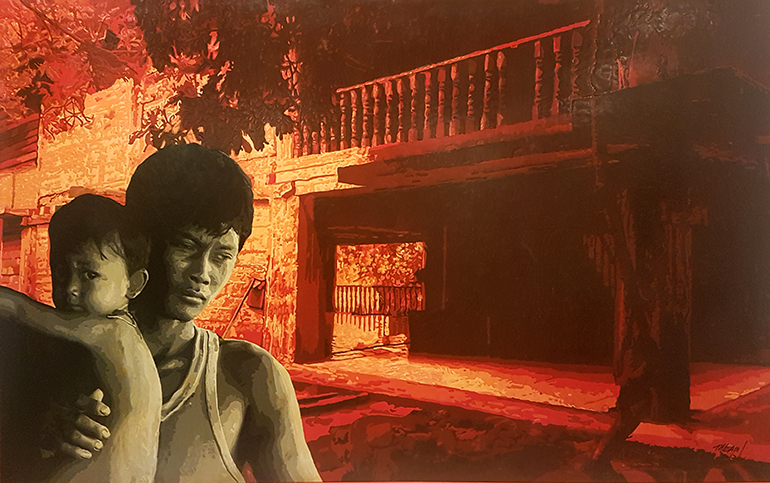 Sofitel Phnom Penh Phokeethra has launched a new exhibition by Cambodian artist Lim Muy Theam. The collection, entitled 'Songes' will be on show for three months, with visitors and locals of the capital welcome to experience this unique collection of lacquer artworks.
Born in Takeo province, southern Cambodia, Theam Muy LIM was a nine-year-old boy when the Khmer Rouge regime fell in 1978. Forced to flee Cambodia, his family arrived in France as refugees in 1980. Theam immersed himself in the French artistic education system and shortly after graduating from the excellent Fine Art School and the Ecole Boule in Paris, Theam returned to his native Cambodia to reunite with those he had left behind.
Songes (translated as dreams), is the inspiration behind this exhibition, which is inspired by the religious murals of Cambodia's pagodas along with the technique of polychrome and lacquer-ware. Theam's creative process includes polychrome images with successive layers of paint, enhanced by scratched effects. The composition of fine layers of strong acrylic colors creates a rich thickness which is then softened by meticulous sandpapering.
"I'm delighted to collaborate with Madeleine de Langalerie and Charles-Henri Chevet as they love art and respect the artistic work of each artist. To have the incredible support of wonderful people like Madeleine and Charles-Henri continuously helps to inspire and motivate me artistically," Theam says.
"Being truly understood, both as an Artist and as an individual is extremely important to me, and it is my honour to have the opportunity to exhibit my work in this dedicated art space"
Local art organisation 'Recreation' assisted to curate the exhibition, with extensive history in Cambodia assisting in promoting local artists to the international stage. It is a natural partnership for the Hotel, which is a strong supporter of the arts in the Kingdom and has just opened its brand new gallery which will feature various Cambodian artists throughout the year.
Charles-Henri Chevet, General Manager of Sofitel Phnom Penh Phokeethra described the exhibition as "a beautiful opportunity to quietly contemplate the stories behind each piece and enter into the mind of Theam".
The exhibition will be open from February to April with free admission for all.