An avid tea drinker in search of a new flavour has created alcohol-inspired brews acceptable for a Friday night with friends or a Monday in the office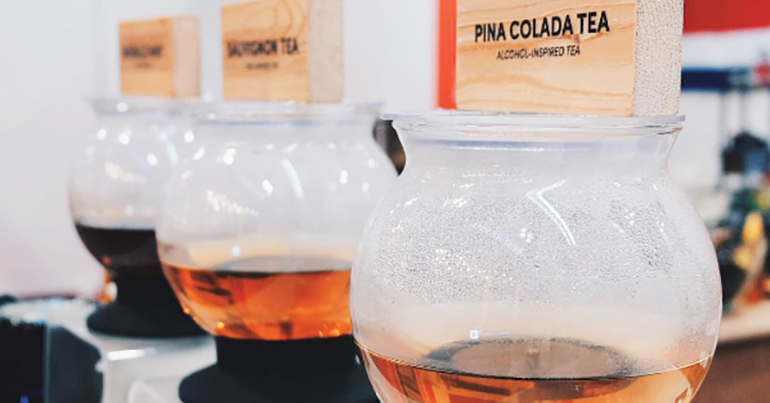 Piña coladas are often thought best kept to the weekend, but Angela Phua disagrees – at least when it comes to her company A.muse Projects' version, which, she says, is "for anyone, anytime of day".
Phua isn't talking about getting lit during the day. Piña Colada is the most popular flavour in her Singapore-based company's signature line of alcohol-inspired teas, including Merlot- and Scotch-flavoured tea to sweet, fruity blends like Sangria Punch.
"In Singapore, we have a lot of tea drinkers, but the kinds of teas that we are exposed to traditionally are Earl Grey, breakfast tea and chamomile, and it just really stopped there," she says, reflecting on the genesis of her company. "We didn't have very much beyond that and I realised that Earl Grey and breakfast tea are blends… But if you can create blends like that, traditional blends like that, what's stopping you from doing more?"
It was about five years ago when Phua decided she wanted to concoct a fresh flavour of tea, but one that was familiar to everyone: "We just needed to find something close to heart, something that people knew and related to in a heartbeat."
She landed on alcohol – but without the alcohol. The Inspired Tea line started with six blends of wine-focused teas, followed closely by four mixed-drink flavours and two coffee flavours. The most recent addition was an orange mulled-wine tea for the holiday season.
Phua says selling the beverage concept doesn't take much and "usually catches on very quickly". That's in part because A.muse Projects is part of a burgeoning scene in Singapore, she says. "I think I was one of the first movers for the artisanal tea scene, and today, you can definitely count at least 20 tea brands, small tea brands, that have popped up."
[manual_related_posts]
There's a niche market of tea connoisseurs, she says, but it's growing, and A.muse intends to grow its list of cheeky teas alongside it. While the company sources to tearooms, high-brow coffee shops and hotels in Singapore – and selling to individual customers and Instagram fans online – it's looking to expand beyond Singapore's borders, with a keen eye on Malaysia, where there is a "natural tea market".
In the meantime, A.muse Projects is giving Singapore a whole new understanding of grabbing a nightcap.