A troupe of neon bikini-clad women and bare-chested men in Daft Punk-style helmets hold aloft a bottle of Dom Pérignon in each hand. They dance their way through a coterie of well-heeled socialites to a table in an airy VIP area just a few metres away from ZoukOut 2017's towering, lion-shaped stage. Someone has just ordered 50 bottles of the champagne for a cool SGD29,000 (USD21,834).
A purist would argue that such a scene runs counter to what a music festival should be: an autonomous zone of creativity detached from everyday reality. But like it or not, VIP experiences and brand partnerships play an important role in sustaining an industry suffering at the hands of intensifying competition.
Even ZoukOut, Asia's largest beachfront music festival, organised by Southeast Asia's most iconic dance music brand, faces significant challenges. Now in its 17th year of operations, rising performance fees and evolving customer expectations are forcing the brand that's widely credited with bringing dance music to Asia to revamp its annual festival by reducing its dependence on big headliners and expanding its range of non-musical offerings.
Inflated performance fees caused by increased competition are ZoukOut CEO Andrew Li's main bugbear. These spiralling costs are the main reason why the festival fails to turn a profit some years, he says.
"It's a part of the budget that constantly increases… something that is partly fuelled by promoters in newer Asian festival markets who are willing to pay above market rates to book particular artists," he says. "China, for example, has recently started becoming very active in the EDM [electronic dance music] festival scene and, with the size of its market, [festival organisers there] have no qualms paying two or three times [the market rate].
"Honestly, there are years [in] which the festival does make money, but there are also years [in] which it did not. Last year was a good year for us. We did very well with table-service sales at our VIP areas and saw also an increase in average spend per guest on festival grounds."
Marshmello, one of the main draws on ZoukOut's line-up in December, for example, pulled in a total of $21m in earnings in 2016 alone, which was largely thanks to a six-figure performance fee, according to Forbes.
Of course, we're still a business. So whatever we do, it still has to make business sense.
He's certainly made to feel like a superstar while performing at the festival. After rounding off a high-octane set with his downbeat ballad "Silence" – a choice that the crowd respond to by singing along to every word – the sky burns bright with gold, green and purple in a ten-minute firework display, one of three seen across the two-day event. Along with the integration of dry ice and fire cannons into the monstrous main stage, the festival's pyrotechnics alone took six months of planning.
ZoukOut's transition towards a more holistic artistic endeavour has also opened up more avenues for sponsors to influence the customer experience, with DBS Bank and Martell cognac both establishing a noticeable presence at this year's event. While DBS afforded its credit card holders exclusive access to a VIP bar in the main arena, Martell drew crowds with a game that invited festivalgoers to grab falling fruit on a six-metre, motion-tracking LED screen that featured animated robots mimicking their movements.
"We wanted to drive home the message that Martell is versatile when it comes to mixers and that it is a fun brand that deviates from alcohol brand stereotypes… and we thought that technology was the [best] way to engage consumers without them feeling bored during the lull periods," says Linda Song, assistant community manager at Martell.
Such unapologetic branding exercises may draw the ire of some festivalgoers, and although ticket sales remain ZoukOut's largest source of income for now, even Freddie Fellowes, the charismatic founder of the recently shuttered Secret Garden Party – a free-spirited 'professional party' in the UK that avoided commercial partnerships throughout its 15 years of operations – said sponsor activations can actually improve the festival experience at some events.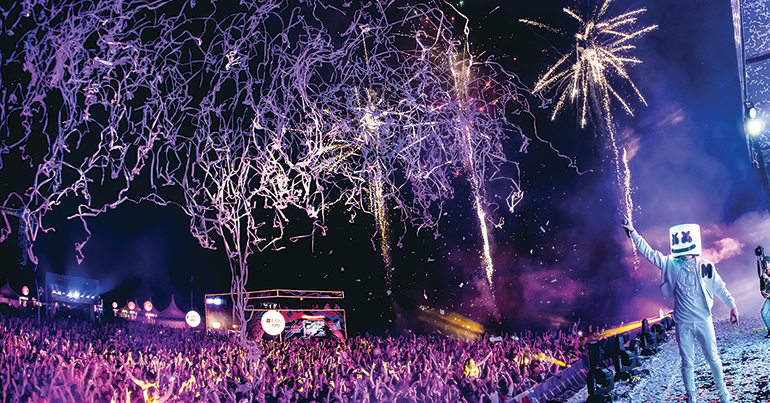 "We've certainly proven that you can compete against the market without that slice of cash… and for our event and the design of our event, we felt it wasn't appropriate," he says during a Skype call from the UK. "But I think in some artistic ventures, it's a vital relationship. It's all about sensitivity and appropriateness, which is something that I think is far more prevalent now than it was 15 years ago, with brands knowing how to approach audiences a lot better and promoters better understanding what they can ask from brands or tell brands because, at the end of the day, they're the people that know that audience the best."
It's a sentiment shared by Russell Ward, the cofounder and owner of the Confluence, a US-based media and creative agency that manages ZoukOut's public relations in Asia, North America and Australia. Over a vodka and orange, Ward emphasises the benefits of establishing strong connections between the arts and business worlds, his features lit up by the reflection of the city lights in the sea.
"It's weird, but the two can't really exist without each other… you need the authenticity and credibility of the arts to give the brands relevance and soul, and you need the sheer commercial power of the brands to give resources unto the arts," he says between the high-pitched squeals emanating from nearby bungee jumpers – another example of the festival offering a more 'holistic' experience. "Brand involvement into festivals is on the right path if it does one of two things: create more heightened experiences for guests or remedy pain points."
After the interview, we walk past the festival's smaller stage, where we're forced to chart a new course by a blissfully inebriated gym buff engaged in a seemingly never-ending battle to stay upright. Gravity eventually emerges victorious, sending the man crashing into a nearby group, who lose their drinks in the process. Wearing a large, goofy smile, the man is helped to his feet by one of the group, before the two share a hearty, alcohol-induced hug. It's 2am on ZoukOut's second night, and the festival spirit is alive and well.
Just metres away, the main stage is packed with wide-eyed twentysomethings frantically bouncing to the euphoric anthems of Dutch duo Yellow Claw. Each natural lull in the performance is followed by a 'drop' that is inevitably larger and louder than its predecessor, a progression of overstimulation spurred on by a frenetic lighting show that is met with the ultimate form of modern-day approval: a sea of smartphones rising into the air.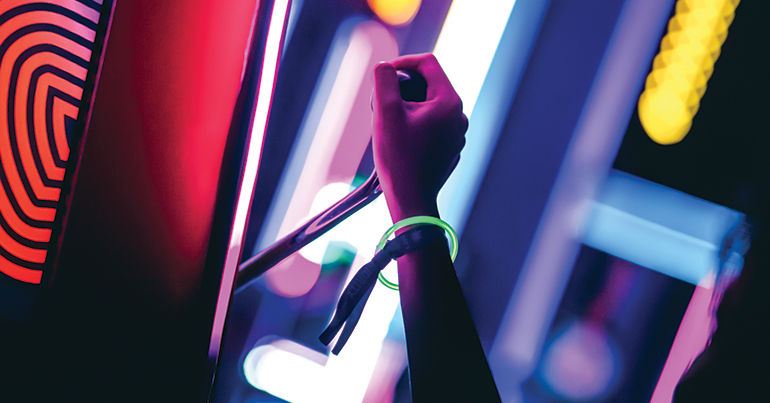 It's a symbol of the ongoing power shift from traditional to new media that has led ZoukOut to explore more effective ways to sell the festival experience to its target market.
"We spend quite a lot of money on digital ad dollars, and then we also spend quite a bit on videos, because people share videos these days," says Siqi Chung, ZoukOut's director of legal and marketing communications. "And for overseas markets we find a local partner. This year, we placed a lot of emphasis on our Tencent QQ relationship in China."
That particular relationship saw the festival pay to fly seven 'social influencers' over from China to broadcast their festival experience to their respective fan bases, which range from 30,000 to three million followers, through multiple streams on Tencent's QQ Zone, the Chinese equivalent of Facebook Live.
The trips were, in fact, partially funded by the Singapore Tourism Board, explains Yock Song Law, a senior manager at the board's Guangzhou office. The move is part of a wider governmental "branding exercise to attract more Chinese tourists" to Singapore by showing them that the city-state is cool, he adds, as we watch the influencers engage in lots of orchestrated fun, like presenters on a children's TV programme.
In addition to building relationships with social influencers, ZoukOut formed a partnership with the popular Southeast Asian ride-hailing app Grab that offered users of the app who had accumulated 3,000 loyalty points SGD50 (USD38) off a ticket to the festival, which started at SGD228 (USD173) for a standard advance two-day pass.
Brands need to create heightened experiences for guests or remedy pain points
"That worked quite well for us," Chung says. "The main thing is that a partnership must drive a win-win outcome. If not, there's no point in doing it. If you do something and your partner's not happy, you don't want that because you want a long-term relationship."
A few feet away, a group of cackling girls queue up to take a group photo in front of a large, neon ZoukOut sign. Such "Instagrammable moments" help the festival remain relevant among its key 18- to 23-year-old demographic, Chung says.
"The next step is more art installations… we feel it's what people talk about," she says. "But, of course, we're still a business. So whatever we do, it still has to make business sense."
Perhaps more than anything, the art installations and sponsor activations shine a light on the company's willingness to change with the times, a process of reinvention undoubtedly intensified by the Malaysian conglomerate Genting Group's purchase of the Zouk brand for an undisclosed fee in 2015.
Zouk has long been synonymous with dance music events for the discerning clubber, but the recent takeover appears to be softening that reputation.
While ZoukOut has never been a stranger to booking mainstream acts, the festival had always made a point of giving equal billing to less-commercial artists such as Nina Kraviz, Richie Hawtin, Loco Dice and Seth Troxler. In recent years, after the Genting Group took over in 2015, ZoukOut's underground fare has been gradually reduced – at tonight's event there is just a handful of such acts playing the festival's considerably smaller second stage while most festivalgoers were attending the main stage with its exaggerated EDM makeover.
The changes have been accompanied by a decline in attendance figures, from a peak of 45,000 in 2014 to 40,000 in 2017, though the festival also experienced an increase in average spend per guest in 2016, according to Li.
He adds that the festival's recent lifestyle-based changes are indicative of Genting's push to make Zouk "more than just a nightclub". The aim is for it to become an entertainment and lifestyle brand that encompasses hotels, bars, restaurants and clubs.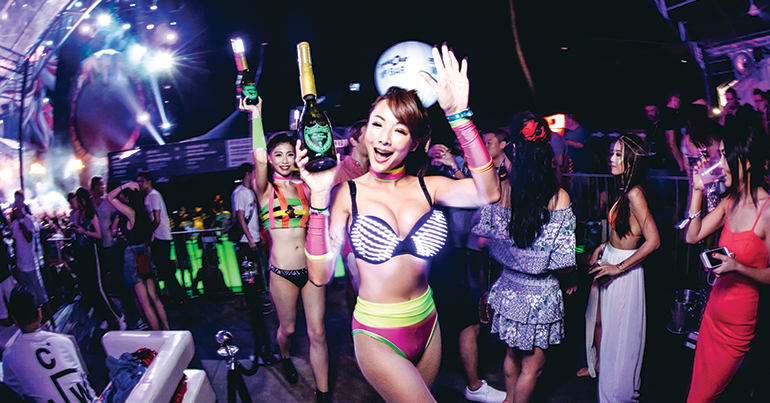 That evolution is already in full swing, with Zouk having recently established a club presence on the Genting Dream and World Dream, two luxury cruise liners that serve the Hong Kong and China markets. The brand will also open a club in 2018 in Resorts World Genting, a self-contained resort in the highlands 45 minutes away from Kuala Lumpur comprising high-street fashion outlets, extensive dining options and an array of premium accommodation.
The hope is that the ongoing transformation will see Zouk grow far beyond its current Asian strongholds, an ambitious expansion that the team says will start with the opening of a new Zouk club on the world-renowned Las Vegas strip within the next few years.
"It's very exciting to see where the brand grows. They're in a position to make big moves. They have resources, a dominant market share here in Southeast Asia and growing global awareness," says Ward. "And they've got a plan."