With a hotel recognised as among the world's best by TripAdvisor, the managers of Cambodia's Shinta Mani believe the key to success lies in employee contentment
Nestled in the heart of the Cambodian town of Siem Reap, Shinta Mani has made quite a name for itself.
Reading through the reviews on TripAdvisor, Agoda and bookings.com, it takes an awfully long time before you find a negative comment about its hotels. Earlier this year, the Shinta Mani Club was named the third-best hotel in the world and the second-top in Asia in TripAdvisor's 2015 Travellers' Choice awards.
According to the Shinta Mani managers, all of this success comes down to one thing: happy workers. Focus Asean caught up with Christian De Boer, general manager, and Kan Rinna, executive assistant manager, to find out what they mean.
Can you explain a little about your professional backgrounds?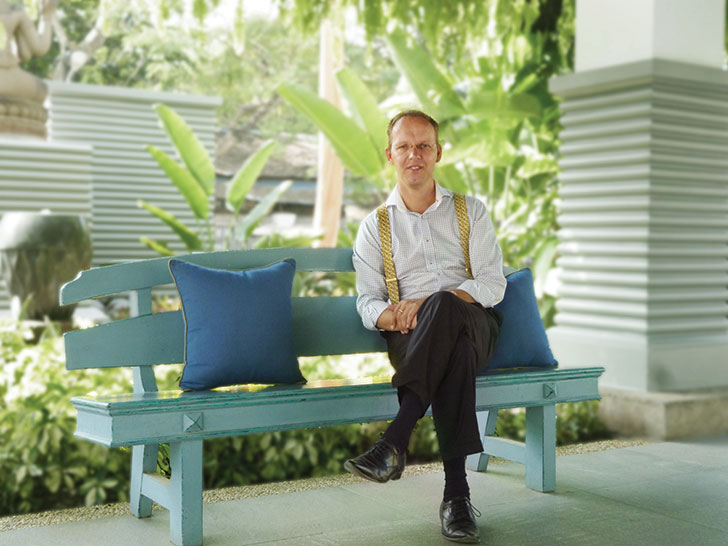 DB: I arrived in Cambodia eight years [ago], initially as director of sales and marketing for [the now closed] Hotel de la Paix here in Siem Reap. I fell in love with the philosophy of the hotel, the way we were able to run the hotel, the differences we were able to make, and the honest and sincere result-orientated changes of the lives of different people. That is where it all started. We gave away thousands of bicycles, built schools, and many other projects. We've always operated in that way. And both Rinna and myself – he also worked Hotel de la Paix – we're continuing that philosophy here at Shinta Mani.
We made the decision to operate for a full-time staff – no seasonal staff. We are trying to secure what is probably the best health care system in Cambodia for our staff. Last year, we took our top 11 staff on an orientation trip to Bangkok, and last year we did 38 English classes per week. This year we're providing training on saving accounts and marriage counselling. It's the welfare of our staff that we have in mind for most of our decisions, and happy staff means happy guests. So we go a lot further than a lot of other hotels in ensuring our staff are happy and therefore can work to the best of their capabilities, with as few worries as possible.
KR: I started in the hotel industry in 1997. In other hotels, and together with Christen at Hotel de la Paix, we did doing a lot community work. For me, what matters is making best working environment, for me myself and for all the Cambodian staff. I believe what matters the most is peace at home: if you are happy at home, you are happy at work. The training we are doing here at Shinta Mani, such as the marriage counselling and advice for saving money, goes some way to ensuring a happy home life.
DB: It's about the philosophy that filters through everything we do, including when it's commercially effective, but also, importantly, when it's not commercially effective. So during the low season we keep all of our staff. Cambodia is not the country where you can say, 'go home and find another job for a few months'. You have to take that responsibility, and the philosophy has to be in every part of your things, and not just when it suits.
Are there any statistics that show this viewpoint is effective?
DB: Any statistical figures are quite difficult in Cambodia. But we do have a very low turnover [of staff]. We are doing very well financially – it is now low season and we have many guests. And according to TripAdvisor, we are [the] number one or two hotel [in Asia], so clearly something is working.
Is it all down to the philosophy? I personally believe it is. Is it proven? No, it's not. We can only base it on ourselves. All I know is that if I'm happy in myself, I can give a much better service. We can only presume that is the same for everyone. I believe the role of general manager and assistant manager is to ensure the welfare of our staff now and in the future. And you have to think long-term. You cannot think short-term dollars and numbers.
Are other companies interested in this philosophy?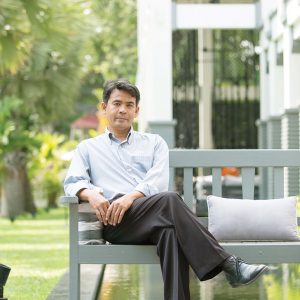 KR: We do have a lot of people interested to come and look, and a lot of people offering jobs to our staff. Maybe that has something to do with our reputation on TripAdvisor. In the high season everyone is doing well, in the low season other factors come into play, and I think it has a lot to do with our success during the low season.
How important is TripAdvisor for the hotel industry?
DB: Critical. I strongly believe that the whole industry has changed. Twenty years ago, you only had to be a good hotel for the day. A travel operator visited and the moment that he or she left, you could say, 'let's relax again for another one or two years until they come again'. So you wouldn't really have to work so hard to get the reputation.
Now, it's not the case anymore. Everything is instant, it's in your face, and unfortunately, criticisms go much faster than compliments. That means as a hotel you have to be good every single day, every single time, for every single guest. You can be fantastic for two and half days of their stay, but make one mistake in the last ten minutes and the whole experience will be negative and it will be shown on TripAdvisor.
Everyone expects a warm shower, a nice bed and food, but for places like Cambodia, which for many people is a once-in-a lifetime destination, they want an experience. This is made by warm, happy staff, by good service, and by fantastic conditions. It all comes back to the staff, happy staff, who have to be at their best every day of the year.
Are your staff members trained in tourism and graduates of universities?
KR: Not always. Education in Cambodia has improved in recent years, but a lot of our staff were not able to do get an education when they were younger. A lot of our staff got the job first and then were able to go back to university. So education wise, it's not the top. Probably about half of our staff right now are at university in their private time, so if they work in the morning, they go at night, or vice-versa.
What is your structure for promotion?
DB: We have a policy to promote from within, and we only promote on merit. It's not about length of service or anything like that. If they are good at their job, pending availability, they will be promoted. It's kind of a Western approach to promotion: are you able? Do you have the capabilities, motivation, know-how and understanding? And, if so, then promotion is possible. In principal, we do not hire from outside, unless there is nobody within who is capable.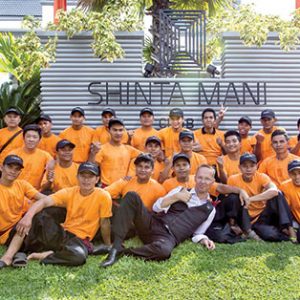 On most travel websites, including TripAdvisor, you have hardly any reviews under five stars. How else have you gone about building your brand and developing your reputation?
DB: We have done some things, such as effective branding and raising our profile, but we have only been able to do all of this thanks to our staff. Cambodians run the hotel and that's how it should be – we're in Cambodia. I'm the only non-Khmer staff, or white-Khmer as I have been described [he laughs]. It is not my country, they have to work for their future, and I honestly believe that the service Cambodians offer is far superior to mine.
We've been able to secure a rather stable guest experience by giving our staff ownership, responsibility, and motivation to develop the hotel. And you can only do that if you listen, understand, and most importantly, respect your staff.