In Aroma, one of Manila's most populous slums, overflowing sacks of trash surround a tiny hut decorated with scenes of a girl performing on stage. Framed ballet certificates line the home's plywood walls and a pair of satin pointe shoes lie on the dusty floor.The owner of these cherished objects is Jessa Balote, a 17-year-old who has undergone a radical transformation from garbage picker to dancer. Now a ballet company artist with a successful career, she spent her early childhood helping her parents rummage for scrap in a massive garbage dump near the sprawling shantytown she once called home.
"This is one of my first performances," she explains, pointing to a newspaper clipping tacked to the wall of the family house that shows her, radiant, dancing the part of Cinderella in a gossamer tutu.
At the age of ten, Balote qualified for Project Ballet Futures, a dance scholarship programme created in 2008 by Ballet Manila that provides free ballet lessons to boys and girls who cannot afford the costly tuition usually required to become a performer.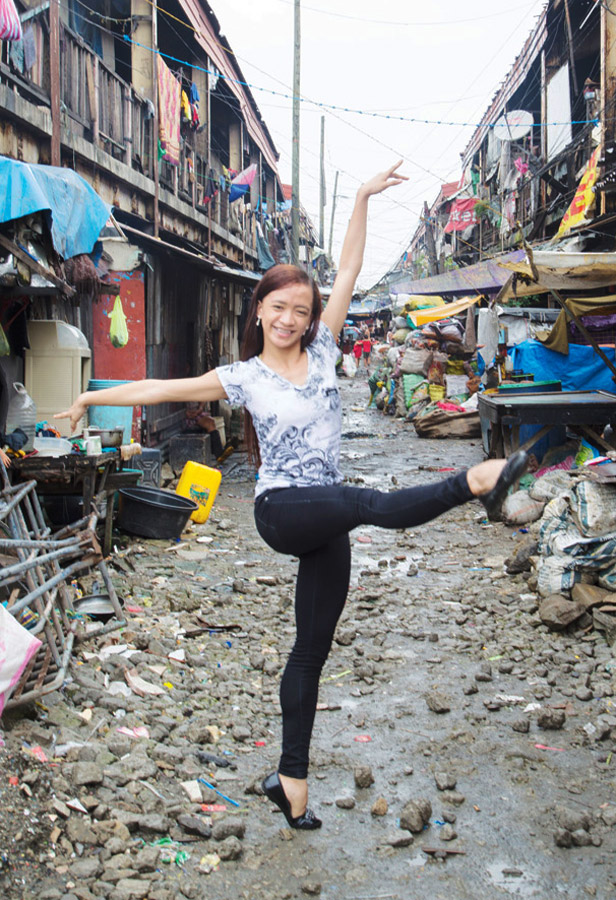 "Before, I used to dance but I had never tried ballet… I went to the audition because my older brother Jason helped me with rehearsing and pushed me to do my best," she says.
The scholarship programme initially accepted 12 students from Balote's former school. Located in Manila's Tondo dumpsite, the Philippine Christian Foundation (PCF) offers free education to impoverished students who would have had few opportunities otherwise. "I was in school when I watched Pinocchio on TV for the first time. I saw the dancers' flexibility and I thought that I would never be able to do that," says Balote while pointing her toes at the wooden floor.
In the seven years since her first audition, Balote has performed in productions including Swan Lake and Don Quixote and has travelled the world, dancing in Hong Kong's Asian Grand Prix in 2012 and performing in the UK last year. She earns more than $530 a month at Ballet Manila, far surpassing her father Giorgio's meagre salary as a part-time construction worker and garbage picker, which was never enough to sustain his wife, their six children and two grandchildren.
"I want to help my family. This is such a difficult place to grow up because this is a squat and it is not safe for them," explains Balote, who recently moved out of the area. Outside the house, which is about the size of a shipping container, roosters crow next to half-naked children who play on muddy roads crowded by communal toilets.
The work is difficult and we require our scholars to keep up with their grades in academic school
Unlike Balote, most of her child neighbours will hardly have the chance to study, let alone experience the kind of success she has enjoyed at a young age. Stories of crushed childhoods are common in Philippine cities.
There are an estimated four million slum dwellers living in abject poverty in Manila's urban ghettos, which are often cast into shadow by newly built office blocks and the high-rise apartments occupied by the wealthy. While almost 24 million people, a third of the country's total inhabitants, live below the poverty line, Forbes Philippines reports that most of the 50 richest Filipinos also live in metropolitan Manila, accumulating up to $3 trillion in wealth.
Rampant population growth, fuelled by strict Catholic beliefs and a lack of political responsibility on the issue of family planning, is adding to extreme inequality. In the district of Tondo, which includes the Aroma slum, habitation rates run at around 70,000 people per square kilometre, one of the densest on earth. This often leads to neglected childhoods and homelessness in adolescence, exposing youngsters to risks such as human trafficking and forced labour.
Although the Philippines' gross domestic product (GDP) grew at an average rate of 6% annually over the past three years, among the better results in the region, poverty is still the major impediment to progress. Aware of the limitations on resources, the government recently announced it would focus on achieving just three of the 17 Sustainable Development Goals by 2030: poverty reduction, improving universal healthcare and providing education. These are precisely the three pillars on which Lisa Macuja, the Filipino artistic director at Ballet Manila, founded her outreach venture Project Ballet Futures, which offers not only classical ballet training for street children but also nutritious meals, vitamin supplements and apparel.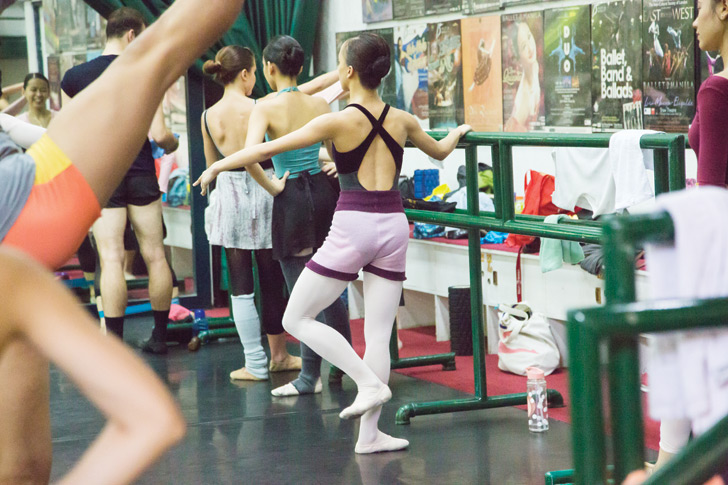 As a former beneficiary of a scholarship from the Academy of Russian Ballet in Saint Petersburg, the 51-year-old prima ballerina understands well the importance of academic support for children to achieve excellence. She graduated with honours in the 1980s and went on to become the first foreign principal ballerina for the Russian Kirov Ballet.
After returning to the Philippines, Macuja decided to promote her discipline among young students by setting up Project Ballet Futures in 2008. She had already begun teaching ballet to children for free in 1994 as a way of giving back. "The work is difficult and we require our scholars to keep up with their grades in academic school," she says.
Currently, the programme has 17 pupils ranging in age from six to 18, from five partner public schools who receive daily training along with 60 paying students. The Ballet Manila outreach project holds yearly auditions in cities across the Philippines, including Cebu, Iloilo, Davao and Baguio. Students from poor backgrounds receive a monthly stipend of $30 to $60, which is dependent on their level and on maintaining a good academic track record.
"Disciplining the body as part of the dance training also enhances the learning of the mind," says Macuja, who spotted Balote's nascent skills from the beginning. "Her talent was evident from her first audition… Her advantage over her peers was her diligence and hard work."
Ballet, says Macuja, has been a way out of poverty for her young charge, who is conscious that her family's hopes rest on her shoulders. "Jessa is motivated by the need of her family and her own ambitions. She is currently the breadwinner and hope of her family," Macuja says. "I think she feels very responsible to make the most of this kind of opportunity. She is also being supported in her ballet by her mother. The two of them are very close."
When asked if she ever thought of becoming a professional ballerina before her first audition, Balote simply laughs. "I promised to myself that I would become a teacher and that I would achieve my dream," she adds. Balote has her sights set on teaching after her dancing career and already provides ballet training to other children at her school. Above all, she has learnt to always be on her toes.