Led by one of cambodia's finest homegrown chefs, the Shinta Mani Club's cooking class provides all the excitement of the kitchen minus the hard work and sweaty brows
Photography by Sam Jam  From Discover magazine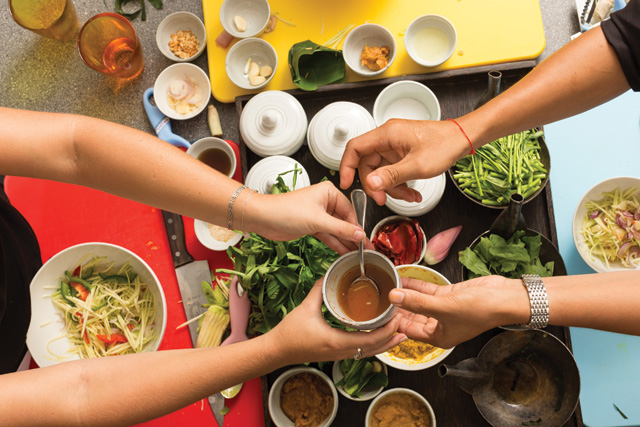 We have just been taught how to chop ingredients without cutting off our fingertips. It's a useful tip; one that involves curling one's fingers into a claw and guiding the knife using the middle phalanges. After all, nothing ruins a cooking class like coming across a chunk of thumb in your mango salad.
Van Chanrith, executive chef at Siem Reap's luxurious Shinta Mani Club, takes the hotel's cooking classes himself, and receiving guidance from one of Cambodia's finest culinary minds is a rare treat. "I think anybody can do it," he says. "We try to keep it simple so that guests of all skill levels can participate. We also provide recipes at the end, so that they can practice at home."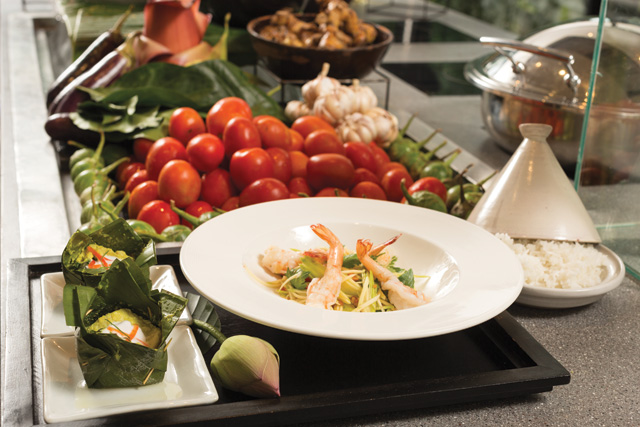 Working in a spotless, air-conditioned annex of the Shinta Mani's Kroya restaurant, the environment couldn't be more favourable for a spot of kitchen creativity. Despite being about as useful in the kitchen as a sack of mouldy cabbages, even my unwieldy paws are suddenly capable of great things under Chanrith's guidance, turning out rather palatable versions of four classic Cambodian dishes.
The green mango salad might well be the pick of the bunch, and it certainly requires all of our newly acquired chopping skills. Green mango, red and green peppers, Chinese parsley, shallots and garlic are all mercilessly put to the sword to form the basis of this time-honoured dish.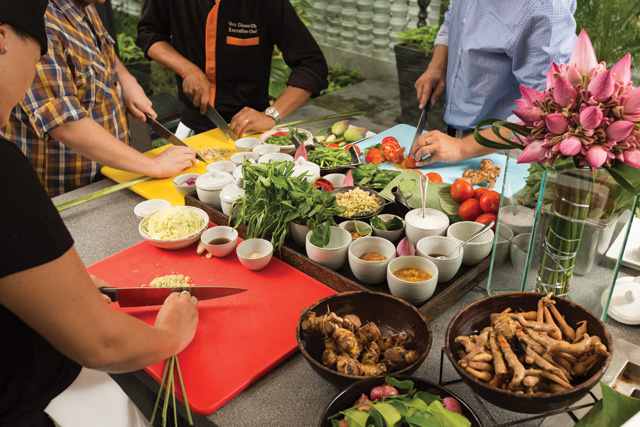 The sour kang kong soup with beef melds an outrageous number of herbs, spices and flavourings to deliver its sublime smack, but it is the fish amok that truly tests our band of perky pupils. The razor-thin slicing of the fish passes without a hitch. The pounding of lemongrass, galangal, turmeric and more is a cinch. But crafting the small banana-leaf cups proves beyond our simple minds and clunky digits. Nevertheless, we send our approximations of Cambodia's national dish off to sea in their disagreeable banana-green boats.
A little later, with the amok steamed to fluffy perfection and the sweet rice dumpling dessert thoroughly boiled, it is finally time to take our seats and devour our creations. A chorus of self-congratulatory murmurs fills the restaurant. Yet it is Chanrith who should receive the plaudits. Not only did he steer us all with a constant smile, there's also not a severed finger in sight.