Eager collectors and rabid critics ate up Art Stage Singapore, bolstering the city-state's presence on the global art radar
By Jemma Galvin
"Every year, it is a beautiful pleasure to see you all here at Art Stage," says Lorenzo Rudolf, the Converse-clad founder and director of Southeast Asia's largest art fair. His audience is a group of champagne-sipping media folk and VIPs, ready to take the sneak-peek preview tour around the fourth instalment of Art Stage Singapore.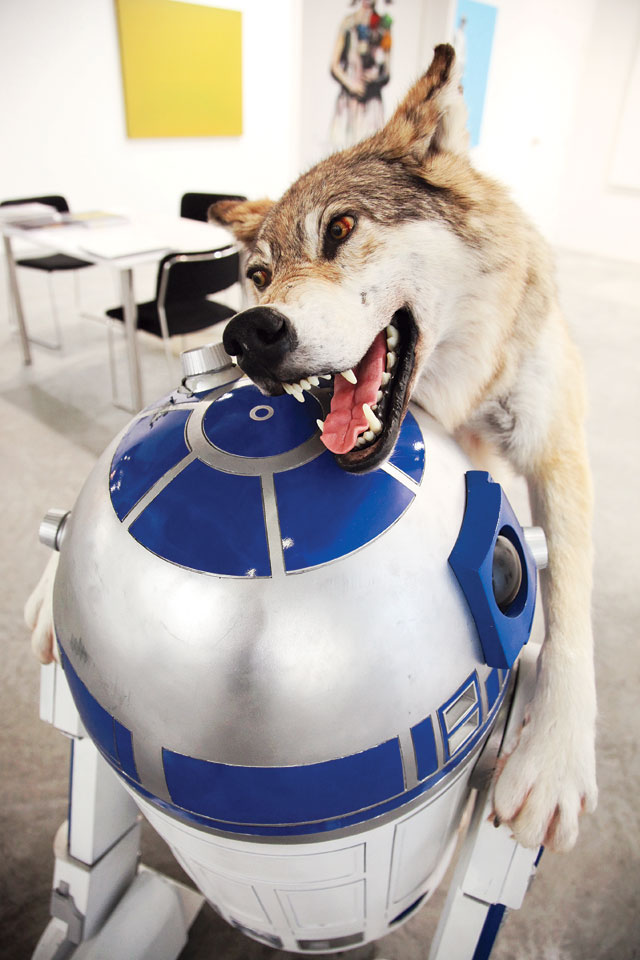 "Our motto – 'We Are Asia' – is more relevant than ever this year," the Swiss continues, as camera flashes pop and notebooks are scribbled in, and he gives a brief overview of what to expect from this year's highly anticipated show.
More than 150 galleries from across the globe (some 80% of them from the Asia-Pacific) took part in the event, which ran from January 16 to 19, and the scope of work on show – and for sale – was huge. The public and collectors alike turned out in droves, filling the chilly bowels of the Marina Bay Sands Exhibition and Convention Centre, ready to devour all of the creativity the region has to offer.
A whopping 45,700 people visited the fair this year, each and every one of them filtering through the event's first show-stopper  – a towering site-specific work titled "The Continuous Gate". The tunnel-like structure was created by Indonesian artist Joko Dwi Avianto using a technique known as calongcong – a traditional Sundanese weaving method also known as anyaman. Once through the golden-lit structure, visitors encountered a sea of crisp white walls and booths showcasing everything from Korean artist Choi Jeong Hwa's kitsch inflatable pig with wings, stuck in a perpetual state of bowing to its audience, to the incredible photorealist paintings of Israeli artist Yigal Ozeri, who sold three works for SGD50,000 (about $39,700) each just hours after the doors flew open.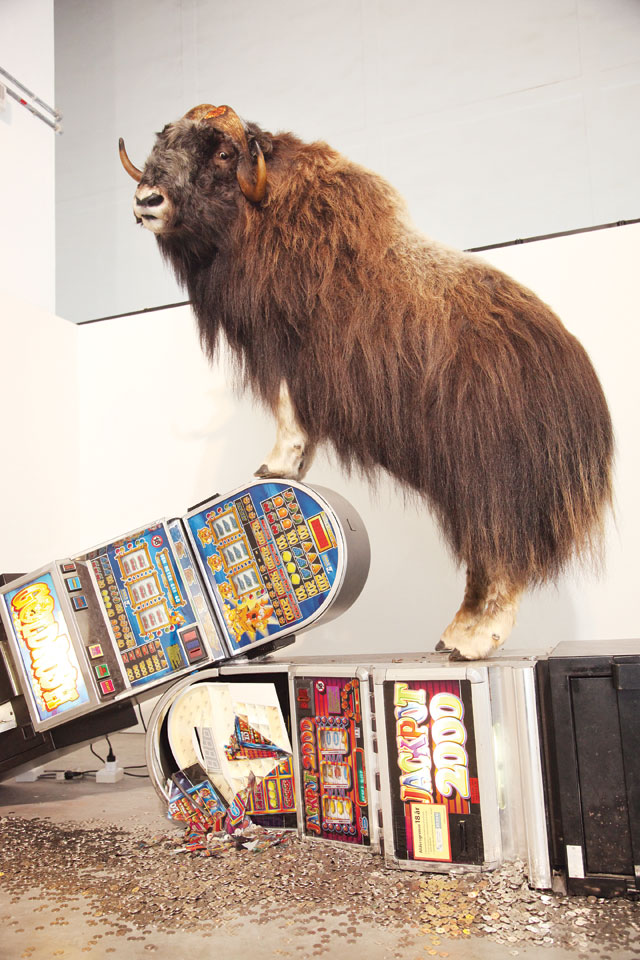 Numerous galleries reported impressive sales, with many a red dot flying about before the preview and vernissage even got warmed up. Chan Hampe Galleries, for example, sold works for a total of SGD50,000 from its solo Ruben Pang show within the first hour of the VIP preview, eventually going on to sell all nine works. Sundaram Tagore Gallery sold "Navy Blue March 13 2006" by American Donald Sultan for $402,000, while the Taipei-based Lin & Lin Gallery sold a Zao Wou-Ki painting to a Singapore collector for a hefty $1.2 million.
It was Art Stage's dedicated 'platforms', however, that seemed to capture even more attention than the cash being splashed. Curated by respected art professionals, each of the eight platforms – India, China, Taiwan, Japan, Australia, Central Asia, Korea and Southeast Asia – aimed to provide a contextual understanding of the diverse art scenes in the region.
"Asia is very segmentedand many of its countries are not in a real dialogue with each other," says Rudolf. "We need to build bridges and bring collectors, artists and galleries together."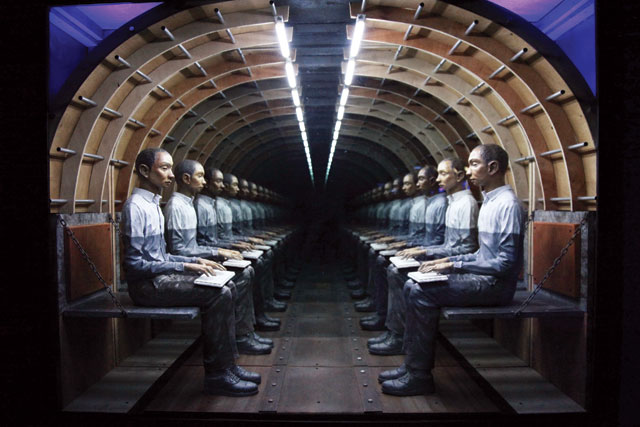 Situated at the strategic crossroads of China, India, Southeast Asia and Australia, Singapore has a unique position and opportunity to present art in a new and meaningful way. More than this, the city-state must be shown to exist within a framework bigger and more complex than itself – namely, Southeast Asia.
"It is important to show Asian art in the right context," says Rudolf, who was formerly the director of Art Basel and is the creator of Art Basel Miami. "Singapore is growing more and more toward becoming the centre for art in the region and … there is really a great momentum for Southeast Asia."
This year's dedicated Southeast Asia Platform encompassed work from seven countries across 30 projects. In the lead-up to the event, organisers said interest in emerging artists and less-established galleries was high and, according to Rudolf, the structure of the platform is ideal for ushering these artists and institutions into an international art fair when they may not have the budget required to hire a booth.
"It is important for galleries and fairs in Southeast Asia to showcase emerging artists because they are the future, and the future should be better than the past. Without the future we will be stagnant," says 74-year-old Indonesian art collector, Dr Oei Hong Djien. Rudolf is even considering appointing emerging curators to 2015's platforms.
Of the 158 galleries present at this year's fair, approximately three dozen – a number from developing countries such as Myanmar, Laos and Cambodia – had a presence only in a dedicated platform, as opposed to the pricey booths more established galleries hire.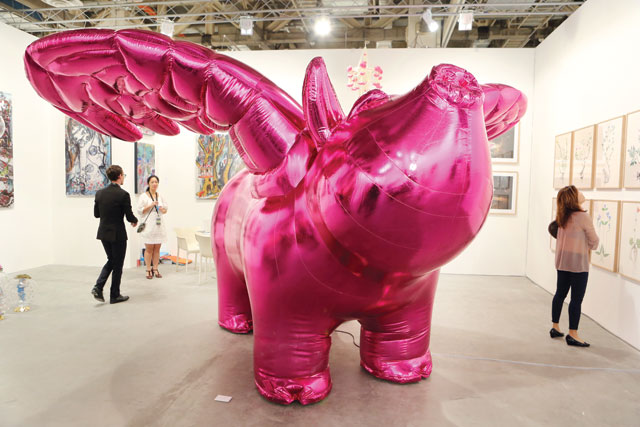 "Some young galleries are not so wealthy, so we need to find new ways to integrate, protect and support them," says Rudolf.
One such gallery was Phnom Penh's Sa Sa Bassac. It represented self-taught artist Lim Sokchanlina and his video installation "Urban Street Night Club", on sale during the fair for about $20,000. While Lim has exhibited his photographic, video and installation works in Thailand, the Philippines, Germany and Australia, his presence on a Singapore fair stage opened his work up to an audience unlike those he has encountered before.
"We have had about 100 people come through today," says Chum Chanveasna, the gallery's projects manager, on the first day of the fair. "People who work with galleries, artists; it's very international. The general public doesn't seem so interested though. They look for maybe ten minutes."
"That's OK with me," smiles Lim as he chimes in. "The work is only 16 minutes and 16 seconds long, so if they see ten minutes, they've seen most of it."
Besides the dedicated platforms, this year's Art Stage was fleshed out with an extensive schedule of side events, workshops, tours and panel discussions. One of these panel discussions was titled "Southeast Asian Shows Go Global". Taking to the mic was Rudolf, Chinese contemporary art collector Uli Sigg, Indonesian artist Entang Wiharso and Flash Art International chief editor Gea Politi, who moderated.
The discussion got off to a rocky start, with Politi seemingly uncomfortable with the subject matter. A few fumbled questions from the Milan-based editor later, with the three art heavyweights doing their best to interpret what she was getting at and answer accordingly, and Politi was under attack from an audience member who introduced herself as an art critic.
"I am quite astounded by this ill-researched panel discussion… Let us not talk about Southeast Asia as if it were a binary. I have not heard any of you speak about any other country in Southeast Asia besides Indonesia. And if you," she turns her attention to Politi, "had done just a bit of homework you would have realised there has not been a single purely Southeast Asian show in the West." And she wasn't alone in her opinion of the shemozzle.
Simon Soon, Art Stage's country advisor for Malaysia and a PhD student in modern and contemporary Southeast Asian art history at the University of Sydney, says that while fairs and collectors (and panel discussions) may have the best intentions in their quest to pursue Southeast Asian art, it can often be clouded by inapplicable Western ideologies.
"A large part of [Southeast Asian art's] popularity now is driven by this desire for large institutions in the West to map and write global art history, often in haste, without really any sustained interest in engaging with its deeper and more critical histories," he says. "These are often fleeting accounts of the region, really. In this sense, [interest in Southeast Asian art] may very well be just a fad, and has more to do with the branding on the part of the institution than any serious curatorial attempt
at addressing some of the issues that have been generated through the critical scholarship of the region over the past decades."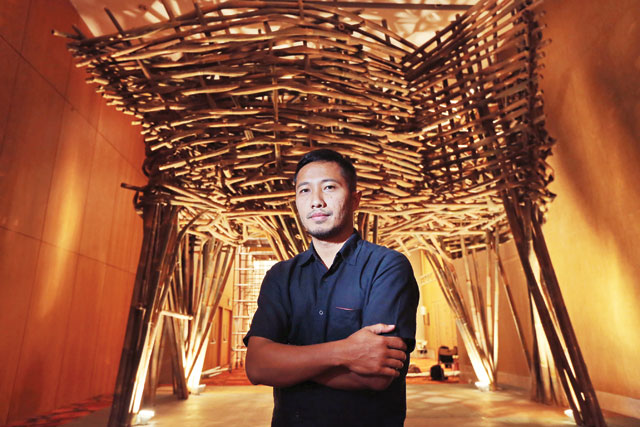 Roger Nelson, Art Stage's country advisor for Cambodia and a PhD student in contemporaneity in recent Cambodian art, says that despite blunders such as Politi's panel discussion, fairs such as Art Stage have a responsibility to nurture activities that respect content, not just cash.
"Challenging and original talks, workshops, symposia, publications and other public programs are becoming ever more vital: They allow an art fair to demonstrate that it is not only a venue for the sale of artwork, but that it is also a platform for the discussion of artwork," he says. "Curators and scholars have an increasingly important role to play in art fairs, parallel to the role played by dealers and collectors. I think for Art Stage to continue to be respected as 'the' art fair for Southeast Asia, it will need to continue to invest in and develop its discursive functions, alongside its mercantile role."
From the swarms of schoolchildren peering at Yoshitomo Nara works to Rudolf himself and the bigwig collectors in attendance at Art Stage 2014, at the conclusion of the event, one thing was clear: It's all about the art. Lito Camacho, one of said bigwig collectors, Harvard Business School MBA holder and the vice chairman for Asia-Pacific at Credit Suisse AG, gives a rousing take on the idea.
"Art is a universal language that brings peoples of different backgrounds together. It showcases the cultures and the soul of different countries and economies," he says. "It is the pulse of the world."
Keep reading:
"At the art of it" –  Lorenzo Rudolf, the founder and director of Art Stage Singapore, is helping transform the exhibition industry in Southeast Asia
"The collectors" – A new wave of VIPs is driving the market at the increasingly popular Art Stage Singapore – a mammoth showcase for the region's dynamic art market