Award-winning filmmaker Rithy Panh has dedicated his life and work to ensuring that Cambodia's struggles are never forgotten
By Daniel Besant   Photography by Lucas Veuve
As we are ushered into an upstairs office in Phnom Penh's Bophana Audiovisual Resource Centre, the comforting smell of aged books and yesterday's cigar smoke hits our nostrils. Behind a wooden desk piled high with publications, boxes and video equipment, a man crouches over a tablet computer. Pondering the news from Le Monde while sucking an unlit cigar stub is Cambodia's very own auteur, Rithy Panh.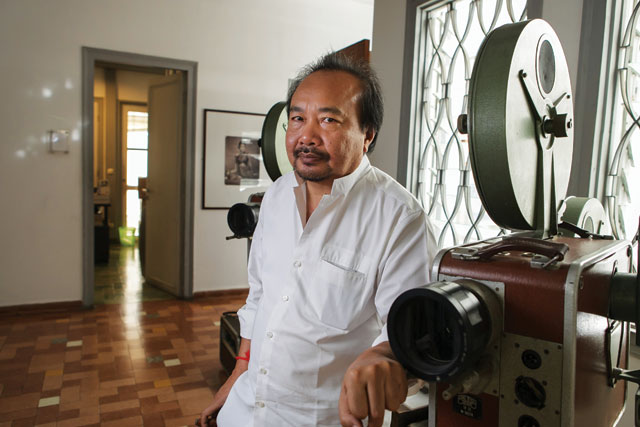 Cigar chomping is a Hollywood director stereotype, but it is hard to imagine Rithy Panh bawling instructions to recalcitrant crew members while prodding the air with a Hoyo de Monterrey Epicure No. 2. His tones are measured, quiet yet enthralling – punctuated by slow, strong hand gestures – while he recounts his experiences as a boy growing up during Cambodia's worst times.
Born in April 1964, Rithy Panh was raised in the Kingdom's capital. His father was a teacher; the first of his family to go to university. "He was a man of great integrity," says Panh, first looking at me directly, then into the half distance with a slight frown as he recalls detail. "His mentality was one of sharing knowledge and keeping the links with our family in the provinces."
All that changed in 1975 when the Khmer Rouge entered Cambodia's capital and began moving the city's population to the countryside. Forced to work for the regime in appalling conditions, one by one his mother, father, siblings and nephews all died. And along with them an estimated 1.7 million other people – about 20% of the population.
In 1979, and still in his early teens, Panh found his way to one of the many refugee camps on the border with Thailand and eventually on to Paris, where some of his surviving relatives lived. Arriving in the dark of winter in just a pair of sandals and the clothes he stood up in, filmmaking was a long way from his mind. "At that time I had no concept of what had just happened," he says. "I had no understanding of totalitarianism. I just wanted to be by myself and forget everything."
At first he studied carpentry. "Wood is beautiful. It smells good. It is silent," he says, running his hand along the grain of his desk. "But you can read it."
Pretty soon, though, a need to break the silence became apparent. "I had to explain why all these people had died," he says. "I tried painting first, then music. But it was expensive to study."
One day, an acquaintance gave him a Super 8 camera and some film. At first he made short films for the amusement of his fellow students, copying the style of master directors such as Alfred Hitchcock whose works he watched on late-night French TV. He had found his métier. "I could not speak French well, could not write well," he says. "Film was perfect. Cinema saved me."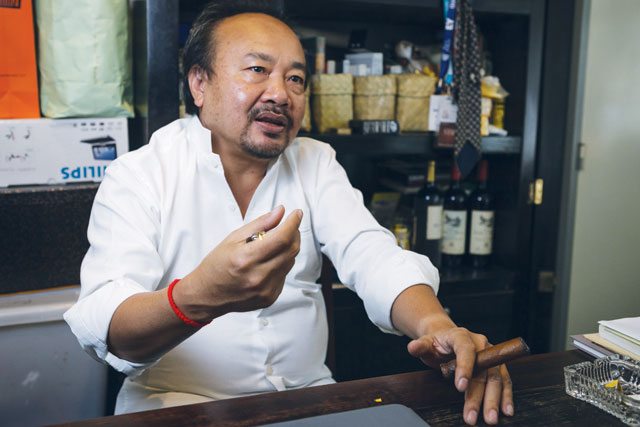 This was not Panh's first brush with film, however. Before he was sucked into the Khmer Rouge maelstrom he remembers going to see The Ten Commandments – starring Charlton Heston – and the many Khmer-language films of the time. He fondly recalls a couple who lived nearby. The husband was a policeman who decided to make films that his wife then edited – "So I had a film studio on my doorstep." – but Panh says this is not the reason he fell into filmmaking. "I am a storyteller," he says. "I make films because I want to tell a story."
In France, after a tip from a teacher, Rithy Panh won one of 22 places at the prestigious L'Institut des Hautes Études Cinématographiques (the Institute for Advanced Cinematographic Studies), the storied French film school that counts Louis Malle, Costas Gravas and Alain Resnais among its alumni.
After completing school and his first documentary feature, Rice People – about life in the Thai-Cambodian border camps – he returned to Cambodia in late 1989. "It was painful," he says. "A lot of people I'd known had disappeared. I could only find one or two cousins [and] two of the daughters of the nice filmmaker. That was it. Everyone else was dead."
At first, people were mistrustful of Panh. He was seen as an outsider because of his life in France – until they learned he too was a survivor of the horrors. "I had a very clear idea of what I wanted to do," he says. "I wanted to make films here to reveal memories. And very quickly I wrote the outline for the concept behind the Bophana Centre."
And that has been his life ever since, dividing his time between making films, many about or connected to the Khmer Rouge regime, and developing the centre. The films have won increasing critical acclaim, culminating in 2013's The Missing Picture winning the Un Certain Regard section at the Cannes Film Festival and an Academy Award nomination. The centre is more of a long-term investment in the future of Cambodian film and the preservation of memory, in particular Cambodia's audiovisual legacy. "If you do not recount memories they die," Panh says. "One-point-seven million people died, but that's just a number. One person's memory is a story and if you multiply that by 1.7 million then you have something significant."
When he began to make films about Cambodia's recent traumatic past he did have his doubts. "At the time I was alone. I was the only director who made these kinds of films," he says. "I was not sure I was doing the right thing. Making action movies can earn you a lot of money, but I am glad I have done what I have done. The dignity that you lost under the Khmer Rouge can be recovered by this act [of making films]. And there are more of us doing this now."
That Cambodia now has numerous technicians working in film and video is testament to the time and effort Panh and his colleagues have put into the Bophana Centre.
As we leave the building, two groups of young people are using professional audio and video equipment in the centre's environs, honing their skills under the tutelage of teachers not ten years older than them. "It takes one generation to get to the point where you can teach the next," Rithy Panh says. "Now the generation we have taught is teaching a new one."
***
Find this story and the complete Discover Cambodia 2015 by downloading our free app