Despite the systematic eradication of ethnic minorities by the Khmer Rouge, it is possible the crime of genocide will never be heard in the Kingdom's "genocide court"
By Bridget Di Certo
For nearly 40 years, Chau Ny has been waiting to speak to the man he believes was involved in his uncle's death at the hands of the Khmer Rouge in 1975. In November, Ny had the opportunity to address the man he felt could give him answers.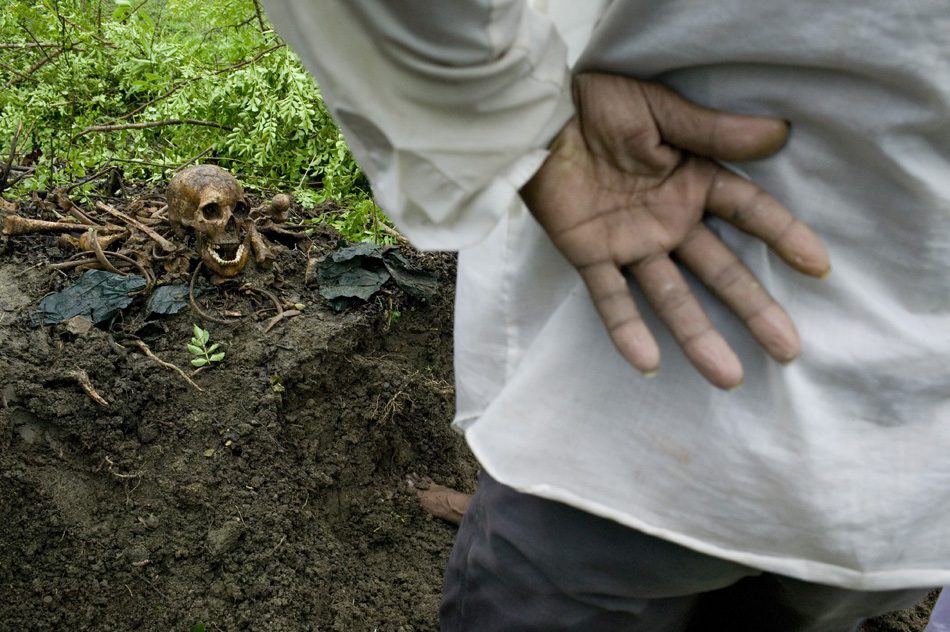 "My question to Mr Khieu Samphan is: where did he die? This is what I want to know. If I know where he died, I can find his skeletal remains so that I can carry out a religious ceremony for his soul," Ny asked the former Khmer Rouge head of state during a hearing in the case against Samphan and two other senior leaders of the regime thought to have decimated a quarter of the population during their bloody three-year reign.
Ny's participation in the landmark Case 002 at the UN-backed Extraordinary Chambers in the Courts of Cambodia was itself a momentous achievement.
As a Khmer Krom – or 'lower Khmer' – Ny faced what lawyers call a policy of persecution at the hands of the ultra-Maoist forces led by Pol Pot.
The Khmer Krom have their roots in the lower Mekong Delta area, which was ceded to Vietnam during the French protectorate. Because of this association with Vietnam, they were targeted as spies or CIA agents in the paranoid purges of the Pol Pot regime.
They were described as having "Khmer bodies but Vietnamese heads", and plucked village by village, wife from husband, child from parent – and singled out for extermination by the Khmer Rouge.
S-21, the communist regime's notorious detention and interrogation centre in Phnom Penh, singled out the Khmer Krom in its ten 'commandments'. Krom were destined for execution the minute they entered the prison. Among intermarried couples, Khmer Krom spouses were taken away to be executed, as were children who chose to stay with their Khmer Krom parent.
Despite an abundance of evidence of atrocities including mass killings and forced displacement, Khmer Krom are not recognised as victims of genocide in the criminal charges in Case 002. Genocide crimes against the Krom were not included in the original Case 002 investigations, and later appeals to have the indictment amended failed on legal technicalities.
Currently, the two groups recognised as victims of genocide are the Vietnamese and Cham Muslims.
According to the charges levied against the three ex-Khmer Rouge leaders on trial – Khieu Samphan, Nuon Chea and Ieng Sary – it was Khmer Rouge policy to kill members of the Vietnamese or Cham groups.
The principal act of genocide was the deliberate and systematic identification, targeting, gathering and killing of Vietnamese and Chams due to their membership of the two groups, according to investigation documents in Case 002.
"Genocide is one of the most extreme crimes in history," said Lyma Nguyen, a lawyer representing Vietnamese civil parties. "[Genocide] requires proof of not only the conduct that constitutes the crime, but also proof of an underlying intention to destroy a group based on its identity. That is, Vietnamese minority victims were targeted because they were Vietnamese."
Demographic reports by Khmer Rouge researchers show that by the end of the Khmer Rouge regime in 1979, there was a 100% elimination rate of Vietnamese persons from Cambodia. But even for those ethnic groups that have been recognised as victims of genocide, a legal finding on their persecution may never eventuate.
In September 2011, shortly before substantive hearings in Case 002 began, the Trial Chamber ordered the case be split into a series of separate "mini" trials. The first of these trials has been underway for a year and examines concerns over the evacuation of major urban areas and cities when the Khmer Rouge first seized power over the country.
Along with forced labour, execution and detention sites, genocide will not be dealt with until a future, as yet unspecified, trial. However, the likelihood of any such genocide trial occurring is slim at best.
Of the four original suspects in Case 002, Ieng Thirith, former minister for social action, has already been removed from the proceedings after judges ruled that she was unfit to stand trial due to dementia, most likely Alzheimer's Disease.
The 80-year-old was released from detention at the ECCC in September and now resides with her family in Phnom Penh and in the former Khmer Rouge stronghold Pailin.
Her husband, Ieng Sary, former minister for foreign affairs, has been plagued by health problems stemming from a poor heart condition and has been hospitalised repeatedly throughout the year, most recently for a period of two months.
Despite judges at the ECCC in November finding the 87-year-old former diplomat is fit to stand trial, he rarely sits in court for more than one or two hours out of a full-day hearing, before having to retire to a custom-built holding cell.
The regime's chief ideologue, Nuon Chea, known notoriously as Brother Number 2, rarely makes it past lunchtime sitting in the courtroom due to his back pain and fatigue.
While both are currently still considered "fit to stand trial" – meaning they have the mental and physical capacity to participate in their own defence – the court can revisit its assessment at any time in the future.
The advanced age and deteriorating health of the accused in a country where the average life expectancy at birth is 63 years has raised serious doubts about the reality of any future "mini" trials in Case 002.
International co-prosecutor for the court, Andrew Cayley, has publicly stated his belief that the first trial will be the only one.
The 3,866 civil parties who are admitted to Case 002 are represented as a group by two lead co-lawyers. French co-lawyer Elisabeth Simonneau Fort said she has received no information about the scheduling of future trials in Case 002.
"It is likely there will not be more than case 002/1," Simonneau Forte said. "So, it will be difficult to speak about genocide."
"I assume that for a part of civil parties, it is difficult to admit that genocide will not be examined at all," she said.
Forte said, at best, lawyers for civil parties could try to make the victims feel as confident as possible in the proceedings and hope they can find some answers even if not all the facts and crimes of the Khmer Rouge regime are examined by the court.
"If we can hear some of [the charges], for example, it is good," she said. "Of course we would prefer to be sure that each charge will be examined but it seems rather unrealistic."
A survivor's tale
Chau Ny was born in Phnom Pear village in what is today An Giang province in Vietnam, a member of the ethnic Khmer minority known as Khmer Krom living in southern Vietnam. The 59-year-old now resides in Takeo province with his wife and three children in one of several large Khmer Krom communities in Takeo and Pursat provinces.
In 1970, Ny travelled from the ethnic Khmer region around the Mekong Delta to Phnom Penh to search for work in the US-backed government's army. He had heard the pay was generous and was eager to secure a salary to support his family who were still living in the Kampuchea Krom territory.
When Ny arrived in Phnom Penh he stayed with his elder brother, a national bank officer, and his brother's wife and three children. His brother dissuaded Ny from joining the Lon Nol army and he resided with his family in their house near Olympic Market until April 1975, when Khmer Rouge forces seized Phnom Penh.
"Two or three days after, a group of Khmer Rouge soldiers made an announcement asking people to leave Phnom Penh. At the time, I heard gunfire. I also heard the screaming of people looking for their relatives and friends in their preparation to leave Phnom Penh," Ny, a civil party in Case 002, testified recently at the ECCC.
Luck, Ny told the court, was on his side for he was fortunate to discover early on that he would have to hide his Kampuchea Krom origins or face certain death. Ny changed his distinctly Krom family name "Chau" to "Lun" and tried to speak as little and carefully as possible so as not to give himself away through his unique dialect.
While Ny, his brother and his brother's family escaped persecution by hiding their ethnicity, the inhumane conditions under Khmer Rouge rule consumed all members of the family except Ny's sister-in-law. His three nephews succumbed to chronic diarrhoea, and his brother starved to death.
"Before he died, he only begged for a small piece of palm sugar […] my elder sister-in-law tried to find the sugar but when she arrived, her husband had already passed away," Ny testified.