Eight opposition politicians in Thailand are facing sedition charges, the latest government crackdown on dissenting voices as a vote on a new Thai constitution draws near 
As a referendum on Thailand's draft constitution approaches on 7 August, eight politicians loyal to former Thai prime minister Yingluck Shinawatra are facing sedition charges for spreading "false information" about the constitution in letters distributed to supporters.
Deputy prime minister Prawit Wongsuwan said on Thursday that the group would be detained for at least another week and would be tried before a military court.
"These arrests, and hauling the suspects into military detention, absolutely contravenes Thailand's international human rights obligations," Brad Adams, executive director of Human Rights Watch's Asia Division, told Al Jazeera. "The charge of sedition is being used like a hammer to pound anyone that says things the military junta doesn't like."
The new constitution has been touted as a solution to a decade of political upheaval that reached a new chapter in 2014 when Thailand's military overthrew the elected government of Yingluck Shinawatra. If passed, the constitution will become Thailand's twentieth since the absolute monarchy was abolished in 1932.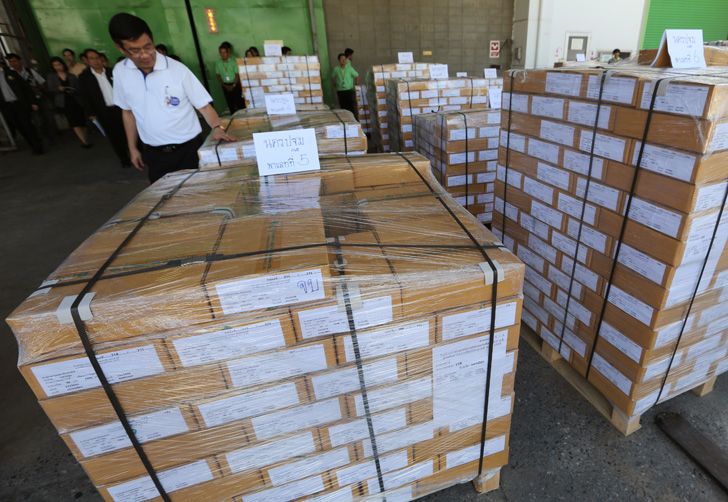 "We see it as a return to a period where you don't have people confronting each other on the streets," Constitution Drafting Committee spokesman Norachit Sinhaseni said in March.
"That is what the majority of Thais want."
Under the constitution, a junta-appointed senate would regulate the powers of lawmakers for five years following elections.  There would also be a proportional voting system that would likely make it difficult for an elected government to hold a majority in the country's National Assembly.
Thailand-based academic Paul Chambers told AFP in March that the document would extend military rule and let a junta-controlled senate oversee a "frail democracy".
"It is a charter which expands military and judicial power at the expense of democracy," he said.
Last week, the Thai government authorised Thailand's National Broadcasting and Telecommunications Commission (NBTC) to shut down TV and radio stations found guilty of broadcasting programs critical of the government.
Peace TV – a station that reportedly campaigned against the draft constitution – was ordered last week by the NBTC to cease operations for 30 days.
Earlier this month, a journalist with news outlet Prachatai and several members of the New Democracy Movement were arrested after police searched their car in Thailand's Ratchaburi province. Police captain Poom Klaklaew said that police had found booklets deemed to be in violation of a law banning criticism of the junta's draft constitution. The detainees were later released on bail.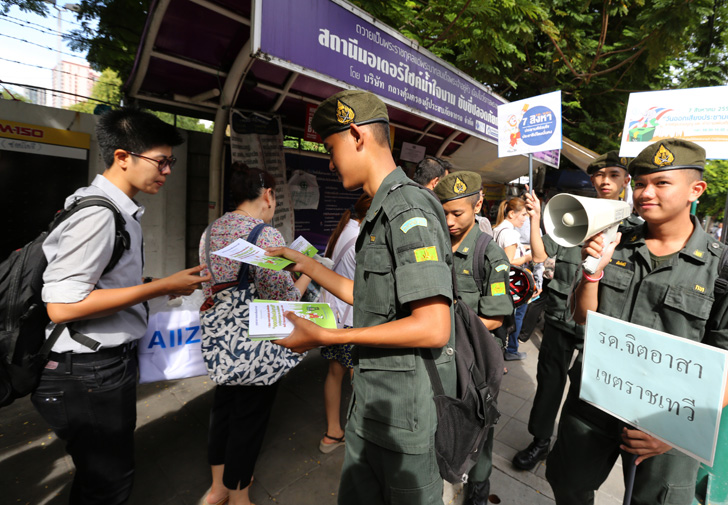 Tim Johnston, Asia Program Director at International Crisis Group, said there was "irony" in the Thai government's stifling of criticism. "They're very afraid of democracy. They're afraid of the fact that it's hard to control the debate once it's allowed to start," he said. Johnston added that it was "impossible to have a proper referendum, with people making informed decisions, without such a debate".
Speaking at Bangkok's Government House last week, Prime Minister Prayuth Chan-ocha told reporters that if the current draft constitution were not approved, a new one would take its place.
When asked if the public would be involved in the drafting of a new constitution, Chan-ocha gave a firm answer: "Don't force me to do this or that. I know what should be done. [Critics] seem to force me into everything – election and so on. In conclusion, they just want to gain power, but they won't correct anything."
Pavin Chachavalpongpun, a professor at Kyoto University's Center for Southeast Asian Studies who had his passport revoked in 2014 as part of a government crackdown on dissenters, said the situation in Thailand was currently "very tense". "We can see that the military government is getting anxious and nervous about the outcomes which could be negative for themselves," he said.
"If approved, the constitution will serve as an instrument for the junta to hold onto power," added Chachavalpongpun, "thus the referendum is crucial."