A swarm of unmanned aerial vehicles (UAV), or drones, are currently being built and tested by private Singaporean firms with plans for commercial use. While testing will likely take several months, the eventual rollout could see Singapore transformed as drones become not only recreational amusements but a part of daily life.
One of those companies, H3 Zoom, is testing drones in building inspections. The small machines buzz around building facades capturing photos of potential damage and completing inspections of the city's high-rises in a fraction of the time any human could.
"Today's existing building inspection process is extremely slow, expensive, tedious and prone to accidents, fatigue and human error," Shawn Koo, chief technical officer of H3 Zoom, told AFP. He said H3 Zoom expects to fully launch its drone inspection programme early next year.
Other companies, like local firm ST Aerospace, are testing drones as robotic guards. When the company detects a security breach, it deploys a drone to chase and transmit live images of the intruder to assist security officers in their arrest.
Exciting as the prospect of commercial use of high-powered drones may be, legislation and regulations must be created to keep up with the technology.
Commercial drones can fly farther and have greater capabilities than recreational drones, meaning that flight paths, private communication channels and landing sites must be established before they launch.
"The main challenge is to address the risks to people on the ground and the risks to airplanes flying in the air and the risks of colliding with a building," Teong Soo Soon, program director of the UAV business unit at ST Aerospace, told AFP.
While Teong looks forward to his company's launch of security surveillance drones within the year, he admitted that it would likely be three to four years before drones would be able to fly safely across all of Singapore to deliver parcels and the like.
Local reaction
As drone use grows in the country, commercial activity may find pushback. Recreational drones have been banned from several apartment complexes, and people call police when drones drift too close to private property – indicating that locals may not be as thrilled by the prospect of commercial drone use as the private sector.
According to Koo of H3 Zoom, locals still have "misconceptions" about drones.
"Some might view it as a spying vehicle, others might think drones are out there to do harm," he told AFP.
When asked to comment on the Singaporean government's extensive drone use and its recent support of commercial drone activity, several locals said they hadn't realised the extent of drone activity in their country.
"I honestly didn't know this was happening, and I don't think the people around me are talking about this either," said Cindy Co, a 21-year-old college student and native Singaporean. "I'm not really sure what to think.… I'm definitely concerned about privacy and security, though, especially since I'm not sure how extensively these drones are going to be used in the future. I'm just not sure what kind of advantages these drones will have that outweighs the drawbacks when it comes to privacy."
While many expressed concerns about the possible abuse of drone technology, others were excited to see new drone applications in action. For Jonathan Looi, a young Singaporean who works in finance, the government's support of commercial drone use is "heartening".
I feel that the younger generation might be more accepting of this technology, but it will take a while for the public – including the older generation – to be accepting of it
While he had not yet heard of the potential commercial drone use in his country, he said he wasn't surprised. Singapore's unique infrastructure makes it a prime location for drone development since its small land area reduces flight times and limits the need for multiple drone recharging stations, he said.
He added that drones could be essential in providing last-mile-fulfilment services in Singapore as increasing demand outpaces current delivery systems.
"While this is a step in the right direction, there are plenty of regulatory hurdles that must pass for drones to reach commercial use," Looi said. "I feel that the younger generation might be more accepting of this technology, but it will take a while for the public – including the older generation – to be accepting of it."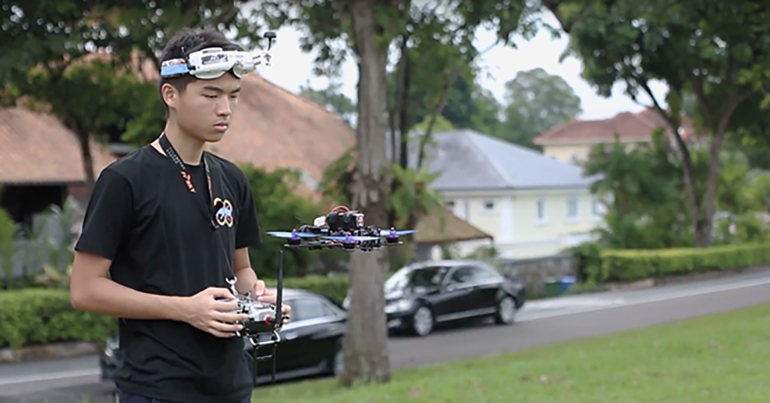 Consistent government use of drones
In Southeast Asia, Singapore has long been leading the charge in adoption of drone technologies. The government has funded dozens of drone applications within its police force, military and various projects.
Over the past six months, the government has been experimenting with security drones. The Singapore Civil Defence Force (SCDF) deployed them to protect the hundreds of ministers and delegates attending the Asean Summit, which kicked off 11 November.
The small unpiloted aircraft, marked with the SCDF logo, were equipped with cameras and were able to detect chemicals and hazardous substances in the air.
While police have been using drones for assistance in traffic management and crowd monitoring since 2016, the force recently expanded its programme. Thermal-imaging drones were deployed by police just last month to help locate wanted persons hiding out in the thick vegetation surrounding Bukit Timah Expressway (BKE).
Singapore also recently announced its vision for "smart" bases for its air force equipped with drones that check for damage along runways. The air force has been testing drones since January that are equipped with electro-optical, infrared and Lidar (light detection and ranging) sensors to allow their use both day and night.
In the same vein, Singapore has been developing drones to inspect the chemical and utilities pipelines on Jurong Island. Its fully automated drones will be equipped with multiple video cameras and sensors that will be able to detect gas plumes, leaks and damage along the pipelines.