The sleek Pullman Saigon Centre provides a sky-high retreat from which to view Ho Chi Minh City's urban vista
By David Hutt
Saigon lost its identity in 1975, but by the early nineties it had regained much of it," reads a passage from Love Like Hate, a novel by the Vietnamese-American author Linh Dinh. "A hodgepodge of incoherence, Saigon thrives on pastiche… [and is] infatuated with all things foreign".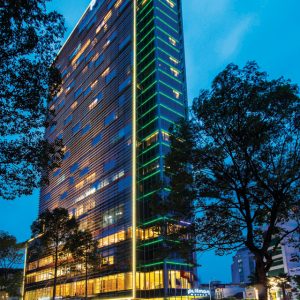 Today, a walk around what is now known as Ho Chi Minh City conjures up a similar sentiment – from the women in traditional conical hats selling doner kebabs to the young men, clad in well-ironed, green military uniforms, munching on Big Macs underneath the omnipresent Vietnamese flags, adorned with a golden communist star.
But with this hodgepodge has come prosperity. Long a commercial hub – it was the capital of Cochinchina under French rule – the city is now ascending, metaphorically and literally, at a vertiginous pace.
One of the newest arrivals punching up into the skyline is the grey steel and plate-glass tower of the Pullman Saigon Centre. Opened last year and located within walking distance of the ever-popular Ben Thanh market and some of the finest restaurants in District One, it serves as a first-rate choice for a gregarious getaway or a busy business trip.
Designed by the respected Japanese architect, Kume Sekkei, the hotel is housed in a curved-edge triangular-shape building, shooting up 24 floors, and has already become an iconic landmark. Inside, in a Pullman Signature Suite – with their incomparable 180-degree panoramas – guests are drawn to the floor-to-ceiling windows to revel in the street views unfolding beneath them.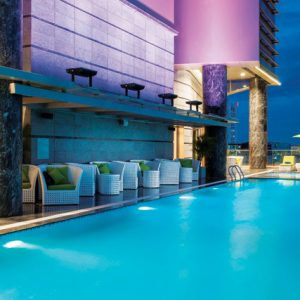 But there is plenty to drag people away from the vistas. Rooms are open-plan, with modern furnishings and muted complimentary colours and have a perfect mixture of natural light and privacy. It is hard to beat a relaxing soak in one of the circular bathtubs, drinking in the view as the setting sun makes a silhouette of the skyline. Refreshed, the Cobalt restaurant's modular cuisine, dainty tapas and cutting-edge cocktails await.
While this city might be a "hodgepodge of incoherence", as you lie in the confines of your suite and ponder the mysteries of Vietnam's southern metropolis, everything just seems to make sense.
You're history
No visit to the city is complete without a trip to the War Remnants Museum. Featuring both American and North Vietnamese military vehicles, as well as reproductions of the infamous prison 'tiger cages', it is a crash course in the history of a conflict that defined both the US and Vietnam. Necessary, but at times uncomfortable.
Pull up a stool
Ho Chi Minh City's high-end gastronomic platter is truly cosmopolitan. But when in Rome, do as the Romans do. Perch your posterior on the small plastic chairs at one of the city's many food stalls, pray that it doesn't collapse and cause mirth for the locals, and avail yourself of the bounteous street food – from bún bò Hue, a spicy noodle soup, to the ever-popular bánh mì, an essential Vietnamese baguette sandwich now popular in hipster haunts across the globe.
Two ways to travel
A perfect way to explore the streets and waterways is to navigate the city on a boat and cyclo with Les Rives. Their aptly named Good Morning, Saigon tour will whisk you around the river and port and deliver you back on dry land in good order ready to take a leisurely cyclo ride around the streets. With highlights including the colonial-era Cha Tam church and 'Herbal Medicine Street', it's the perfect way to see what's on offer. Just avoid shouting: "Good morning, Vietnam." You certainly won't be the first.
Up, up and away
If the windows of your suite at the Pullman are not enough to sate your desire for bird's-eye views, head to the Chill Skybar on the 26th floor of the AB Tower, just a ten-minute walk away. Party people should head there late, or perch yourself at the bar, order
a pre-dinner cocktail and take in the shimmering scene of one of the busiest intersections in the city. Above the bar sits the 27 grill, all stainless steel and black marble, with its menu of grilled meats, fish and seafood.
Essentials
Tel: +84 (0)83 838 8686. Website: pullman-saigon-centre.com. Rates: superior rooms start from $268 and offer comfortable contemporary style with plenty of media accessories and city views, all situated on the ninth floor or above. Suggested accommodation: throw all your irons into the fire with the presidential suite ($968), 160 square metres of opulence, with commanding views from the 29th floor and a living room, dining area, study and master bedroom as well as a guest room.
Keep reading:
"Down in the delta" – Captivating riverscapes await on the Aqua Mekong, a ship that sets five-star standards for regional river cruising