Captivating riverscapes await on the Aqua Mekong, a ship that sets five-star standards for regional river cruising

By Daniel Besant
Emerging from a small banana plantation on a fertile island we come across a drainage ditch. On a small wooden platform set above the water sits a teenage boy with a bemused, slightly strained face – his modesty protected by low corrugated iron walls.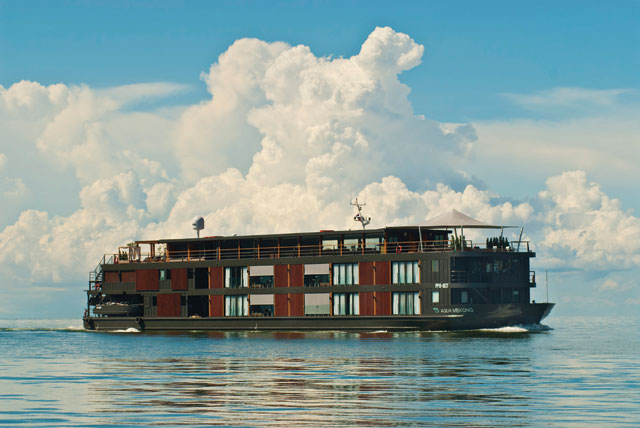 It takes a few minutes for the majority of our group to fully comprehend what is happening. Our guide's explanation that the boy is "feeding the fish" is at first lost on the assembled crowd. Their attention is focused on pointing a battery of expensive, state-of-the-art camera equipment at the reluctant subject. Eventually, the penny drops and talk turns to his apparent lack of toilet paper. 
This is answering the call of nature Mekong Delta-style.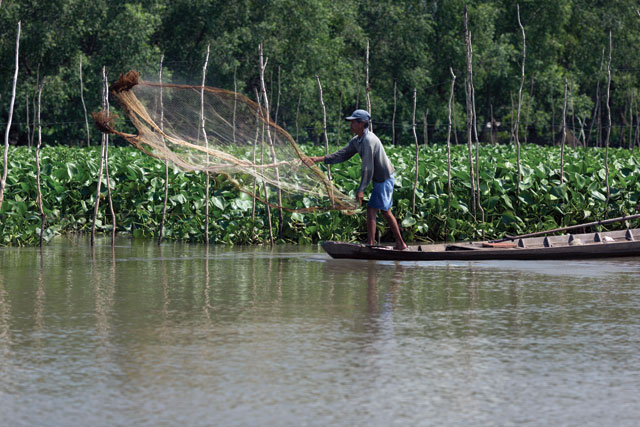 Back on board our mother ship, the Aqua Mekong, there is little chance of being spotted performing one's ablutions. An integral part of the vessel's 30-square-metre cabins – of which there are 20 in total – are spacious bathrooms, each with a walk-in rain shower, twin sinks and, of course, a toilet. There are slats on the windows to protect guests from unwelcome paparazzi, plus all the toilet paper one could ever need.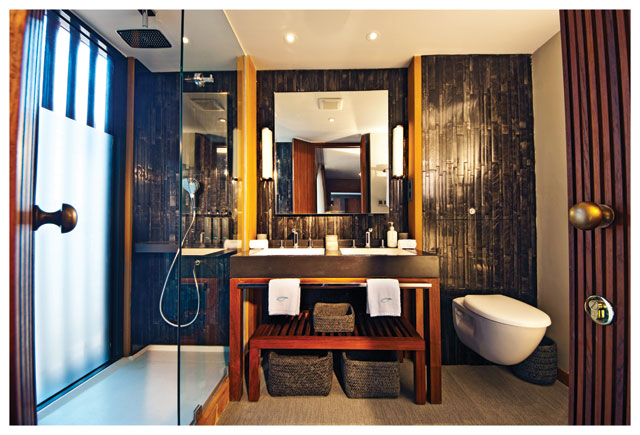 Although not the only, and certainly not the largest, cruise ship plying the waters of the lower Mekong River in Vietnam and Cambodia, the Aqua has to be the most luxurious. Essentially, it is a three-storey, five-star hotel that whisks passengers up and down one of the world's great rivers at a stately 10 knots (20km/h).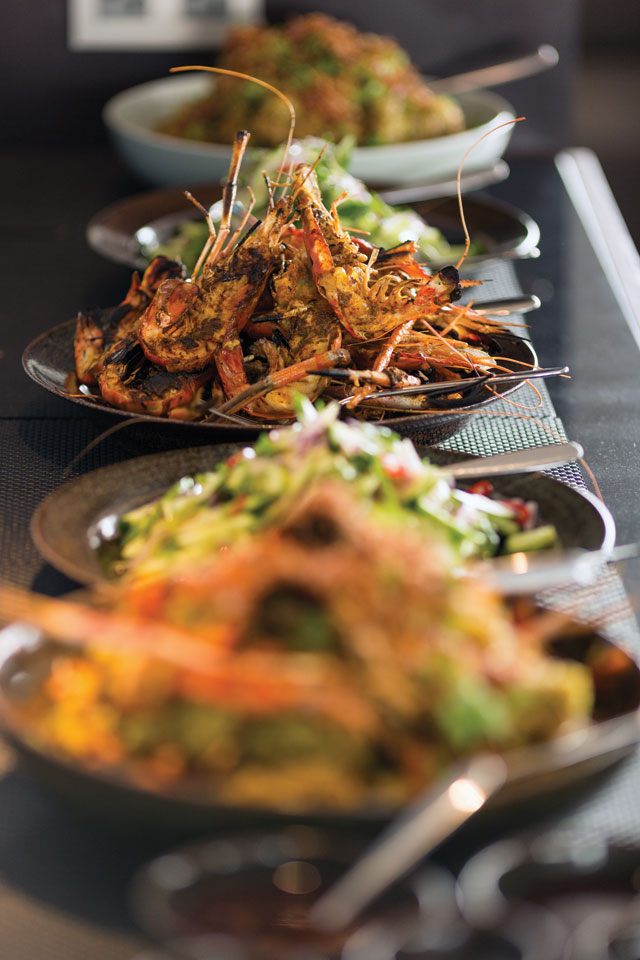 From My Tho, a port near Ho Chi Minh City, to Phnom Penh, up to Siem Reap and back again, the Aqua slices up the route into three- and four-day voyages of sterling service and unabated luxury.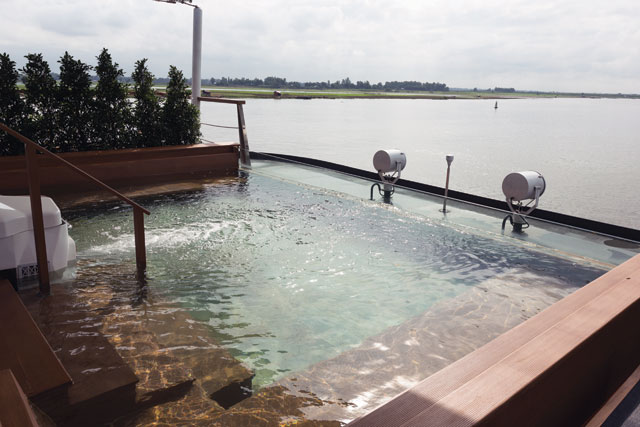 "The interior design, that's what makes us different from other cruise ships on the river," says Kim Loan Le, Aqua Mekong's country manager for Cambodia and Vietnam.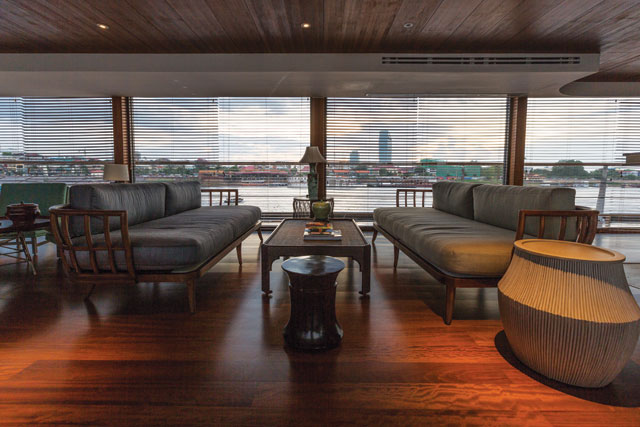 Lying on a California king-size bed in a cabin a deck below, gazing at the riparian views as they glide by through the floor-to-ceiling windows, guests would be forgiven for forgetting they are on a working ship. While on the move the only noticeable sound is the gurgle of river water as it is pushed aside by the ship's hull.
This three-night trip begins in Phnom Penh, and then we sample Vietnam's Mekong Delta, ending up in My Tho. In this region, the river spreads out into copious channels before it reaches the South China Sea. It is a low-rise life in a low-rise floodplain.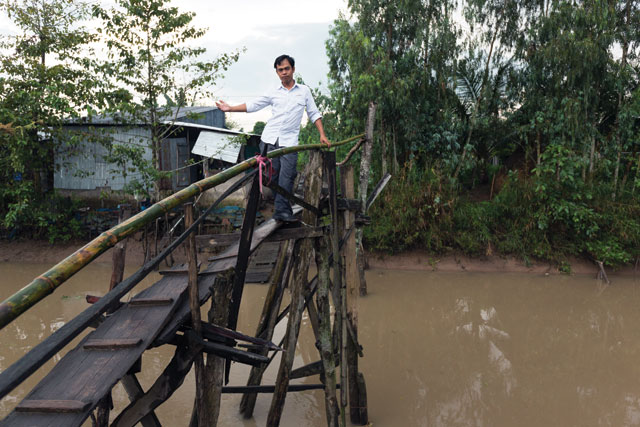 Canals offer shortcuts for wide river bends. Creeks and irrigation ditches branch off hither and thither. Fertile islands are planted with tropical fruit trees – durian, rose apple, jackfruit and rambutan – while fields host crops of black pepper, lettuce, chillies and peas. Everywhere, bunches of emerald-coloured water hyacinth float past, resembling semi-submerged unruly hairdos of swimming giants.
On the banks, off the banks, people go about their daily lives. Solo fishermen cast nets from long-tailed boats while graciously curved koki wood cargo vessels head to and fro. Farmers wield hoes and women in conical hats launch fistfuls of fish feed into net-walled tanks of red carp and tilapia moored just offshore. Silhouetted by the morning sun, a cock crows on a wooden tug's high stern, which is dwarfed by the steel sand barge it tows. Atop an even larger vessel, the symmetry of a stack of containers is broken by a gleaming new fire engine on a pallet. Ferries crammed with schoolchildren and workers on bicycles glide from bank to bank. 
Clinging to the shores are shacks on stilts. "People actually live in those?" an incredulous North American guest exclaims as we whoosh past on a skiff, one of the launches used for the twice-daily excursions.
Our six guides – an even split of Vietnamese and Cambodians – are keen to show off their wide-ranging knowledge and experience of the delta. We visit a fish farm, then watch as a family weaves reed mats and, later, are welcomed into a fruit grower's home. The proud matriarch beams as we listen to a performance of the Unesco-recognised don ca tai tu music. Her musician husband accompanies her on a battered black Gibson Les Paul II and then a traditional one-stringed dan bau.
The following day, as a late-afternoon shower recedes, our launch moors up at a wooden pier. A short walk reveals a house hidden in the trees. Built in 1820 – before the French took control – it originally belonged to a feudal landowner. Columns and terracotta tiles abound. Stepping into the high-roofed house via a wide veranda we find the occupants – a gracious couple in their eighties – sitting at a round table. Behind them rise four ironwood pillars, one of which still bears scorch marks, a relic of an attempt to burn down the structure during an uprising. Our group's visit here was rather serendipitous, a combination of the Aqua Mekong's flexible schedules and the vagaries of the river's tides.
Adaptability reigns onboard too. Initially, a Thai-only menu was planned, arranged under the aegis of world-renowned chef David Thompson, whose Nahm restaurant in Bangkok was last year named the best in Asia at the prestigious San Pellegrino awards. Despite being helmed by a true scholar of Thai cuisine, the ship's dining concept had to evolve. "It's changed a lot from the original concept," says head chef Annita Potter. "We realised there were Western people potentially eating Thai food for lunch and dinner every day." The Thai food remains, but it is joined by Western dishes.
Upstairs in the wood-floored lounge bar, where panoramic windows serve up views to make guests splutter on their holy basil, Johnny the barman is always on hand to craft guests a pick-me-up from the menu of locally inspired cocktails. Johnny is a regular downstairs too, ever ready with a tray of welcome cool-down drinks as guests return from excursions.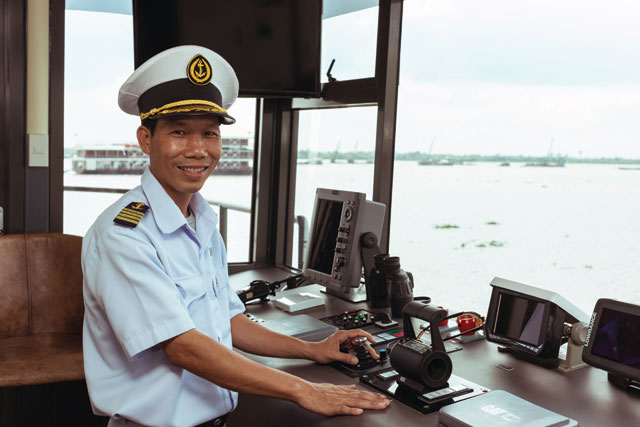 Up on the bridge, Captain Nguyen Ngoc Thu is clearly proud of his vessel. "I like it when the boat is full of passengers," he says, grinning from ear to ear, dressed in his white uniform. "Then I can show off what this boat can do."