Sponsored: PropertyGuru Cambodia Property Awards announces this year's shortlist of nominees and names young architect as Cambodia's Real Estate Personality of the Year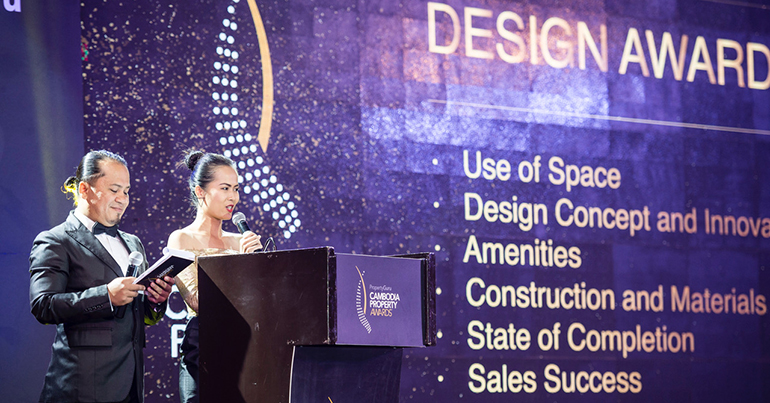 A shortlist of nominees for Cambodia's third annual property awards has been unveiled, with architects and designers being recognised for their excellence.

Organisers selected winners from 20 categories and the awards will be presented at a ceremony in March at Phnom Penh's Sofitel. Main category winners will then advance to the eighth PropertyGuru Asia Property Awards and Grand Final, which will be hosted by Thailand for the first time.
Borey Peng Huoth Group, two-time winner of the coveted Best Developer trophy, tops this year's field landing 16 nominations in the shortlist, more than any other developer.
The developer of the Greater Euro Ville mixed-use project earns five nods in the Development and 10 in the Design categories, plus a special recognition for its corporate social responsibility initiatives.
In second place is LIXIN Construction, which is building a mixed-use property called CEO KT Pacific in central Phnom Penh's 7 Makara district. The project – a collaboration between KT Pacific Group and LIXIN Group – aims to become a prime residential and commercial spot in the capital.
The ceremony will also honour Hun Chansan as this year's Real Estate Personality of the Year. The design director and principal architect of Re-Edge Architecture and Design has been chosen for his efforts to raise the profile of Cambodian architects and designers in the global scene.
Cambodia's real estate sector is booming and has seen a reported 22 percent year-on-year increase in construction investment , causing land prices to rise and the urban landscape, especially in Phnom Penh, to transform from a low-rise capital into a high-rise hub.
"The real estate industry has indeed played a vital role in Cambodia's economic growth. In recent years, it has evolved so rapidly, attracting major investors from around the region to invest in Cambodia's real estate and construction sectors," noted Sorn Seap, founder and director of Key Real Estate Co., Ltd., and returning chairman of the judging panel.
Terry Blackburn, founder and managing director of the PropertyGuru Asia Property Awards, said the judges were impressed by the efforts of Cambodian developers to continue improving, "especially in the mixed-use segment, which has become popular among investors and consumers."
"Cambodia offers a lot of potential and we're proud of what local developers have accomplished in the last two years that we've held the Awards there," he added.