The government of Malaysia does not find Zunar's drawings amusing. But his satirical cartoons denouncing official corruption and electoral fraud have made him a widely known figure in the country and abroad. He is waging a high-profile war against Prime Minister Najib Razak, despite authorities' efforts to ban his work.
Zunar, 53, faces nine sedition charges over a series of tweets he posted last February criticising the controversial court ruling that saw opposition leader Anwar Ibrahim sentenced to five years in prison. Zunar is currently free on bail, but faces the possibility of up to 43 years in jail. "In Malaysia, they treat me as a criminal," he says.
Since gaining independence from Britain in 1957, Malaysia has been ruled by the same coalition, now known as Barisan Nasional, which has proven unbeatable in successive elections. The government has used a wide array of laws to suppress freedom of speech, silencing and marginalising opposition.
After Najib was appointed prime minister in April 2009, he raised hopes by announcing the lifting of a ban on two opposition newspapers, arguing that Malaysia needs "media that can report responsibly what they see without fear of the consequences". He also freed 13 people who had been detained under the infamous and controversial Internal Security Act, promising to review this and other repressive laws.
But the 2013 elections delivered Barisan Nasional its worst poll results in history, reflecting growing discontent among the population. The government's response was to ban peaceful demonstrations, close websites and arrest critics such as Zunar. Since then, the space for dissent in Malaysia has quickly shrunk, generating a culture of fear.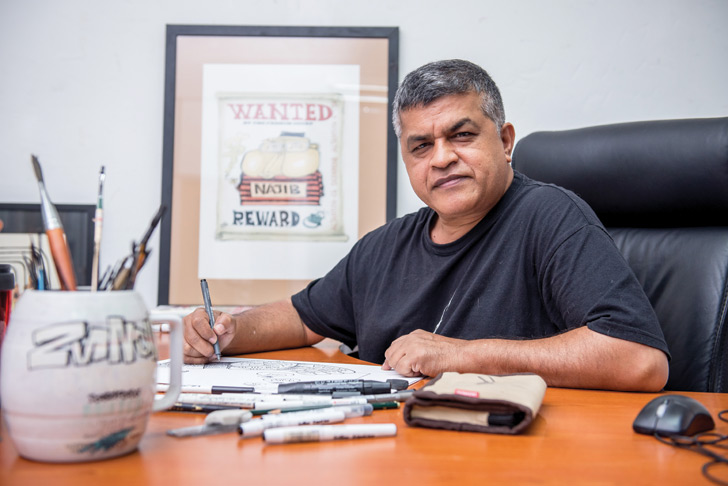 Zunar has spent recent months travelling abroad denouncing the government's repression. "I strongly believe that my talent is not a gift. I have the responsibility as a cartoonist to give a message to the people and make them understand the problems we face in Malaysia. Responsibility is bigger than fear. That makes me keep going," he says with conviction.
Malaysia has a long tradition of political cartoons, which began in the 1930s when journalism first started developing in the country. At that time, cartoons dealt with topics such as Malay nationalism, colonialism and westernisation. "In that context, cartoons were used as a weapon to instill the spirit of nationalism and to search for independence from British colonisation. Cartoons were also used as a weapon to criticise so-called 'bad attitudes' of the people, such as laziness and shyness, which were cited as the cause of economic backwardness," explains Muliyadi Mahamood, a specialist on art and cartoons at Malaysia's Universiti Teknologi Mara.
Most newspapers, Muliyadi says, were turned into tools of propaganda during the Japanese occupation in the 1940s, with political cartoons used to present the Japanese in a positive light while ridiculing the Western powers.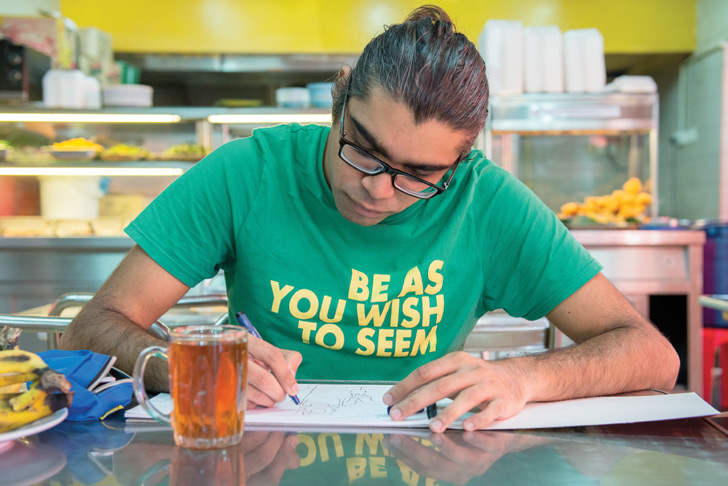 After independence, the production of editorial cartoons was largely in line with government policies. "With the spirit of the newly independent nation, cartoons were used to instill the spirit of harmonious life among multiracial Malaysians, namely the Malays, Chinese and Indians," Muliyadi adds.
Malaysia's political landscape changed drastically at the end of the 1990s with the emergence of new political parties and the increase of popular support for opposition parties. The advent of alternative media, as well as the internet, added to the mix. "New names, such as Zunar's, emerged in the scene. Zunar's approach is direct and robust, as compared to some earlier cartoonists who are more subtle in their approach," explains Muliyadi.
Zunar drew his first controversial cartoon for his school's magazine when he was 18, lashing out at a teacher who didn't discipline students who skipped school in order to waste time at restaurants. Under pressure from his parents, Zunar studied medicine, before the widespread corruption in the country prompted him to return to the pen and turn it into a weapon.
He has been arrested and subject to intimidation. Five of his 15 books are officially banned in Malaysia, considered by the authorities as "detrimental to the maintenance of public order". The government has also threatened booksellers with court action and the cancellation of their business licences for selling his books.
His webmaster was summoned by the police under the Sedition Act and subsequently decided to cut professional ties with Zunar due to the risks involved. Consequently, Malaysia's mainstream media refuses to publish Zunar's work, and social networks are the only platform where he can find an audience for his controversial cartoons. But this is not enough for him to make a living. "I sell my books as if they were drugs, and I will continue selling them as long as there is demand," he says.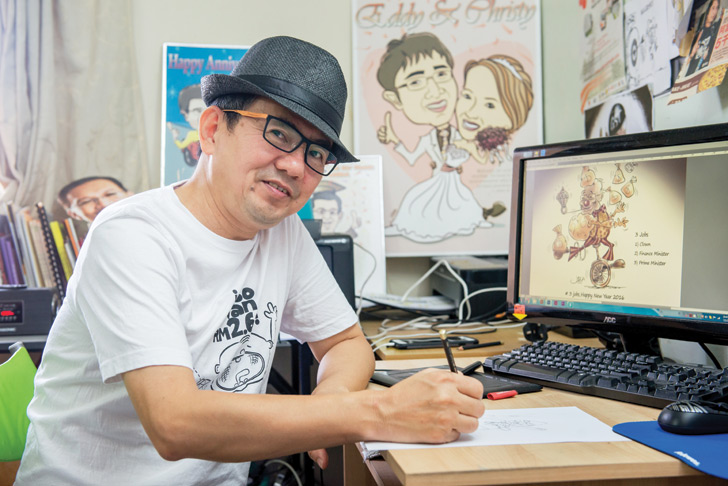 However, the government may have miscalculated the effect of prosecuting Zunar. This, and other expressions of dissent, has inspired a new generation of artists eager to continue fighting for freedom of speech. Some have even established associations to advocate for the same cause.
"In Malaysia we can't laugh," says Johnny Ong, referring to the oppression that cartoonists face. He is part of the new generation of Malaysian cartoonists who denounce corruption and injustice through their drawings.
"A few years ago, I worked as a creative artist for an advertising agency, but I had never made any political cartoons until I found out about Zunar's case. I wanted to support him," explains the artist, better known as Joca. "I am happy that I have not been stopped by the authorities for my cartoons yet, but I'm sad to see that the government wants to put people like him in jail, because he is the voice of many people."
Malaysia has some of the toughest censorship laws in the world and was ranked 147th out of 180 countries in the 2014 World Press Freedom Index compiled by Reporters Without Borders. About 100 films have been banned during the past decade with the sole pretext of defending morality. Media editors also exercise self-censorship out of fear.
Censorship is precisely what made cartoonist Sukhbir Cheema quit his job a few months ago. Most of his cartoons are very critical of the ruling party and were banned by his editor because printing them could be "very dangerous".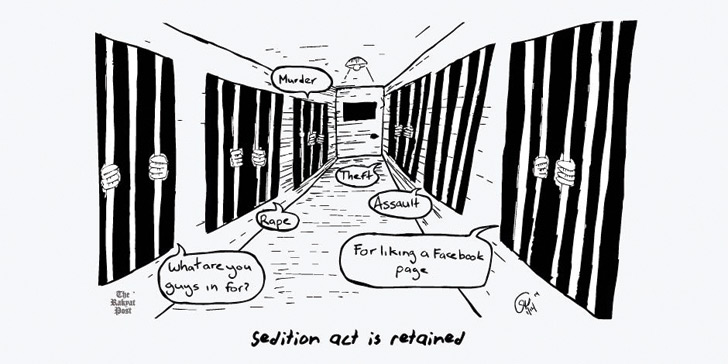 "In 2014, a Muslim group that is in alliance with the government said Muslims can't say 'Merry Christmas' to Christians. I thought this was very stupid, and I drew a little boy in a Santa Claus [outfit] saying 'Merry Christmas!' My editor said we would have trouble if we published it. That's why I'm now freelancing," he says.
Sukhbir believes that repressing cartoonists in Malaysia will work against the government in the long run. "I think if [Zunar] goes to jail, more cartoonists will come out. By drawing cartoons they are indirectly supporting Zunar. That's actually what he wants," he says.
"The fact that some critical cartoons are being banned proves that they have some impact and success in expressing certain ideas, as well as people's hopes and voice in general. With the emergence of new technology, along with the internet, social media and the culture of cyberology in general, political cartoons do have a future in this country," adds Muliyadi.
And Joca vows to not stop producing politically charged cartoons until his last drop of ink runs dry.
"Cracking down on freedom of expression is not going to work in the long run. The economy is very bad in Malaysia, people are finding it difficult to do business. The prices and taxes are increasing. People are frustrated," he says. "I will continue drawing to express myself because this is the only talent I have and I feel I'm contributing with this to my society and to the people. Cartoons convey a message [that is] easy to understand. Even if the government changes, as long as there is corruption I will continue drawing."