Moeun Thary, 47, works as a seamstress in Phnom Penh and lives in a dilapidated 1960s block called Bodeng, also known as the White Building, one of the last remaining housing projects for low-income families in the centre of Cambodia's capital. In December, she became the subject of a mural on a side wall of Bodeng by renowned street artist El Mac. A few days after its completion, the mural was whitewashed over by city authorities
From our February 2016 issue – download the complete issue via our app here 
What did you think when you saw your image up on the wall?
When I was asked to be featured in a wall painting, I did not know it was going to be on my building's wall. I have always dreamt of inspiring Cambodian women to do great things, so by seeing my picture on the wall symbolising a Cambodian woman, I would say it was a dream come true.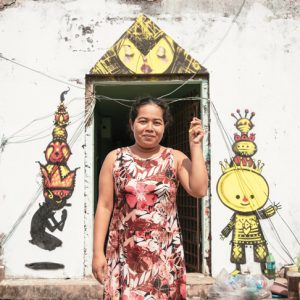 How do you hope to inspire the women of Cambodia?
I want the world to see what women in Cambodia have been through and help them out of their hard time. Until there was a foreigner who came to request my picture for a painting, there was not much I could do.
What was your reaction to the mural being erased by the local authorities?
I didn't know it had been erased until a French newspaper came to interview me. After the painting was gone I felt like I'd lost something precious in my life, it was really devastating.
What do you think about the decision?
I don't think City Hall should have erased the painting since it was harmless to the public. In my opinion, it would've helped praise both street art and women. It was just a painting that represented a woman and, above all, it was just art.
What would you say if you could talk to City Hall?
I would request it to be repainted, with their permission.
How did other people in your building react to the removal?
A lot of my neighbours came to see me and ask about what happened. They are very irritated with the decision. They said that, although the painting was not approved by City Hall, it was not as bad as some legal advertisements for alcohol.