Formed in Paris in 2001, Poni Hoax is a French electrorock band that will play at Phnom Penh's Institut Français for one night only on October 20. Laurent Bardainne is the band's keyboardist and Nicolas Ker is their Franco-Cambodian vocalist

Interview by Jemma Galvin
When studying at the Conservatoire de Paris, what did you expect your career as a musician would be like?
LB: Well, personally, I was really into free jazz, avant-garde and experimental stuff. I also loved to listen to pop music, but I didn't know how or with whom I could make it. So, with a group of friends, I decided I would make music that was avant-garde and would make people dance.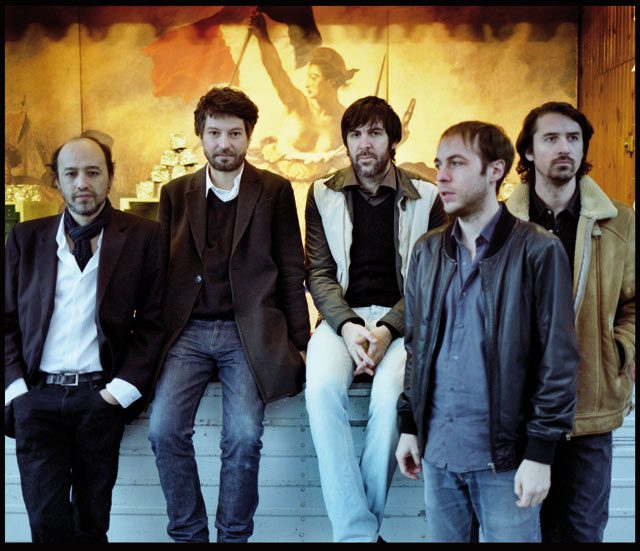 What was your first big break?
LB: [Laughs] I have seen many bands land a big break, but I can tell you that it has not happened to us yet. We don't have naked groupies chasing us around, that's for sure.
"Budapest" was a huge single for you guys. Could you tell you were creating a hit when you were writing and composing it?
LB: Totally. I was quitting jazz at that time, and I wanted to make a disco song, but a dark and frightening one. That was the initial goal for Poni Hoax – to create dark disco.
How did you make ends meet when your 2006 self-titled album didn't do well in terms of sales? Have you ever had 'day jobs'?
LB: We had the chance to be on tour doing side projects and supporting artists such as Feist
and Air. We also spent some time doing studio sessions with a few French singers.
What did you learn in terms of professionalism and recording in the lead up to the release of the album Images of Sigrid?
LB: We learnt that when wrapping up recording in the studio, only 5% of the work for the album had been done. Then came the editing and re-recording, which took us two years.
Pitchfork called that album "perversely good". How did you feel about it?
LB: Perversion is not really up my alley, but some other members of Poni Hoax can't live without that, hmm, quality [smiles].
What was it like opening for Franz Ferdinand in London in 2008? Are you fans of their music?
LB: I love them. I saw them in August in Paris, and they killed it with this perfect mix of punk-dance-pop-savage-dawn music. It was an honour to open for them. And they are really smart people.
What are you expecting from your forthcoming show in Phnom Penh?
LB: I'm so happy to come back to Phnom Penh. I love Cambodia for so many reasons – we couldn't even begin to get into them here. Nicolas's mother says I'm Khmer at heart, too.
Nicolas, you are Franco-Cambodian – have you visited Cambodia before? Does the country influence your music in any way?  
NK: I've never been back to Cambodia since the fall of Phnom Penh in 1975. I have forgotten the language that I once spoke fluently. I was too afraid to come back, but then last year we did this LP about that trauma called A State of War,
and it helped me to overcome that fear and return to Cambodia.
What's coming up in the near future for Poni Hoax?   
LB: We released A State of War globally on September 24, so now touring all over this whole fucking world is our plan.




Also view:
"It's really hard for people to think of Cambodian bar workers as anything other than prostitutes" – Sex, Love and Money in Cambodia: Professional Girlfriends and Transactional Relationships is a book collating seven years of research into Cambodia's sex and entertainment industries. Dr Heidi Hoefinger is its author
"People are recognising that by appreciating art, art appreciates" – Kuala Lumpur will be awash with colour during the seventh annual Art Expo Malaysia. Polenn Sim is a member of the family behind the event, which takes place from September 19-22