The international murder case entered a new chapter on Sunday when Malaysian police are said to have entered the North Korean embassy in Kuala Lumpur, where suspects allegedly involved in the murder of Kim Jong-nam are said to be staying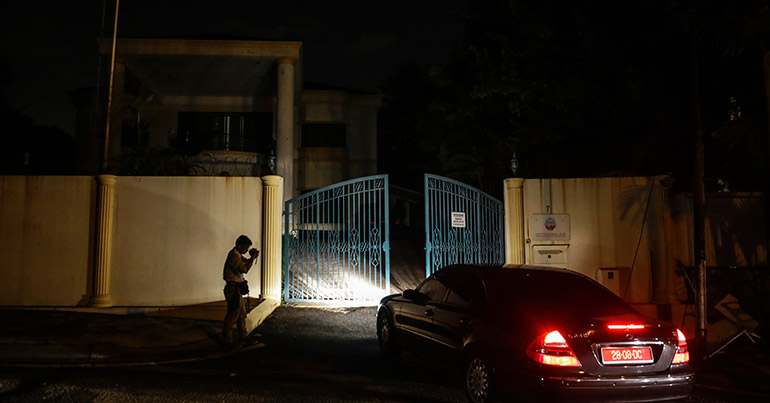 On Sunday, Malaysian police entered the North Korean embassy in Kuala Lumpur, where several people suspected of being involved in the murder of Kim Jong-nam are said to be hiding, reports Malaysian Chinese-language newspaper China Press.
According to the report, four police officers – including the investigating officer attached to the case, the Selangor state police chief and the Selangor prosecution team officer – entered the embassy on Sunday morning, staying for two-and-a-half hours. China Press wrote that the police came into the embassy after being granted permission by the embassy to enter.
The entry by Malaysian police points toward an agreement on the processing of Kim Jong-nam's body, as well as on the recording of statements by the three suspected accomplices said to be holed up in the embassy, the report says.
The China Press separately reported on Sunday that Kim Jong-nam's body may have been moved that day from the morgue of Kuala Lumpur Hospital, citing an "unusual scene" involving plainclothes police at the morgue. Other reports said that the body has been removed from the hospital for "religious rites".
Earlier on Sunday, Malaysian officials said that talks with North Korea concerning the diplomatic standoff could end "very soon".
"Tomorrow, there will be an official statement to be issued by the Ministry of Foreign Affairs about our negotiations with DPRK [the Democratic People's Republic of Korea]," deputy prime minister Ahmad Zahid Hamidi told reporters.
The murder of the exiled half-brother of North Korean leader Kim Jong-un has set off a rollercoaster ride of diplomatic tensions between Malaysia and North Korea, who had enjoyed a friendly relationship for more than 40 years.
Two female suspects – one Indonesian woman and one Vietnamese woman – have been charged with using the highly toxic nerve agent VX to kill Kim Jong-nam on 13 Feb. Authorities also believe that four North Koreans who fled Malaysia on that same day, as well as an unidentified North Korean referred to as "an important person", were involved in the attack.