Rehash Trash has built a business on finding gems in the rough. It's also helped 24 families from poor communities in Siem Reap find their feet. Set up in 2015, the social enterprise has taught disadvantaged local women how to turn plastic bags into a range of colourful household items and accessories, and gives them the opportunity to earn a stable income by selling their creations in the organisation's shop.
According to Kate Allen, general manager at Rehash Trash, by providing the women with new skills the organisation has helped boost their self-esteem, as well as their long-term employment prospects.
"At first, the women didn't really believe in themselves. They thought: 'How am I going to do this?' Learning new skills is very daunting," she says. "But quite quickly, they started to build their confidence… We've got our own showroom, and we've got our own shop, so the ladies can see their products being sold, which is very exciting for them and also reinforces their empowerment and self-esteem."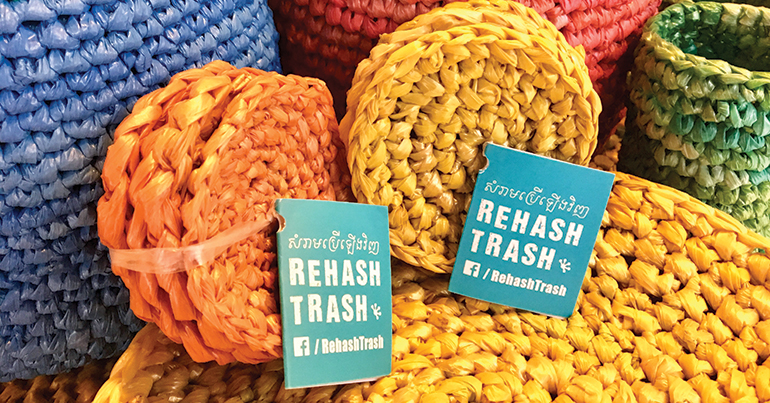 Rehash Trash's impact is not just economic. Outside the workshop, the female workers attend free Khmer literacy and English lessons, and can access medical services and advice on financial management. Nor is the company's impact confined to the hard-working women turning trash to treasure, adds Allen.
"Environmentally, because we're producing so much now, we're recycling more and more bags. It's hard to put a number on it, but we're probably recycling about 5,000 bags a week. It's a lot," she says.
Rehash Trash hopes to make an even bigger impact in the future by cooperating with like-minded projects and building on the goodwill of the local community. Last month, in conjunction with the Siem Reap Food Co-op and Plastic-Free Cambodia, it organised its second 'eco-fair and recycle drive', a now monthly event aimed at inspiring people to lead more environmentally friendly lives. In addition to a mass recycling drive, the event saw members of the public learn how to make health and hygiene products from trash and how to fashion jewellery from ammunition.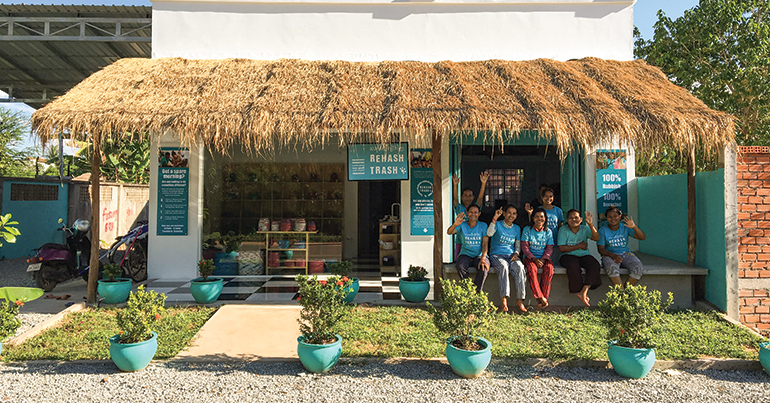 Ultimately, achieving sustainability is the aim of the game – both environmentally and economically – and Allen hopes that philosophy will see Cambodians take ownership of the project in the near future.
"To see it become 100% Khmer-managed would be a big achievement. When you look at similar projects around Cambodia, very often there are still a lot of Western managers," she says. "[Western managers] are required up to a certain point, but if I could hand this over to some of the girls in a couple of years, I'd be very proud of that."