Cambodia's government took a major step towards implementing cashless payments in the Kingdom yesterday, signing an agreement with local payment gateway Pi Pay to encourage users to pay for public services via their mobile wallets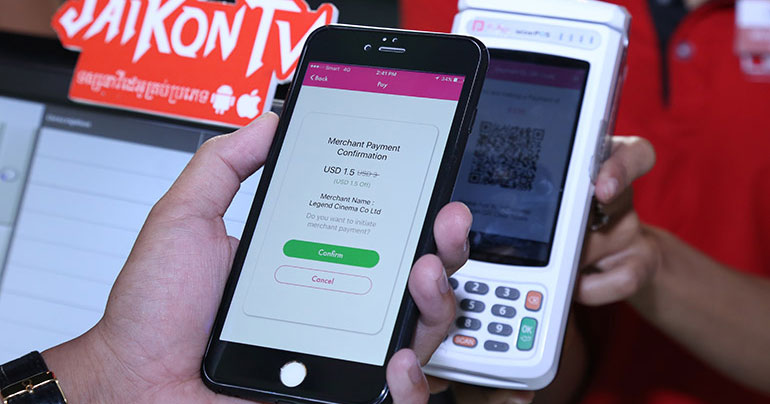 The agreement will see the Ministry of Public Works and Transit (MPWT) working closely with Pi Pay across 25 provinces to provide cashless payment options for public transit services including drivers' tests, licenses, registration fees and tickets for taxi and ferry services.
Sun Chanthol, Minister of the MPWT, said at the signing that he hoped the agreement would help in "eliminating unofficial expenses" previously associated with these services, implying that the use of cashless transactions will leave less room for officials to impose bribes.
In a country where only a small percentage of citizens have their own bank accounts, cashless payments are often made via a top-up system that allows users to transfer cash into mobile wallets. With the rise of smartphone penetration in the country, this method of going cashless has become common for Cambodians as a means of paying for their mobile phone and internet bills.
Pi Pay, which launched in July last year, is a mobile app that provides users the ability to add cash to their mobile wallets via a top-up system or by linking their app to a bank account. In just under a year of operations, Pi Pay has processed more than 2.5 million transactions worth over $50 million and boasts a 30% user-growth rate each month.
[manual_related_posts]
Popularised by the steep discounts its users are routinely offered, Pi Pay is best known in the realms of restaurant and retail, with nearly 2,000 merchants and vendors signed on to the platform. Tomas Pokorny, CEO of Pi Pay, said he hopes that by expanding the range of services for which users can pay via the app, more Cambodians will be encouraged to go cashless.
"This partnership… represents a big step towards boosting the use of cashless payment technology in the Kingdom," he said. "A partnership like this… will encourage even more Cambodians to embrace the convenience and security of cashless in all aspects of their lives – improving financial inclusion and driving financial literacy in the population."
This is yet another step towards expansion for Pi Pay, which has begun working not only with the Cambodian government but also with international players including Alipay, the Chinese payment gateway founded by Alibaba's Jack Ma, with whom Pi Pay partnered up late last year. According to Pokorny, the app has "at least three more large partnerships with international players" underway.