The Philippines will send patrols to waters over Benham Rise, a potentially lucrative undersea area, after a Chinese ship was spotted there last year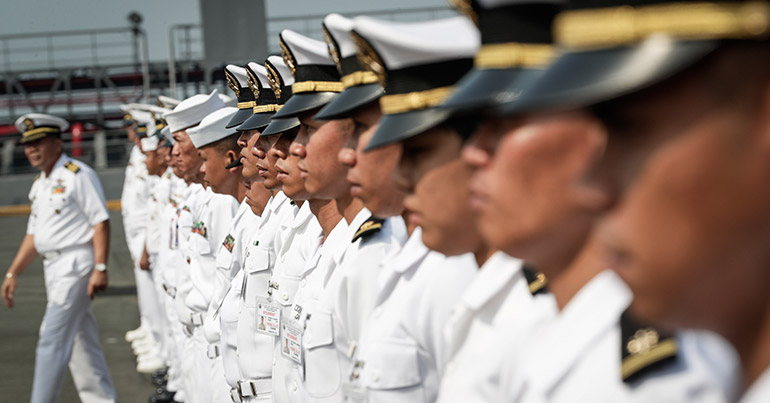 The Philippines has asserted its territorial claims over fishing ground to the east of Luzon, the country's largest island, after a Chinese research vessel was seen in the area last year.
Military officials in the Philippines said they had observed a Chinese survey ship crossing waters over Benham Rise – an underwater region situated 250km off the coast that is potentially stocked with minerals and natural gas deposits – throughout three months in 2016.
The Philippines has responded with government officials decrying China's actions and President Rodrigo Duterte calling for "structures" to be built in the area, as well as telling the Philippine navy to "go there and tell them straight that this is ours".
"We will send our patrols and then we will study what we can put there to exploit also the resources," Philippine defence secretary Delfin Lorenzana told reporters Tuesday.
"We will continue to study what will be the best way to develop that area for our needs. We are entitled to all the economic benefits of Benham Rise," he added, also saying that he had received information that Chinese officials were "looking for a place to put submarines".
While Duterte has ordered the navy to erect "structures" in the area, he has also said that a previous agreement allows Chinese surveillance ships into Philippine waters and that he did not want to fight with Beijing.
"They have no incursion because we have an agreement," Duterte told reporters when asked about the issue. "Some people are just blowing it up. We previously agreed. It was a research ship. We were advised of it way ahead."
Hua Chunying, spokesperson for China's foreign ministry, welcomed Duterte's remarks, saying that China and the Philippines have "conducted communication on the issue, friendly exchanged ideas, clarified facts and handled it properly".
The Philippines' claim to the area was validated by a 2012 UN commission looking into the Philippines' territorial declarations.
"It is indisputable because no other country has an overlapping claim there," foreign ministry spokesman Charles Jose said in a statement.
"So, as a country that exercises sovereign rights and jurisdiction, we are the only one that has a sole and exclusive right to explore and exploit the national resources in Benham Rise. It is our responsibility to protect it."
Manila has lodged a formal diplomatic protest with Beijing over the issue, but China's foreign ministry has publically refuted the Philippines' claims, saying Friday that their ships were exercising "normal freedom of navigation and right of innocent passage".
Antonio Caprio, supreme court senior associate justice of the Philippines, said that while Benham Rise is not part of Philippine territory, it still has "sovereign rights" over the area, giving it privileges that are superior to those of other states.
Benham Rise is not a part of the South China Sea, where the Philippines and China have also clashed over territorial claims.