Thousands of drivers take to streets to protest what they believe is the beginning of the end for so-called "jeepneys", the country's public transportation of choice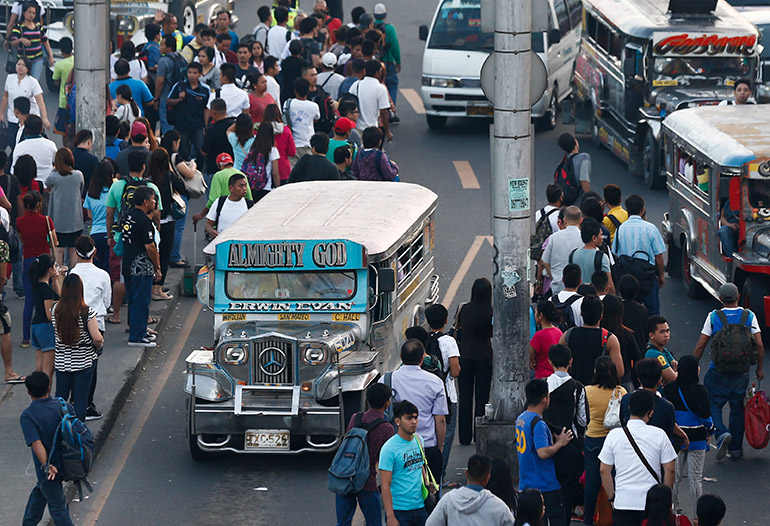 Thousands of jeepney drivers throughout the Philippines have taken part in a national protest against the government's public utility vehicle (PUV) modernization program, which came into effect last month and is regarded by critics as the first step towards phasing out the country's treasured public transport.

Roughly 2,000 jeepney drivers walked down España Boulevard, a major 8-lane thoroughfare in central Manila, before heading to Malacañang Palace in a bid to draw the president's attention to their cause on Monday, one of many protests that took place across the archipelago.

"We want to appeal our situation directly before President Duterte because he is the only one who can solve this problem," George San Mateo, president of transportation group Piston told ABS-CBN. According to San Mateo, the programme could negatively affect the livelihood of 600,000 drivers and 200,000 operators nationwide.
Transport groups, such as the "No to Jeepney Phaseout Coalition", say that the programme's plan to replace jeepneys with more than fifteen years on the road with newer, eco-friendly models will effectively kill off the entire industry, as most operators would be unable to raise the funds required to purchase new jeepneys given that most passengers pay less than 15 cents per journey.
The government has put aside more than $44m to cover the costs of replacing the jeepneys made obsolete by programme, but organisers say that figure falls short of what is needed, with new jeepneys costing roughly $32,000 each.
What's more, the Omnibus Franchising Guidelines, which was signed into effect on 19 June, requires that all PUVs comply with the emission standards of the Department of Environment and Natural Resources by the end of the grace period – a standard that the overwhelming majority of jeepneys are expected to fail.
"We are dismayed that we've been serving people all this time, so why are they punishing us with loss of livelihood. Is this the 'change' promised by President Duterte?" said Piston-NCR president Modesto Floranda, according to Interaksyon. "The change in our society that they promised is unjust."
Should Duterte ignore the message coming from protesters, transport groups have threatened another demonstration for 24 July, the day of Duterte's State of the Nation Address.