After declaring martial law on Mindanao Island, authorities have intensified their battle to recover control of the southern city of Marawi from a band of Islamic State-affiliated gunmen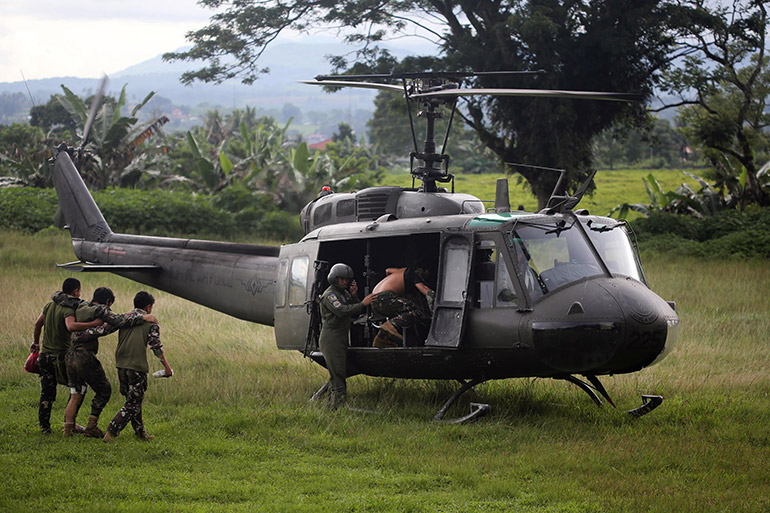 Fighting in the southern city of Marawi has severely escalated, with authorities sending in helicopters and tanks while bombing residential areas in an attempt to wrest back control of the city from the Maute group, a militia that has pledged allegiance to the Islamic State (IS).
The conflict began on Tuesday after security forces raided a house where they believed Isnilon Hapilon, a leader of the Abu Sayyaf militant group with a $5 million US bounty on his head, was hiding.
Not only did the raid fail to capture Hapilon, it was repelled by dozens of gunmen who proceeded to rampage across the city, burning homes and public buildings and helping more than 100 inmates escape from two local prisons.
Authorities have struggled to quash the insurgency as militants have resorted to guerrilla warfare tactics to avoid detection, AFP reported earlier today.
While most of Marawi's residents had already fled the city, local military spokesman Lieutenant Colonel Jo-Ar Herrera urged remaining civilians to find refuge as the military launched "surgical airstrikes".
"We are requesting our people in Marawi to go to safe places… and to stay indoors," he told reporters.
Authorities say five soldiers, two policeman and 13 militants have died over the course of three days. In response to the violence, President Rodrigo Duterte returned from a trip to Russia and declared martial law on the island of Mindanao on Tuesday.
Yesterday, he mooted the possibility of expanding his declaration "throughout the nation" to combat the rise of IS, a move which has raised fears of an increase in vigilante violence and state-sponsored human rights abuses, as witnessed repeatedly during his ongoing war on drugs.
"If I think that the ISIS has already taken foothold also in Luzon and terrorism is not really far behind, I might declare martial law throughout the country to protect the people," he said at a press conference in Manila yesterday. "It is our constitutional duty to enforce the law and provide security."
The country's southern territories have been plagued by sectarian violence for decades.
In 1986, President Corazon Aquino established the Autonomous Region in Muslim Mindanao in an attempt to appease the Muslim separatist movement, Moro National Liberation Front (MNLF), who had violently fought for the creation of an independent Filipino-Muslim nation. But his actions failed to quell the violence, with the region today still defined by instability and conflict.