President's team rebuffs controversial comments made by media personality Agot Isidro, who accused the Philippine leader of suffering from a personality disorder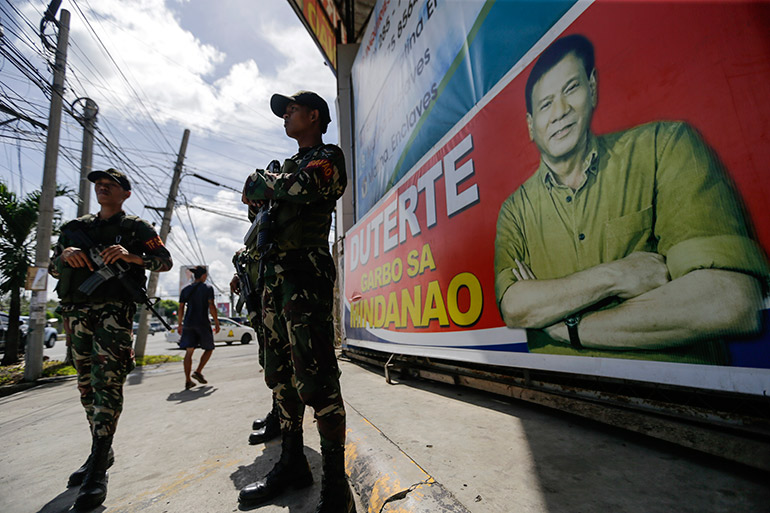 A presidential spokesperson for Duterte came to the leader's defense yesterday after Philippine media personality Agot Isidro dubbed him a "psychopath" on social media.
In a public response to a social media attack by Isidro, who is best known for her role in the hit Philippine television show Tayong Dalwana, presidential spokesman Ernesto Abella said that the entertainer had failed to grasp the crux of Duterte's intentions.
"[She] is entitled to her own opinion. She obviously misses what [President Duterte] intends—which is to break Filipino dependence on others, and to inspire a patriotic and independent spirit", he said in a public statement following her outburst, according to the Philippine Daily Enquirer.
"The President is calling for Filipinos to be truly independent, economically and mentally and psychologically," he added.
Abella also spoke out against The Liberation, a French newspaper, for labelling Duterte a "serial killer president".
Isidro first took to Facebook on Thursday to criticise Duterte, alleging that the president suffered from a personality disorder. The original post has been shared over 10,800 times on Facebook and received over 37,000 'reactions'.
"First of all, no one is trying to fight you," she wrote. "As a matter of fact, you're the one who's picking a fight. Secondly, the country where you are elected as president by 16 million out of 100-plus million is Third World. You talk as if the Philippines is a superpower. Excuse me, we don't want to go hungry."
"So many people have nothing to eat, and yet you'll starve us even further," she added. "I know a psychiatrist. Get yourself checked. You're not bipolar, you are a psychopath."
Her reproach of the president comes days after he dared the US and EU to "go ahead" and withdraw financial aid to the Philippines if they were unhappy with his bloody anti-drug war. To date, more than 3,600 people have been killed in the crackdown on drug users and dealers.
"If you think it is high time for you guys to withdraw your assistance, go ahead, we will not beg for it," Duterte added in a speech to police officers on Thursday.
The Inquirer reports that the Philippines receives roughly $65m in European aid annually. According to the US government, the country received $176m in aid from Washington last year.
Writing in Psychology Today in 2011, neuroscientist James Fallon described the traits that characterize the personality disorder.
"They are usually charming, charismatic, and intelligent. They brim with self-confidence and independence, and exude sexual energy. They are also extremely self-absorbed, masterful liars, compassionless, often sadistic, and possess a boundless appetite for power. These are just a few of the character traits present in a genuine psychopath," he wrote.
Fallon added that psychopathic tendencies are a common theme among many of the world's authoritarian rulers.
Before being elected president of the Philippines, Duterte was accused of directing vigilante 'hit-squads' as mayor of Davao City that were tasked with eliminating suspected drug dealers. In separate allegations, he was even said to have fed opponents to crocodiles.
Duterte remains highly popular in the country following his first 100 days in office. In a survey by research institute Social Weather Stations, more than three quarters of voting age Filipinos said they were happy with his performance.