Amid faltering peace talks between Thailand's government and Deep South rebels, insurgents have begun targeting tourist areas and the capital in the hope of gaining leverage at the negotiating table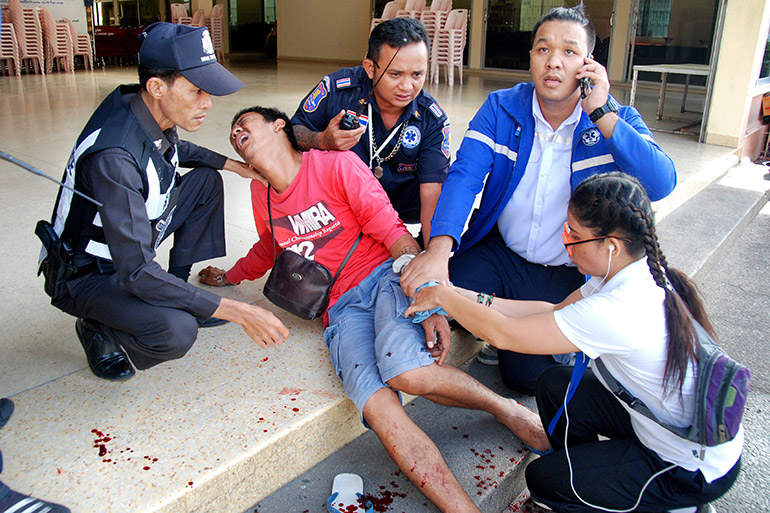 On 10 October, following alerts over a possible car bomb in Bangkok, Thai police and army units raided several locations and detained ten people. Among them was a 39-year-old ethnic Malay phone salesman who had been sending phones to the south. The nine others detained seemed more of a fishing expedition.
But the arrests did show how jittery authorities in Bangkok have become  about the expansion of the insurgency from the three southernmost provinces, where almost 6,700 people have been killed and 12,000 wounded since 2004. There have been more than 1,300 successful bombings, an average of 14 per month, since 2009. Insurgents routinely assassinate individuals and target critical infrastructure. Nearly 200 schools have been destroyed and 180 teachers killed. An estimated 20% of the Buddhist population in the south has fled, and few ethnically mixed villages remain.
Despite the presence of more than 50,000 security forces in the region, the government has been unable to quell the insurgency. Violence has declined from its peak in 2007, when an average of three to four people were being killed each day. Yet the recent spike in insurgent activity in areas popular with foreigners represents a concerning change in tactics.
In August, a wave of bombings at tourist locales across the Buddhist-dominated 'upper south' killed five people and injured more than 30. The ruling junta refused to acknowledge any connection to the insurgency, instead attempting to blame the bombings on radical members of the political opposition, despite all evidence to the contrary. Nevertheless, every arrest to date has involved a suspected member of the insurgency, and all the forensic evidence points to the Deep South. Indeed, the main rebel group, the National Revolutionary Front (BRN), took the unusual step of claiming responsibility.
There is a logic behind the insurgents moving out of the area where they have largely contained themselves.
They have no faith that the current government has any interest in negotiating a durable political solution. Peace talks that began in February 2013 have stalled since the junta seized power in 2014. Partly to blame for the talks' failure were hardline militants, who kept on changing their preconditions – many of which were non-starters. But the military leadership of then-army chief Prayuth Chan-ocha also prevented the government from making any meaningful concessions on amnesties, autonomy and recognition. 
After more than two years in power, the junta allowed talks to recommence on 2 September 2016 in Kuala Lumpur. It was a brief exchange, and the BRN immediately signalled their reaction to the Thai government's intransigence by stepping up attacks, including planting a bomb that tore a train car in half, shutting down rail service across the south.
The BRN has every reason to be sceptical. The constitution that was approved in an August 2016 referendum centralises power and precludes any opportunity for political and economic devolution. It strips power from democratically elected politicians, and empowers the military and non-elected royalist elites. It ensures that there will be no accountability or oversight over the military, which has operated in the south with a culture of impunity, not only engaging in extrajudicial killings and torture, but prosecuting those who report on it.
Ethnic Malays have no confidence that the current regime is willing to accommodate them. The government does not recognise the Pattani Malay as an ethnic group, referring to them as "Thai Muslims". They enjoy no language rights or other forms of cultural recognition. Indeed, the draft constitution that Thais voted on in August obliges the government to promote and defend Buddhism, while the government has done little to tamp down on radical Buddhist clergy and nationalists.
The junta's goal is to degrade the insurgents to the point that it can ascribe low levels of violence to simple criminality, without making concessions to political demands. Thai authorities have repeatedly rejected all calls for general amnesties for insurgents, refused to implement language reforms in southern areas, ignored calls for any form of autonomy, and steadfastly rejected prosecuting its own security forces for crimes against the separatists. In short, there is nothing to negotiate.
So that leaves the BRN and other militants with two options: maintain the current level of violence, which is enough to be an irritant to the Thai government, degrade the provision of social services, sow fear in the Buddhist community, and command loyalty amongst the Malay.
Or they could choose to escalate violence and expand from their usual areas on a more regular basis, which would raise the negotiation stakes. To date, they have been reluctant to do so. In part this has been due to logistical constraints, but it also reflects the strategic calculation that systematically targeting Bangkok and tourist venues would unleash a no-holds-barred offense from Thai security forces. But there is evidence that a younger generation of rebels is becoming frustrated with the pace and scope of the insurgency, and is willing to take greater risks to confront an intransigent military-backed regime. 
Zachary Abuza is a professor at the National War College in Washington, DC, where he focuses on Southeast Asian politics and security issues. His latest book is Forging Peace in Southeast Asia: Insurgencies, Peace Processes, and Reconciliation.