Bangsokol: A Requiem for Cambodia is a performance piece that uses dance, film, music and theatre to honour those killed during the country's turbulent past. Ahead of its showing Paris this month, composer Him Sophy discussed Bangsokol's cathartic power and his motivation for opening his eponymous music school in Phnom Penh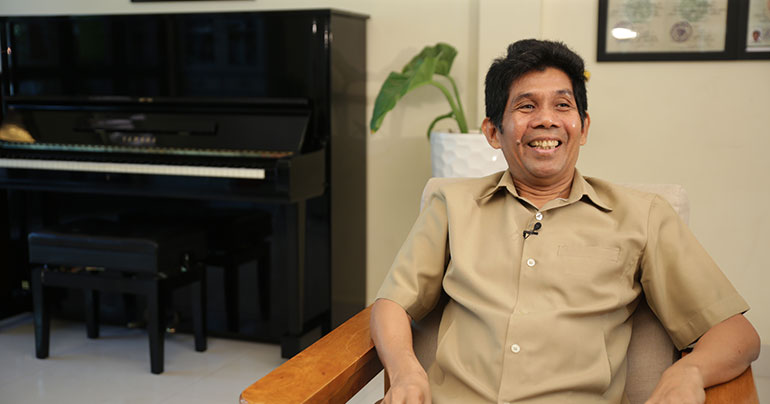 Tell me about the Bangsokol piece…
It's about remembering the past of Cambodia. We focus especially on the period of civil war and the genocidal regime, remembering and wishing [that] the dead people – the heroes, the soldiers, the ordinary people, the victims in Cambodia – [find peace] in the next life. This is the first idea. And then the second idea is not only for Cambodian people, [it's for] people all around the world. Bangsokol means 'requiem'. And you can see people all around the world now, what they suffer with war [and] living under dictators. A lot of people really see tragedy now… I think that my piece also is a very good message to [those] who want to destroy the world, who want to create war in the world… My weapon is music.
How have Khmer people reacted to the piece so far?
Sometimes it's hard – it's very painful for us, for Cambodian people. Sometimes they say: "I don't want to come to see it, I want to be happy, I want to be free from that." But I think they are wrong, they have to come to see it and to remember it, to tell the young generation, [so history] does not repeat… I'm a composer who passed through the whole regime, all the bad things – tragedy, suffering – so I'm happy that I can produce the work and create something that [can be] shown to people all around the world.
[manual_related_posts]
What is the state of music education in Cambodia?
Music education is still weak. I was the only one that studied in the Moscow conservatory, as a composer. The first and the last. We want to perform [Bangsokol in Cambodia] very much, but we don't have an orchestra, we don't have a choir, we don't have professional musicians.
Why do you like to blend traditional Khmer and Western sounds?
Traditional musicians only perform old pieces, [so] there is no development. And their skill is also still low. When I compose for them, I try to teach new techniques, new compositions, new music. [When] they try to learn, they find it very difficult. [When] they achieve their goal, they can perform with the Western bands, all together sounding amazing, beautiful. And they feel proud. And that means the culture will develop, look forward. I built the Him Sophy School of Music because of the lack of development of Western classical music in Cambodia.