New developments in nanotechnology have produced a most unlikely weapon to fight smog
By
Girlie Linao
Street vendor Mon Garido shook his head and laughed when told that artworks along Manila's main highway were cleaning the air of noxious fumes.
"I don't believe you," he said as he handed change to a man buying sweets from him on a pavement along the main EDSA highway in metropolitan Manila. "Why is the air still polluted then?" asked Garido, who blames the deterioration of his health on the bad air.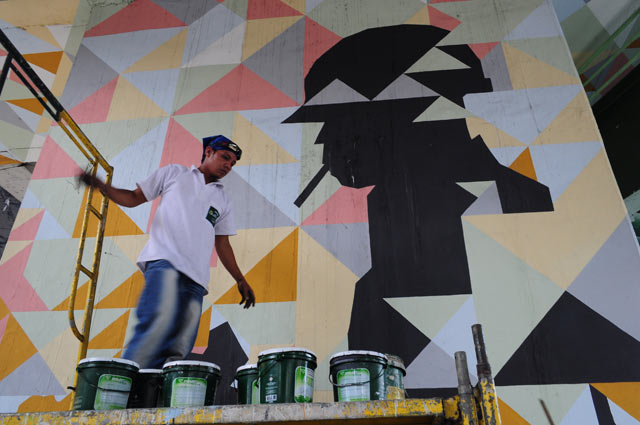 "I now have asthma after working in the streets for many years. It must be the air," he said.
Like Garido, millions of Filipinos face a high risk of respiratory and cardiovascular diseases due to the dismal air quality in metropolitan Manila, repeatedly ranked among the top five most polluted cities in the world.
According to the health department, respiratory and cardiovascular diseases are among the top causes of death in the Philippines, killing nearly 500 people every day.
Amid increasing concern over the impact of bad air, a paint company in the Philippines has come up with a product that fights pollution "one wall at a time".
The paint, called Knoxout, contains ultra-fine titanium dioxide crystals that react with sunlight and water vapour to break down nitrogen oxides (NOx), a key air pollutant that plays a part in smog formation.
"Once excited by light energy, the titanium dioxide lends an electron to water vapour molecules that then become free radicals, which attack the pollutants and convert them into something harmless," said Johnson Ongking, vice president of Pacific Paint Boysen Philippines Inc, which produces Knoxout.
Ongking said Boysen has commissioned local and foreign artists to paint murals using Knoxout on walls along EDSA in a bid to clean the air along the 24-kilometre-long highway. Three murals have already been completed.
"Each artwork is 1,000 square metres and the goal is to have eight artworks," he said. "It's the busiest motorway in metro Manila and the most polluted as well, so it's a place where the technology is most needed."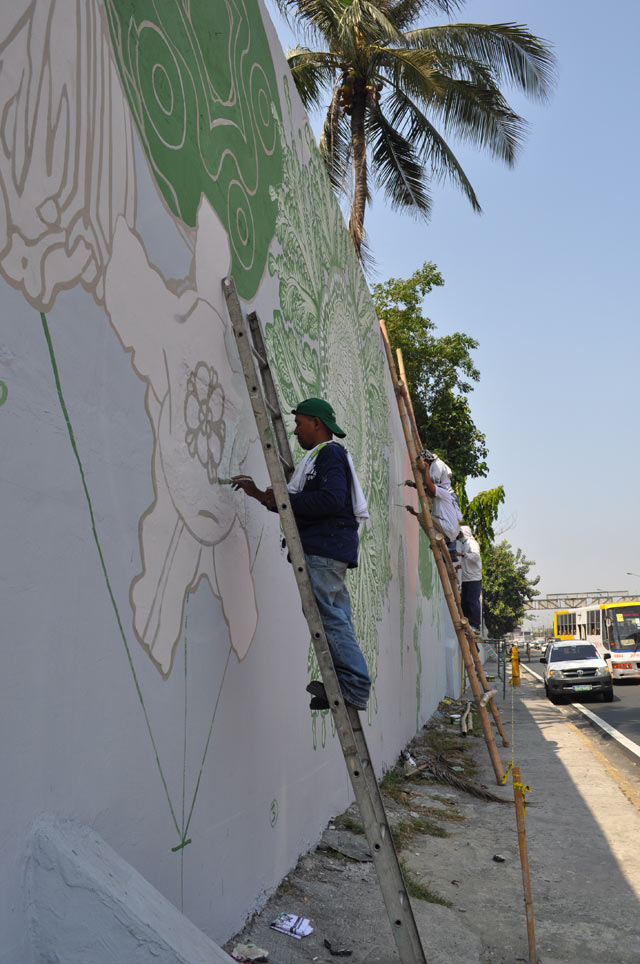 More than two million vehicles use the EDSA every day, emitting noxious fumes that make up at least 70% of air pollution in the capital, according to the environment department.
A one-year trial of Knoxout showed that the paint cleans up about 20% of NOx in the air around the painted wall, according to James Simpas, head of the urban air quality programme of The Manila Observatory, which monitored the test.
"We saw a peak after seven months, when it became most effective," Simpas said. "We are still completing the statistical analysis but the results already show around 20% reduction in NOx. That is pretty significant." Simpas said Knoxout is expected to be effective for five years, the normal lifetime of the paint.
Ongking cites a test conducted by a US-based laboratory that showed one square metre of wall painted with Knoxout removes as much NOx from the air as one mature tree.
"When you paint with Knoxout, it is like painting trees," Ongking said from Boysen's main plant in Manila, which has been re-painted with the new product. "And the more surfaces we paint, the better it works."
Ongking said Boysen's hope is that all Filipinos will use Knoxout as their contribution to cleaning the air. "When you paint a wall with Knoxout, it is not just cleaning your air, it is cleaning everyone's air," he said.
The paint, which became commercially available in the Philippines in 2010, has been used in various projects in Hong Kong, Japan, Germany and France, while Boysen has received enquiries from potential customers from around the world.
While Knoxout is up to four times more expensive than ordinary paint, sales have increased in the past two years, according to Boysen.
"What you're really buying with Knoxout is an air purifier," Ongking said. "It's an air purifier that just happens to be in the form of paint. There is no other product that one can buy to help reduce the smog in our air."