All aboard the elephant coach, one of the region's most eccentric travel experiences, through Myanmar
By Massimo Morello Photography by Andrea Pistolesi
"This is Burma and it is unlike any land you know about." Rarely more than now has Rudyard Kipling's famous quote (Letters from the East, 1898) been so fitting.
The view of this Southeast Asian nation becomes even more intoxicating when seen through the wood-framed windows of one the country's idiosyncratic 'elephant coaches'.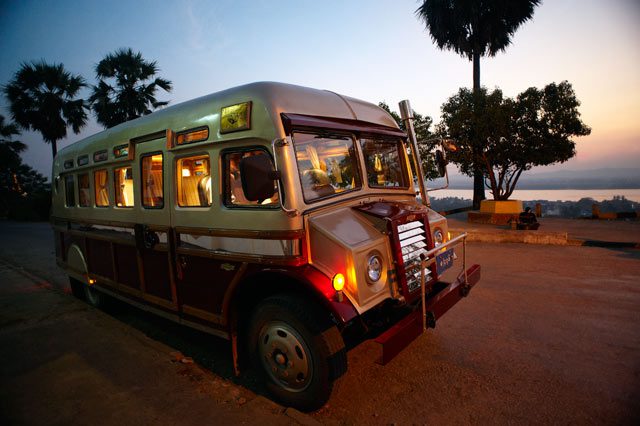 These peculiar-looking vehicles are based on the first post-colonial passenger buses to travel through Myanmar; time machines recreating the scenes described by Norman Lewis in Golden Earth: Travels in Burma or by W. Somerset Maugham in The Gentleman In The Parlour. Both are fantastic travel companions, perfect for perusal while sipping a drink in the coach.
"We have tried to recreate the atmosphere of that world," says Alberto Peyre, the eccentric Italian who lavishly recreated the feel of the antique Chevrolet passenger buses and renamed them. "I called it 'elephant' because it's so huge, it's a five-and-a-half-ton elephant. But mainly because it reminded me of the Indian royal carriage, which was pulled by elephants."
Helped by his Burmese wife, Kyawt, he began work on the project in 2003, as a hobby more than anything else. "I like old stuff, things that represent a philosophy of life," says Peyre, which explains why he drives a '64 Dodge and rides 1930s BSA and Triumph motorcycles, while his wife has a pristine Morris Minor from 1953. "The idea was to recreate the post-colonial buses, which had previously been used by the British on the legendary Burma Road to counter the Japanese advance. They transported 32 people and had a grumpy Perkins engine," recalls Peyre.
The Italian already had grander plans in store for these colossal vehicles: to create a way of travelling, rather than a mere means of transport. Peyre designed his own elephant coach with the look and feel of the old timers, but with a quiet six-cylinder Nissan engine, a safe and modern airbrake system, a strong chassis frame and new axles. The interiors have been upgraded to create a comfortable refuge for six to eight passengers, with handcrafted teak fittings, luxurious fabrics, a galley for hot and cold drinks, two air-con systems, reading-lights and wooden parquet floors. "You can travel anywhere in comfort, even on poor roads, and even in the rainy season," Peyre adds.
The 65-year-old began designing and building at the age of 17, when he put together a sailboat on the shores of a northern Italian lake. Many years later, he built a beautiful house in the medieval village of Castellarquato. He has also designed objects that have gone on to gain cult status, such as wristwatches inspired by the clock featured on the Ford Ka dashboard. "I just enjoy making things," Peyre says.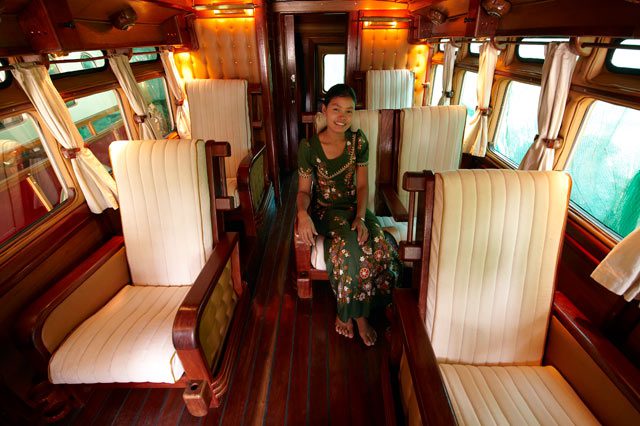 After working as an art director for 40 years, as well as designing newspapers for the major Italian publishers, Peyre's career, and indeed his life, took an unexpected turn when a friend asked him to design his house in Burma.
"When I saw the place I said to him: 'Why not build a hotel?'" remembers Peyre. The place was Ngapali, on the Bay of Bengal and the hotel would become the Sandoway Resort, one of the most luxurious in Southeast Asia. Peyre oversaw it for years, designed others, and became a well-known consultant along the way. Then he decided that it was time to begin taking things easy and to follow his passions – such as finding craftsmen that could perfect every tiny detail of the elephant coach.
Now there are three of them traversing the often-rugged roads of Myanmar: motorised beasts, silent and powerful like their namesakes, that have carved out a new niche in sophisticated travel.
ESSENTIALS
Asia Elephant Coach Co. Ltd. Tel: +95 1 661 731 (mob). Website: asiaelephantcoach.com. Email: elephantcoach@gmail.com. Availability: two coaches are based in Yangon, one coach is in Bagan. Rates: from $220 per half-day of sightseeing (six hours) in a six-seater coach, to $695 per full day of sightseeing in an eight-seater coach. Alternative destinations and custom-made tours are available on request.