Con Dao has shed its gruesome past to emerge as one of Vietnam's most tranquil island destinations
By Silvia Meixner
The main island of Con Dao is the last resting place of a Vietnamese national hero, and while the name Vo Thi Sau may mean little to Western visitors, she is revered on this southeastern archipelago.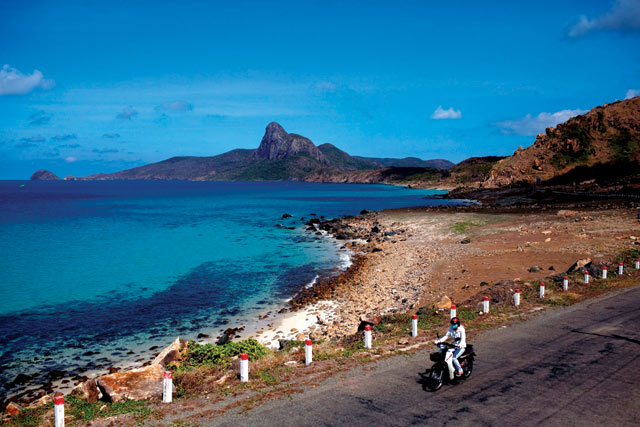 At the age of 16, Vo Thi Sau was captured during an armed insurrection against French colonialists in 1949. Two years later, she became the first Vietnamese women to be sentenced to death at the hands of the French, instantly securing her place in history as a revolutionary heroine.
An imposing marble edifice marks the spot of her final resting place in the Hang Duong cemetery, and it has become a popular place of pilgrimage, with people bringing offerings of roasted chicken, white flowers, incense sticks and shampoo. Many visit at night, when, according to some, Vo Thi Sau's presence can be felt more intensely.
The dreamlike beauty of this garden of rest is a comfort to relatives of the deceased, many of whom met with a violent end. Once considered Vietnam's 'devil island', Con Dao is home to a complex prison system, which was run at various times by the French, the South Vietnamese and the Americans.
A compact exhibition gives an idea of the gruesome reality faced by the 20,000 people who died in the notorious prison. The secret underground prison cells were used to keep political prisoners like wild animals and achieved worldwide notoriety when then Congressional aide Tom Harkin exposed them. Photos he published in Life magazine showed the extent of suffering prisoners experienced at the hands of their
American torturers.
This dark chapter in Con Dao's history, however, is only part of the island visitors can experience and should not overshadow its far more beautiful side.
Forming a national park, the islands and its waters are protected and travellers can scour the turquoise waters of Elephant Bay for a glimpse of the famously elusive manatees.
Those who come in search of rural Vietnam of times past will find Con Dao a refuge populated by extraordinarily friendly locals who seemingly smile at 'long-nosed' tourists around-the-clock.
Around the market the atmosphere is tranquil rather than bustling – there are only a few shops open for business. Along the main bay runs a modest promenade with a few fishing boats bobbing on the waves.
People conduct themselves in a relaxed fashion. Unhurried by life, they live an existence timed to the rhythm of the sun and sea, a way of being some travellers are more than happy to adapt to while on the island.
A quiet and compact paradise, the Con Dao archipelago consists of only 16 islands. There is not much land and little in the way of activities. Government plans to develop the island are met with grumbles, though no one knows exactly what they entail. Transforming Con Dao into an Eldorado for tourists seems to be the agenda, but currently visitors are conspicuous in their absence.
Whether welcomed or not, the former 'devil's island' is poised to become a tourism hub with a new airport scheduled to open this year. It will replace the current one which at best can be described as 'quaint'. There is no risk of getting lost in endless corridors or missing a flight. Passengers stroll across the runway to the waiting planes, five of which land daily, at least for the time being.