Growing up with grandmothers from France and Sicily, Julien Lavigne's childhood was spent in kitchens surrounded by delicious tastes and smells. In 2006 he left Europe for Bangkok, where he worked as a chef and eventually opened Oskar Bistro Bangkok. He and his partners opened the Phnom Penh outpost in 2015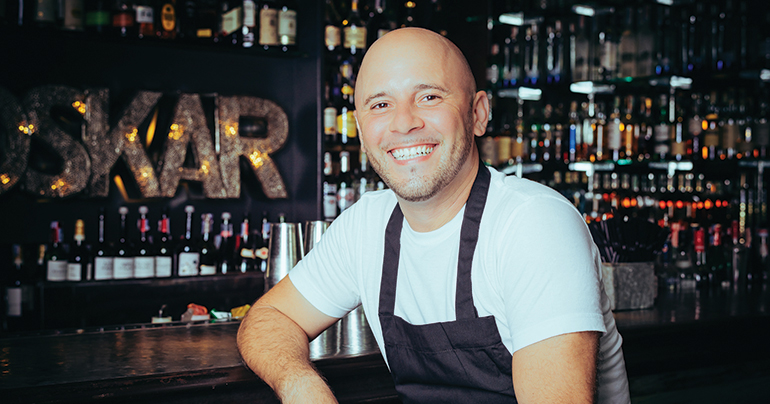 "French cooking is all about patience, and for Oskar's signature cocottes, it's all about taking it slow. With the braised lamb cocotte, I flavour the meat with herbs and an aromatic garnish. Then I sear it and soak it in a nice wine and a selection of spices. I cook this slowly on a low heat to give that juicy tenderness to the meat. After that, I separate the meat from the jus and let the jus reduce to a proper consistency. Finally, I combine this with a medium-grain couscous flavoured with olive oil and butter. The meat and couscous are topped with a harissa sauce.
"We firmly believe in using what the land gives us. In the past few years, local ingredients have become more accessible.  At the end of the day, it's the locals that we're cooking for. We visit all the markets to see what is fresh. We like for our dishes to evolve with the environment.
"All the partners at Oskar Bistro Phnom Penh have some connection to Cambodia. Some of the partners have lived in Cambodia for years and own restaurants there. It's also key that we are all great friends, and enjoy working together. In 2015, we felt it was the perfect time to make our mark on the Phnom Penh food scene.
"General manager Patrick Ferenczi is a huge link between us all. He's our eyes and ears in Phnom Penh and has elevated the quality and consistency of the restaurant. We brought restaurant manager Francois Guillaume and chef de cuisine Antony Pagani to Oskar Bistro Bangkok to immerse them in its personality. They carried this with them to Cambodia, and have been vital in making the restaurant flourish.
"Cambodia has only just started creating hospitality education. Before, we had difficulties finding the right staff. Now, we are seeing more and more students with inspiration and motivation who turn into great members of our staff.
[manual_related_posts]
"Our clientele is quite different in Phnom Penh. In Bangkok we have a higher volume of expats, whereas in Phnom Penh, we have more locals. We think this is a good sign because it shows we know what the locals like and are making them happy.
"The Michelin Guide only visited Bangkok last year, which of course elevated the reputation of many restaurants. Though the Michelin Guide hasn't visited Cambodia yet, I believe it will be there within a few years. Of course, because Bangkok has a much larger population and ten times the amount of restaurants, it is more competitive. But Phnom Penh is on the rise."
This article was published in the September 2018 edition of Southeast Asia Globe magazine. For full access, subscribe here.