The increasing digitalisation of Southeast Asia is creating greater opportunities for startups, although it is foreign entrepreneurs who are leading the pack

By Rebecca Foster and Erika Mudie
With great prospects for growth and untapped demand, Southeast Asia's little-explored digital startup scene is proving fertile ground for Western entrepreneurs.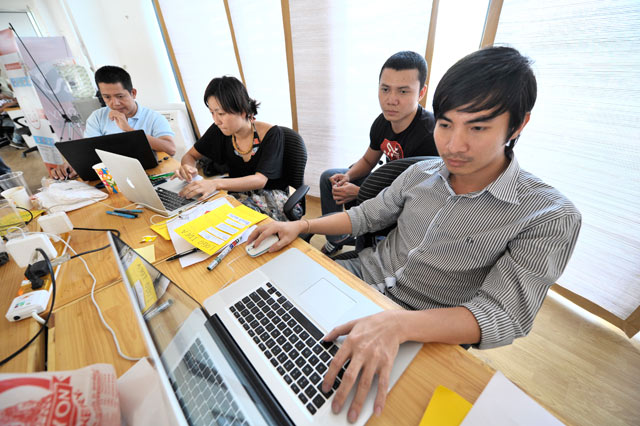 The region's online industry currently employs 11.7 million people and contributes $32 billion to its economy – more than 3% of gross domestic product – and is expected to grow significantly under the Asean ICT Masterplan, which aims to harness the potential of the region's ICT sector.  The availability of online products and services has boosted demand for phones that can access the internet in Southeast Asia. Between April 2012 and March 2013, sales of smartphones in the region reached a record 42.2m units. This interest is set to soar even further as two-thirds of the region's mobile-using population are yet to switch to the latest generation of phone. Surfing Southeast Asia's Powerful Digital Wave, a report by multinational consulting, technology and outsourcing firm Accenture, predicts that Indonesia, Malaysia, the Philippines, Singapore, Thailand and Vietnam will spawn an additional 194 million internet users by 2020.
Increasing smartphone penetration coupled with a burgeoning middle class makes Southeast Asia an attractive destination for investors looking to sink their cash into the next profitable online startup, according to Graham Lean, CEO of business consultancy firm Media Development Asia.
"Some governments, such as Singapore's, make it easy to get startup funding, plus there is an increasing number of startup incubation programmes and early stage funds," said Lean.
Launched in 2003, Malaysia's Cradle Investment Programme offers budding technopreneur companies seed funding of up to $156,700 based on the strength and sustainability of the fledgling business model. The scheme also supports blossoming Malaysian startups by providing mentoring, market access and training for product refinement.
While Asean is breeding ideas and entrepreneurial ventures, the digital startup arena remains largely untapped. It is a golden opportunity that Western entrepreneurs hope to seize.
"There is an abundance of proven business models all over Europe, the US and Australia that are still not being executed in Asean," said Patrick Grove, co-founder and group CEO of Malaysia-based investment firm Catcha Group, which will invest up to $150m in Asean-based online businesses over the next five years. "In the West there is a greater culture of innovation and creativity, so ideas, products and websites get launched. Those that fail are never heard of again; those that work are emulated and adapted and brought to the rest of the world."
CheckinTonight.asia, which helps users find last minute accommodation in six countries in Southeast Asia, is one such example.
"We were the first in Asia with this business model," said Mark Southby, the Australian managing director of CheckinTonight.asia, adding that the app is loosely based on software that has proved popular in the US and Europe. From its launch in February to early July, the application recorded 25,000 downloads.
Southby was based in Cambodia when he developed CheckinTonight. "From a startup point of view, the costs are very low in Asia, especially in Cambodia," Southby said. "This cost effectiveness opens up more opportunities in terms of development of product."
Southby has blazed the trail for other startups, which can draw on CheckinTonight's experience to skirt issues such as credit card penetration and to train developers who have had little exposure to the latest global trends. Its success also highlights that investors are more likely to place their confidence in online businesses that follow trends that have a global reach.
"The international industries that are big in places like the US are also big here in Southeast Asia," said Gordon Peters, managing partner at Emerging Markets Consulting, a locally based strategy consulting firm with offices in Cambodia, Lao PDR and Myanmar. "The recent trend in online social networking and gaming in both mature and emerging economies will continue to grow. In terms of consumer businesses, retail shopping, travel, communication, and hospitality industries are also enjoying growth at the moment."
Subsequently, it follows that countries with fast internet connections, a high uptake of smart phones and cheap electricity will yield the most profits for digital startup businesses. Zalora, an online shopping portal backed by Germany's Rocket Internet, is enjoying a level of success in the tech savvy markets of Indonesia, Malaysia, Singapore, Thailand and Vietnam that would be harder to emulate in the region's poorer countries.
While it may be too early for e-commerce startups to enter the region's low-income countries, these markets may present other prospects for foreign and local startups.
"Within Southeast Asia, Vietnam and Thailand are both big opportunities for online startup businesses now, as well as the emerging markets in Cambodia, Myanmar, and Lao PDR. As internet usage in countries like Cambodia continues to increase, online startup business will be part of that growth," said Peters, adding that the travel and tourism sector particularly will provide the space for local competitors to establish startups on a national scale. "Businesses that have seen success worldwide that can capture the most users will attract the most investors. Games and social networking sites like Facebook and QQ in China are also good examples. Communications ventures such as Skype will also hold a lot of interest for investors."
Adrienne Ravez, co-founder of Endorphine Concept – a digital solutions company and owners of the website GeeksinCambodia.com, which focuses on Cambodia's startup scene – says there is a unique demand in Cambodia from the country's NGO sector.
"In Cambodia, I think e-commerce will have to wait until the economic integration in 2015," she said referring to the realisation of the Asean Economic Community. "It's a very specific market because there are a lot of NGOs. So a strong starting point for local and foreign startups in Cambodia would be to bridge technology and non-profit organisations."

Cyber struggles
Soaring sales of smartphones and tablet computers in Southeast Asia over the past year provide a lush breeding ground for digital startups. However, the market comes with a unique set of challenges for entrepreneurs.
Understanding the market, culture and the way Asians do business provides a substantial hurdle for Western investors, according to Andrew Wong, CEO of Mad Incubator, Malaysia's largest private startup incubator. "Investors have to find good partners that fit into the organisation," he said.
Chris Roberts, CEO of LiteracyPlanet.com, agreed that building strong local partnerships is integral to success. Aimed at children, LiteracyPlanet.com is an English-language education product that is rapidly gaining popularity in Malaysia and the Philippines. "These relationships have in some cases taken many months to build, which is important as a high level of trust is essential when placing so much reliance on local partners," said Roberts.
The lack of experienced personnel in Southeast Asia's talent pool is a hurdle for online entrepreneurs. "While some developers may be technologically proficient, it can be difficult to explain a concept if developers have no reference point," said Mark Southby, managing director of CheckinTonight.asia, a last minute hotel booking app that was developed in Cambodia. "We started with a very low base in terms of the development process."
In a region comfortable with imitating, innovation is also a key challenge. "There is nothing wrong with emulating successful business models, providing you can be the first or second into the market. But, for example, there were dozens of daily deal websites at one stage, most of which closed," said Graham Lean, CEO of business consultancy firm Media Development Asia.
In terms of investment, many companies in Southeast Asia struggle to secure funding from venture capitalists once the initial investment has dried up. There is also a distinct lack of exits for investors to recover their money via share offerings or stake sales.
Issues concerning credit card adoption and e-payment also come into play in Southeast Asia. While 42% of Singapore's population uses e-payments, only 2-3% of the populations in Indonesia and Vietnam are transacting online, according to The Economist Intelligence Unit. This creates a hefty barrier for online entrepreneurs, as cash-on-delivery payment systems are far from ideal in the app economy and for online subscription devices.
The differing legal and regulatory online framework in Asian countries also creates a stumbling block for entrepreneurs, as uncertain censorship laws and limitations to online freedom in countries such as Vietnam form clouds on the horizon of online innovation.



Also view:
"Online and upwards" – Thailand's grand ICT plans may have stalled but the sector is showing signs of a fightback
"The blind side: Startup weekend in Phnom Penh" – Cambodia offers a bounty of business opportunities, but will a lack of innovative spirit see locals lose out?