French artist Vincent Broustet's latest solo exhibition looks at that truly distinct, yet ultimately obscure, ritual: the Khmer woman's approach to beauty

By Jemma Galvin
As if emerging from a soft haze of incense smoke, the women, bedazzled from head to toe, seem like solitary flowers drifting apart from a frenzied patch of blooms.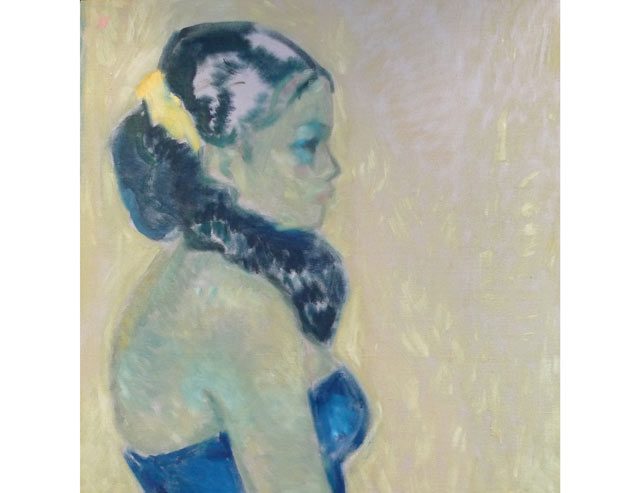 Artist Vincent Broustet's delicate oil colours move and twirl on the canvas, giving the soft figures he depicts the appearance of veils of elusive fabric. A muted palette approached with impressionistic brushstrokes draws an audience in, tempting it with questions of beauty and intrigue.
These works comprise French painter Broustet's latest solo exhibition at Siem Reap's McDermott Gallery Old Market, entitled Queen for a Night. The show explores the unique world of Khmer women; dreams and disappointments, banality and excitement are captured through the transformative power of beauty rituals.
From layers of silky foundation to fringes of fluttering false eyelashes, women work relentlessly at pursuing their distinctive version of aesthetic perfection – and becoming a queen for a night.
Based in Kampot, Broustet's artistic journey began when he ditched school at age 16 and embarked on a wistful journey, from Europe to Africa, South America to Southeast Asia. He says:
"My sketches and paintings do not engage in exoticism but instead are transcriptions of moods and atmospheres, the pursuit of what is and what remains common to every human, every landscape, every shadow."
After countless days wandering the world, he returned to Paris and spent three years at the Beaux Arts School, learning to incorporate his meditative method with traditional technique.
The result has seen him exhibited in galleries in France, Morocco and Cambodia, and his work is also part of numerous private collections.
In Queen for a Night, Broustet's attempt to capture impressions, rather than descriptions, is wonderfully clear. The exhibition runs until October 31.