One British farmer's search to uncover hidden military treasures is nearing its climax

By Gavin Coigne
Just over 70 years ago, in December 1941, the Japanese invaded Burma, eventually capturing Rangoon in March 1942. Following the fall of the capital, British forces were pushed back into India. Little did they know that their longest land campaign of World War Two had begun.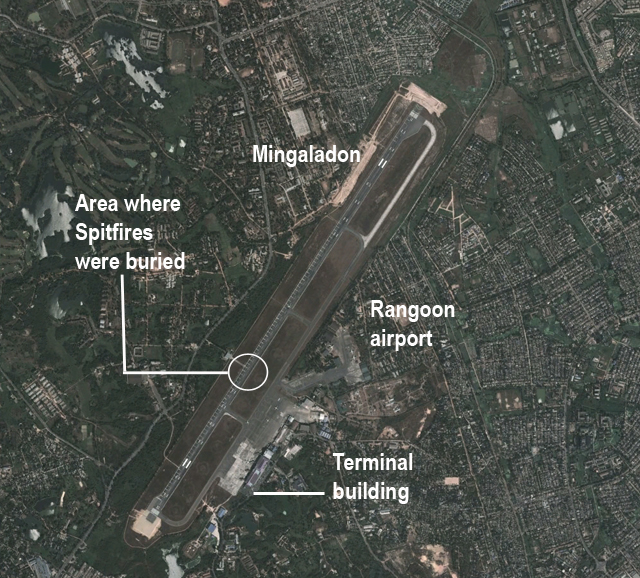 The inhospitable terrain of the Southeast Asian nation, allied with dwindling resources, painted a bleak picture for the British throughout 1942 and 1943, prompting the formation of the Southeast Asia Command, charged with organising forces and rebuilding morale. The 14th Army was created, comprising British, Indians, Africans and Gurkhas.
Now on the front foot, the 14th pushed back into Burma in late 1944, emerging victorious in the decisive Battle of Mandalay and taking Meiktila in March 1945. These important victories towards the end of the Burma Campaign were soon followed by the Japanese surrender in August 1945.
It was around this time that British forces are believed to have buried 36 Spitfire fighter planes at Rangoon's Mingaladon Airport, now known as Yangon International, so that no other country could use them. This month, a team of archaeologists will begin digging for the historic hoard, which was pinpointed by David Cundall, a British farmer and aviation enthusiast.
The dig will take between four and six weeks – with the heavy work carried out by motorised diggers and more intricate details by local labourers – and some sections of it will take place just 30m from the end of the airport's runway.
Should Cundall's hypothesis turn out to be correct, it will be the culmination of an eight-year campaign of secrecy and determination for the British farmer. Having first been tipped off to the planes' whereabouts by former Allied soldiers in 2004, Cundall could do nothing while sanctions remained in place against Myanmar as the aircraft were regarded as arms.
But following the country's rapid reforms and the subsequent lifting of sanctions, the excavation was given the go-ahead by the government. The Spitfires, having been buried in crates without ever being assembled, should be in almost brand-new condition.
Cundall's team also includes Dr Soe Thein, a professor of geology at Yangon University, and two geophycisists – Dr Roger Clark of Leeds University and Dr Adam Booth from Imperial College, London – who will carry out further surveying of the site before the dig begins.
The Spitfires are estimated to be worth between $1.6m and $2.4m each. If the dig is successful and there is a financial surplus, it is hoped that some of the money will be used to send a Myanmar student, or students, to Leeds University and fund their degree studies.