In the performance room of Penang House of Music, a museum dedicated to the musical history of this Unesco-listed Malaysian island, a crowd claps excitedly. They are cheering the group of young performers who get up from behind the stage, fatigued and sweaty, holding colourful puppets high above their heads. Their performance tells the story of Chew, the clever migrant from China who arrived on Penang to start a business and ended up falling in love with Ah Nya, a beautiful nyonya (Malay-Chinese) girl. And there is Kassim, the boisterous Indian Muslim trader who got rich working in the local spice business. Their lives are perfect until the 1967 Penang riots break out, filling the streets of George Town with Chinese secret societies battling in the street.
On the side of the stage, four musicians, still electrified from the performance, place their instruments in their cases. But today's job is not over: spectators young and old step forward to have a go at manipulating the traditional wood and cloth figurines of potehi, a traditional puppet theatre with themes and characters from Chinese opera, and performed in the Penang Hokkien language. "People can join us after a show to play with the puppets. We do that to localise and explain the form, as we need to keep attracting new audiences," said Professor Tan Sooi Beng, manager of the Ombak Potehi group, a puppetry project of the Penang-based Ombak-Ombak ARTStudio.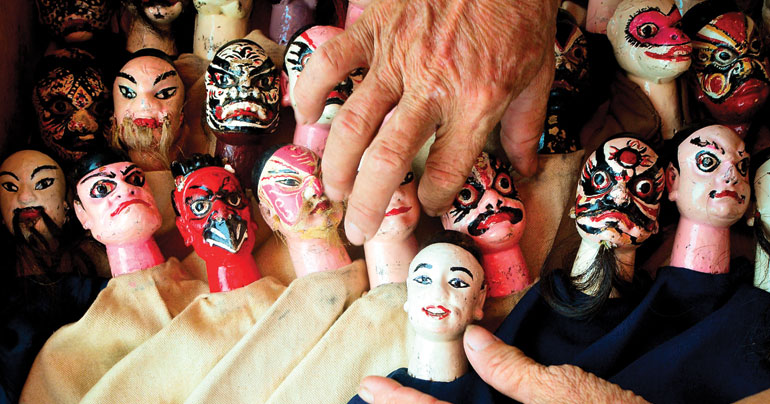 Indeed, the group's past performances at events like 2018's George Town Festival attracted people from all walks of life, ethnicities and genders. That's quite an accomplishment in Malaysia, a multi-ethnic, multi-religion Southeast Asian nation that still struggles to find a balance between its people's diverse cultures. "I think we succeeded because we provide English, Malay and Mandarin digital subtitles to the Hokkien dialogues, thus making the art form more modern and accessible to everyone," explained Tan. Beside subtitles, a projector casts visuals of colonial Penang on the bottom of the stage for a cinematic feel, and the group's musicians play faster tunes to better suit modern tastes.
Over the past few years, the prominent Malaysian ethnomusicologist and her group have done much to revitalise the Hokkien-centric art of Penang potehi, saving it from the brink of extinction. In the first half of the 2010s, the art survived thanks to four troupes of ageing performers: Beng Geok Hong, Sin Kim Hong, Guat Poh Hong and Sing Hong Eng. They squeezed a measly living from the art performing in temples to Malaysian-Chinese crowds. The performances were a hard sell: the long improvised plays lasted up to three hours and were performed only in Hokkien, without translation into any of the other languages spoken in Malaysia.
Potehi puppetry originated in the southern Chinese province of Fujian, and the ancient city of Quanzhou was one of its centres. The earliest historical data of performing troupes go back to the 18th and 19th centuries, but the genre is thought to be much older. Starting in the late 19th century, migrant workers spread the art to Taiwan and Southeast Asia. The island of Penang, a thriving colonial port in British Malaya, was one of its entry points. In the 1940s, Penang's potehi was a popular entertainment at temple festivities and funerals all over the state.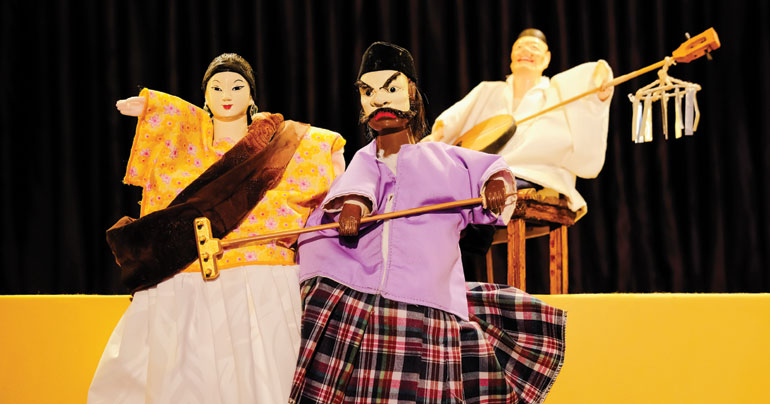 Penang's potehi troupes perform sitting on low stools set around a wooden stage. Two performers hide behind a theatre's frame wearing wood-and-cloth puppets on one hand and giving them voices. The plays are drawn from traditional Hokkien stories such as the tale of hero Ma Lek, a brilliant young scholar skilled at kung fu who falls in love with a beautiful girl only to have to rescue her from a lecherous man who kidnaps her, with crashing cymbals and gongs offstage signalling the building drama. Troupes also mesmerised crowds with spectacular scenes, such as the famous battle between the centipede and the cock. The highly choreographed scene, based on Chinese folklore, features a flying insect carried by wooden sticks that attacks a rooster. Puppeteers used real fire on stage.
Robin Ruizendaal, a Dutch expert on Asian puppet theatre who directs Taiwan's Taiyuan Asian Puppet Theatre Museum and who has written books on the subject, says that among all forms of potehi, Penang's is quite unique: "Its mixture of traditional seated performance by the puppeteers doesn't exist in Taiwan anymore. Also, Penang musicians play a different type of opera music compared to that used in Taiwanese puppet theatre." In Taiwan, the government proudly supports potehi as a form of popular entertainment.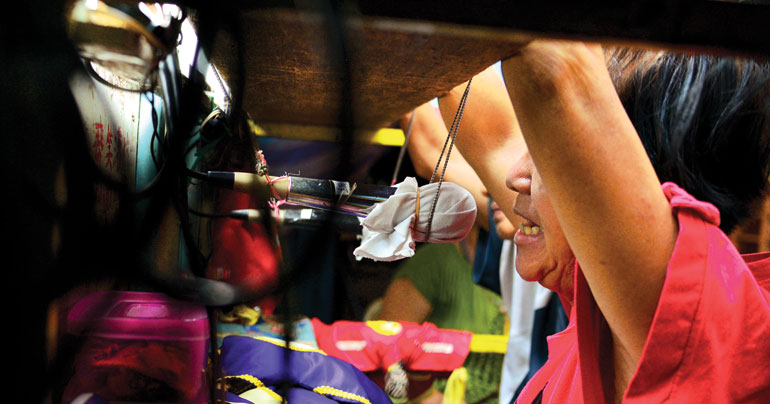 "But regardless of its unique heritage, potehi receives nothing from Malaysia's Ministry of Culture and Tourism," said Tan Sooi Beng. "Chinese associations and the local Chinese population don't promote this art form, as they prefer Chinese orchestra and lion or dragon dances as the main symbols of their cultural identity." The lack of interest from the Chinese community was the main reason the last four Penang potehi troupes lost their enthusiasm, never investing in gear repairs or improving their shows to reach wider audiences.
"The four troupes are poor; they sleep on straw mats onstage after their shows, men and women, all together… It's such a hard life that none of their children wants to carry on,"

Liew Kung Yu
"The four troupes are poor; they sleep on straw mats onstage after their shows, men and women, all together… It's such a hard life that none of their children wants to carry on," said Liew Kung Yu, 58, a Kuala Lumpur-born visual artist who grew up in the northern Malaysian state of Kedah, next to Penang. While directing the George Town World Heritage Celebrations in 2014, Liew got back in touch with the potehi performances of his youth. He applied for a grant and helped restore the puppets of the original Penang potehi troupes. "I wanted to give them the credit they always deserved for carrying on the art against all odds," he said.
Liew's involvement led to the creation of a group called Kar-Wan Potehi (Friends of Potehi), which includes Tan Sooi Beng, photographer Chew Win Chen and researchers Ong Ke Shin and Foo Mei Weng. The team studied those four struggling Penang potehi troupes for two years, and their careful research was presented in 2017 as the multimedia box set Potehi Glove Puppet Theatre of Penang. It came in a playful cardboard box shaped like the chest where potehi performers traditionally store their puppets, and included a coffee table book, two flip books that show the puppets' movements, an illustrated timeline of potehi's diaspora and origins, a DVD of complete performances and a pop-up cardboard stage that demonstrates how it all works.
"We designed the volume to be as interesting and interactive as possible, to educate the public about what potehi really is and give a real-life feel to this incredible cultural tradition," said Liew.
But to Professor Tan, publishing a book of research was not enough to keep the art alive. "If a society doesn't maintain the traditional function of puppet theatre as a means of communication, conveying issues and values, potehi can be easily replaced by other, more modern media," she said. In 2015, Tan kick-started the Ombak Potehi troupe, encouraging young people to learn puppet manipulation, folk music and narration directly from Penang's remaining potehi masters. Tan convinced Madam Ooi See Han and Madam Chuah Saw Tin of the original Beng Geok Hong troupe to pass the art down to the novices in the spare moments between their afternoon and evening temple shows.
But to adapt the original Chinese-centric style to modern times, attention spans and festival schedules, modifications were made. Ombak Potehi has moved from repurposing traditional plays to writing their own, including Kisah Pulau Pinang, or The Story of Penang Island. Thanks to fundraising shows, the group managed to tour Tokyo in 2017.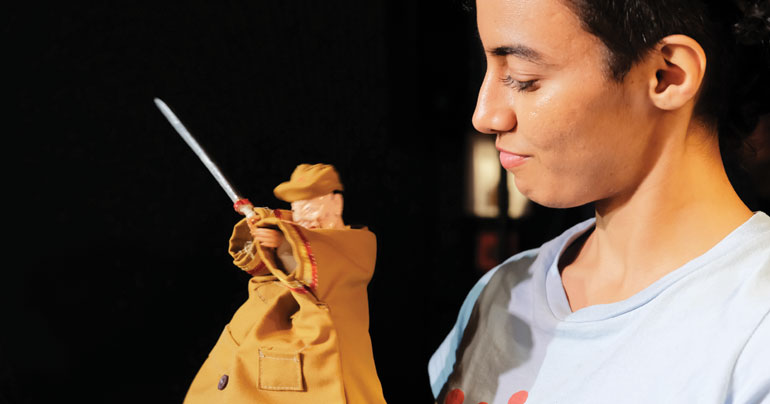 "We summarised and shortened the original three-hour-long plays to about 40 minutes so that we can keep crowds engaged," said Marcus Lim, 32, a Hokkien opera fan and one of Ombak Potehi's main puppeteers since 2015. Lim said that Kisah Pulau Pinang is based "on interviews with local, real Penang characters, as well as historical research". The play's first act captures life on Penang between the late 18th and early 19th centuries, while the second focuses on the hard times during the Japanese occupation of World War II.
"The story is written by the young apprentices, and it's all based on Penang's multi-ethnic history," explained Tan. In an ethnically fractured society like Malaysia's, it's important to educate new generations on Penang's less Islamicised and more multicultural past. "We show that in the past, people of different races not only interacted with each other in business but also in their everyday lives."
The overall point, said Tan, is to simply keep the art of potehi alive and well: "Uniting West Malaysia's three main ethnic groups with glove puppetry… will be difficult – but at least we hope to keep making potehi accessible to all races."