Advertorial
Located on a leafy, eight-hectare campus in the heart of Phnom Penh, Northbridge International School Cambodia offers students an outstanding international education. Students benefit from a personalised approach to learning, while pupils and staff enjoy unique global opportunities through our family of schools around the world.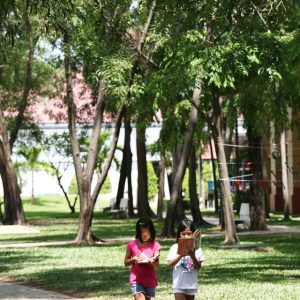 Last year, Northbridge became part of Nord Anglia Education (NAE) – the world's leading premium schools organisation. Our family includes 41 international schools that educate more than 32,000 students worldwide.
Being part of a global family means we have access to a wide range of resources to enhance our educational offerings. Students and teachers benefit from access to innovative learning programmes and the support of NAE's expert education team.
Northbridge provides the highly sought-after International Baccalaureate (IB) qualification. In addition to academic skills the IB supports the development of an international outlook and intercultural awareness, encouraging citizenship, global awareness and connectivity.  It is also known for enhancing independent inquiry and proficiencies such as communications, interpersonal and leadership skills – elements that will assist your child beyond education and into the workplace. 
At Northbridge we offer every child a personalised approach to learning. We pride ourselves on helping an ever-growing number of students to think independently, develop positive attitudes in society and achieve personal success. Last year, Nord Anglia students gained entry to prestigious universities including Imperial College London, Oxford and Cambridge in the UK, Harvard and New York University in the US, as well as the Hong Kong Institute.
We are the only school in Cambodia to offer unique global opportunities to our students through our family of schools around the world. Our Global Campus unites students to learn together through online, in-school and worldwide experiences.
Most recently, students had the chance to be part of the Nord Anglia Education Global Orchestra in New York.  After successful auditions, three Northbridge students joined 80 other musicians from our family of schools to perform together as an ensemble there.
Other exciting opportunities include an expedition to Tanzania, competitions for photography, creative writing, dancing and singing to name but a few. Our students can also participate in regional sports activities.
NAE has collaborated with The Juilliard School, the world-renowned performing arts conservatory, to develop an innovative arts education curriculum. This will soon begin its rollout, beginning with music and eventually encompassing drama and dance too.
This year we have made some big investments to enhance our school. We now have a wonderful building specifically for our Early Years pupils, a two-storey library, state-of-the-art science laboratories and a design technology suite equipped with the latest 3D printers. Students have taken particular delight in the new playgrounds for all ages.
We believe there is no limit to what our students can achieve – academically, personally and socially. We encourage our students to be ambitious – to strive for academic success, to embrace opportunities through the Global Campus, and above all, to love learning. Imagine how much your child could achieve at our school.