A recent outbreak of the rare Nipah virus, which was first identified in Malaysia in 1999, has killed more than a dozen people in southern India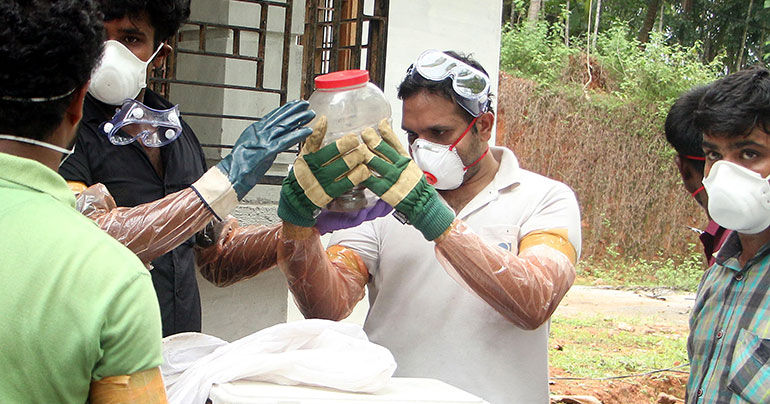 Local authorities have ordered emergency measures to prevent the spread of the disease, quarantining nearly 100 people, according to local news outlets.
The disease originated among pig farmers in Kampung Sungai Nipah, a village in Malaysia, and claimed the lives of more than 100 people nationwide, before spreading to Singapore in 1999. While evidence of the disease has not been found in Southeast Asia since, the virus has repeatedly popped up in Bangladesh and India, with more than 260 deaths attributed to the disease over the past two decades.
Despite the Nipah virus not having been reported in Malaysia for many years, local Indian news outlets originally speculated that Mohammed Sabith, the first recorded death in this latest outbreak, had contracted the virus on a recent trip to Malaysia.
"Some media have reported that [Sabith] had gone to Malaysia and was infected with Nipah virus from there. This is not true," said a relative of Sabith's, as quoted in a local paper. The family has produced the deceased's passport to prove that he was not in Southeast Asia in the months prior to his death.
[manual_related_posts]
It is far more likely, according to health staff, that the virus has been spread by fruit bats, which are natural hosts for the disease. Dead bats were reportedly found in the drinking well of an affected family's home.
The disease, which causes flu-like symptoms and triggers a brain-swelling condition called encephalitis, has a 70% mortality rate, according to the World Health Organisation (WHO). It is one of the eight priority diseases that the WHO believes most likely to cause a global epidemic.
The virus can be spread by fruit bats, pigs and horses, and can also be transmitted via human-to-human contact. There is no vaccine.