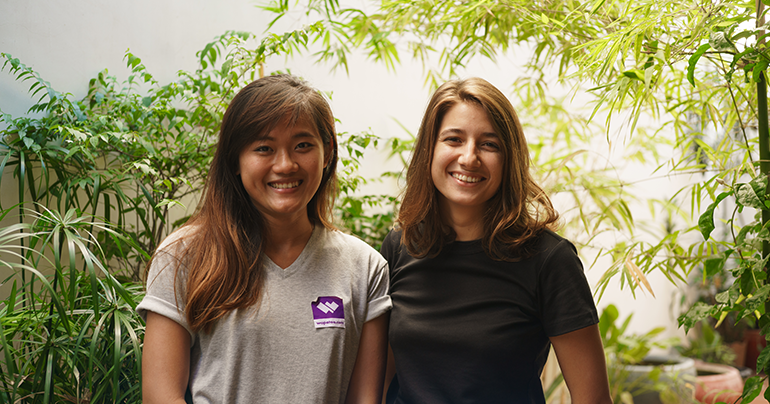 Down an unassuming alley in Phnom Penh, two women lie sprawled on a cushioned floor, eyes glued to the laptops blinking in front of them as they train their new intern. Scattered around the room is a treasure trove of books, artworks, photographs and newspaper clippings showcasing the work of the Cambodians who share this colourful and homey community space.
This is the makeshift office of Phnom Penh's newest Khmer language digital magazine, Wapatoa, launched in March to an enthusiastic response that took its creators by surprise.
"Wapatoa is basically a website that is dedicated to answering what makes life more meaningful," says Sokcheng Seang, 23, who co-founded the magazine with 30-year-old Alix Feschotte from France. Targeted specifically at young Cambodians, Wapatoa – 'culture' in Khmer – features everything from think pieces and profiles of up-and-coming Cambodian artists to 'life hacks'.
The online magazine fills a void in Cambodia's media landscape, according to its founders, who say there are no other Khmer language publications with thought-provoking, cultural, educational content that's also fun, engaging and aimed at young Cambodians.
Seang encountered a problem after amassing more than 28,000 views on her own English-language blog: "[By] not translating my blog into Khmer, I cut off 80% of the Cambodian people that I wanted to reach," she says.
She curates most of the content herself, always shooting for a light, conversational tone, along with Khmer slang and cultural references. As a freelance translator, Seang began to take issue with overly formal Khmer texts that imitated the punctuation-filled structure of the English language.
"When I look back [at] old magazines and old journals that we had maybe a hundred years ago, in one paragraph there is only one period at the end. So, when you read, it just flows," she says. "[Punctuation] disrupts the reading experience… They try to sound formal. It's a new style of writing. It's more choppy."
As they build their readership, the inspired minds behind Wapatoa hope to encourage active engagement with material for a generation raised on attention-sucking platforms such as Facebook. "It's a new experience of knowledge consumption," says Feschotte, who is more focused on the business and design side of the magazine. "The habit is not there. That's something we have to work on – both the content and how you access the content, the habit of learning."
The team wants their venture to become a platform where young Cambodians – budding painters, photographers and writers – can share their work.
"Our objective is to create a network of contributors, young Cambodian contributors," says Seang. "We have so many stories to tell, so many people to introduce to the world. People are waiting for it. There is a need. We feel it."
This article was published in the May edition of Southeast Asia Globe magazine. For full access, subscribe here.