A film by NGO Global Witness exploring the ties between Myanmar's military and the country's murky gem trade will be screened for the first time in Yangon this week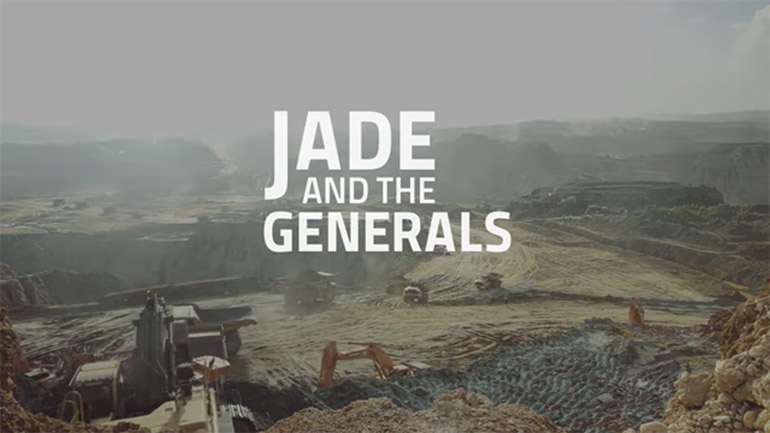 "Even though we hear that a billion dollars of jade is mined, we have no right to see or touch it," a woman explains in the trailer for a new short documentary exposing the links between Myanmar's gem trade and armed conflict that will be screened in Yangon on Wednesday.
Produced by the UK-based NGO Global Witness, 'Jade and the Generals' follows the group's undercover investigation in 2015, which revealed the gem trade to be worth up to $31 billion in 2014 alone, equal to 48% of Myanmar's official GDP at the time.
The country's rich natural resources fell prey to the country's corrupt military, which, in the 1990s, consolidated the mining industry into the hands of a few well-connected elites.
According to Global Witness, the families of former military dictator Than Shwe, former ruling party general-secretary Maung Maung Thein and the former top general in Kachin State, Ohn Myint, hold multiple concessions that made them $220 million at the official government jade sale in 2014, and $67 million at the same event in 2013.
The money helps fuel the military's ongoing conflict against the Kachin Independence Army/Kachin Independence Organisation (KIA/KIO), contributing to the country's struggle to realise lasting peace.
Although the military's death grip on the shady mining industry has shown no signs of loosening, in September 2016, then US President Barack Obama began lifting sanctions imposed on Myanmar, ostensibly due to the progress the country had made in its transition to democracy.  
According to critics, the lifting of sanctions has made the situation worse, directing even more revenue into the pockets of the military elite and undermining state counsellor Aung San Suu Kyi's bargaining position vis-a-vis the military.
When they agreed to lift the sanctions, Obama and Suu Kyi "took important tools out of their collective tool kit for dealing with the Burmese military, and threw them into the garbage," John Sifton, the deputy Washington director of Human Rights Watch told the New York Times in September.
The film screening will take place at the Park Royal Hotel at 1 pm on Wednesday.