An introduction to the politicians taking up the top three government positions in Myanmar

Myanmar's parliament has just elected a new president, 69-year-old NLD party stalwart Htin Kyaw. He is the first civilian to hold this position since 1962. Two more candidates, Myint Swe and Henry Van Thio, were in the running, the former a candidate nominated by the military, the other being one of the two put forward by the NLD, alongside Kyaw. The new president received 360 votes, while Swe got 213 and Van Thio 79.
President Htin Kyaw
For someone just voted the leader of a nation of nearly 70 million people, relatively little is known about 69-year-old Htin Kyaw. For years he has been a stalwart of Myanmar's main opposition and now majority party the National League for Democracy (NLD). He is known to be a childhood friend and later close aide of NLD leader Aung San Suu Kyi, even occasionally serving as her driver.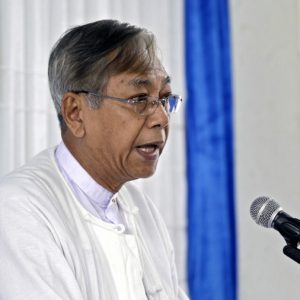 Kyaw studied a bachelor's and then master's degree in economics at Yangon University. In 1971, he is believed to have studied computer science at the University of London, living in the city at the same time as Suu Kyi. He worked for the government of the country then known as Burma from about 1975 in the industry and foreign affairs ministries. He left government service in 1992, two years after the country's military leaders refused the NLD an election victory. He has served the NLD ever since and also works as an executive officer for the Daw Khin Kyi Foundation, a charitable body named after Suu Kyi's late mother.
Kyaw is the son of respected poet and writer Min Thu Wun and his wife is current MP Su Su Lwin, a daughter of an NLD founding member. The new president has no experience in parliament and is widely seen as a proxy for Suu Kyi. She herself is barred from holding the presidency under a military government-enacted constitutional rule that bars those with foreign spouses or foreign children to take up the post.
First Vice-President Myint Swe
In contrast to Myanmar's new president, Myint Swe, 64, is a somewhat notorious figure. Still on a US blacklist of people with whom US citizens and companies cannot do business, the retired general is well known for his hardline stance. In 2007, he was the military commander of Yangon Region and led the brutal crackdown on monks participating in the 'saffron revolution' there. Last year, in his post as chief minister of the same region, he deployed groups of vigilantes in Yangon to suppress student demonstrations.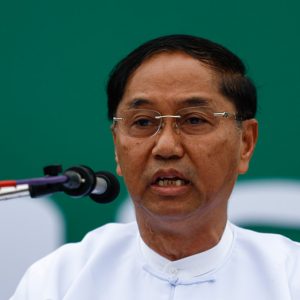 Myint Swe is close to retired former dictator Than Shwe and is related to him by marriage as well as having close ties to the former leader's business associates. Swe graduated from the then Rangoon Defence Academy in 1973 and moved gradually up the military's ranks, becoming a general in 1997. In 2004, after the purge of Prime Minister Khin Nyunt he was promoted to lead a new military intelligence agency.
If Htin Kyaw should leave office, Myint Swe would take charge as first vice-president. His nomination as a candidate by the military, who are allocated 25% of seats in both houses of parliament, caused consternation in the NLD due to his association with past crackdowns. Some see him as proof that Suu Kyi and the military still do not see eye to eye on many issues and believe she and her party may face stiff opposition to their policies.
Second Vice-President Henry Van Thio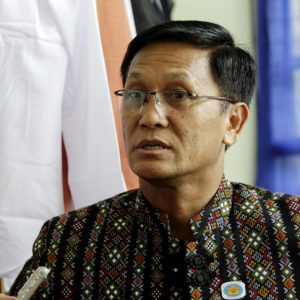 If little is known about the president, even less is known about Second Vice-President Henry Van Thio. He's an ethnic Chin and Christian from Htantlang township, situated in a remote area of Chin State near the border with India. He has a law degree but has performed numerous jobs including serving in the military and as a civil servant, as well as running a tobacco factory. That much can be gleaned from his official biography, but when asked for more details by the Myanmar Times recently, he said he preferred not to speak about his personal life. As an ethnic Chin and a nominee of Suu Kyi's NLD, Thio is widely seen as part of the party leader's promise to be "more inclusive".
Keep reading:
"Myanmar military "doesn't need tricks – it holds all the cards" – As nominees for the post of Myanmar's president were announced, we spoke to leading campaigner Mark Farmaner about the candidate most likely to ascend to the top spot, and what the future holds for the country