Will the Myanmar mining sector become a fountain of cash, or will it prove to be a regulatory black hole?
By Joshua Brown
Myanmar has come face-to-face with the prospect of a literal gold rush. With significant stores of gold, copper, tin-tungsten and other metallic and industrial desposits, Myanmar is seen by some as the last great unexplored frontier of Asia's mining space.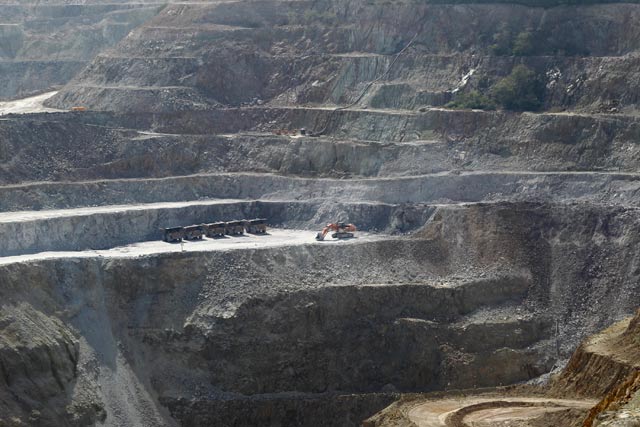 While much of the country's known reserves are largely unexplored, several geologists at the Prospectors and Developers Association (PDAC) convention in Toronto in March thought modern exploration techniques could reveal Myanmar to have among the largest reserves of untapped minerals in the world.
"Having aggregated and cross referenced data from the Myanmar government, the US Geological Survey, the Geological Survey of India and other sources, Myanmar appears to us to be one of the best mineralised, least explored countries in the world, with the potential to become one of the world's great mining nations in the medium to long term," said Lachlan Broadfoot, managing director of Salva Resources, an Australian mining and geological consulting firm, which has just completed one of the largest privately-driven mineral databases in Myanmar.
David Tafel, president and CEO of Centurion Minerals, is another expert convinced of Myanmar's geological merits. The TSX-listed company recently signed an MOU with Eternal Gold Mining to explore and develop the Ba Mauk gold project in the Sagaing Division in central Myanmar.
"Myanmar represents a huge opportunity for mining and exploration companies with the requisite expertise and risk profile," said Tafel. "The existence of hundreds of documented gold occurrences and small deposits throughout Myanmar provide the geological foundation for the discovery of world class deposits, as well as outstanding prospects for upgrading current mines to international standards."
Western excitement about the mineral opportunity in Myanmar is largely newfound. While Asian investors have dominated the mining sector in recent years, with investments of $997m, $855.9m and $396.3m from Hong Kong, China and Thailand respectively – making up the lion's share of foreign direct investment (FDI) in mining – recent changes to the Myanmar Foreign Investment Law (MFIL) and US and European sanctions have opened the market to an increasing number of participants.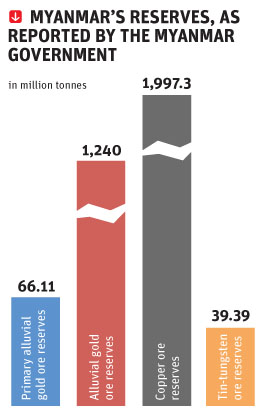 Since July 2012, the US government has steadily continued to remove planks of its once severe sanctions against the country, formerly considered a pariah state by Western powers. The suspension of bans on trade and investment and financial services has unleashed a flood of US business interest, most recently evidenced by the visit of a US Chamber of Commerce delegation of more than 50 senior executives, which closely followed President Barack Obama's landmark visit in November 2012.
The new MFIL, signed into law by Myanmar President Thein Sein late last year, has also positioned the country's economy for participation by US companies, removing many restrictions on foreign ownership for most sectors of the economy and enhancing the country's attractiveness as an investment destination by revamping incentives for foreign companies.
Implementing regulations issued by the Ministry of National Planning and Economic Development in January 2013, however, have ratcheted back some of the perceived liberalisations under the MFIL. The mining industry was among those affected by enhanced restrictions. Under Notification 1/2013, foreign business is excluded from participation in small- and medium-sized mining operations and required to joint venture with local firms for large-scale mining operations, with foreign ownership limited to 80%.
Existing statutes governing mining in the country provide another layer of regulatory challenges for mining companies. The 1994 Myanmar Mines Law and implementing rules and regulations require companies seeking mining permits to joint venture with the government in an arrangement where investors are required to provide 100% of risk capital while splitting share capital ownership with the government. A commonly employed alternative is the signing of a Production Sharing Contract (PSC). Under PSC arrangements, companies are required to provide between 15% and 50% of production in cash or in-kind to the government on top of royalties, corporate income tax and other standard deductions.
While these economic and regulatory requirements have traditionally proved damaging to the country's foreign investment prospects, much is dependent on a proactive government relations strategy. In that regard, senior government representatives have suggested a potential high degree of flexibility over economic terms, as well as investment structuring. The government has actively sought foreign technical assistance on its legislative reform and it is understood that the Myanmar Mines Law is currently undergoing an internal review process and could go before Parliament before the end of the year.
At the same time, companies like Centurion Minerals and TSX-listed Northquest are making headway with mining permit applications. In March, Centurion announced its local partner as Crown Mineral and confirmed that mining exploration applications and associated land package applications have been accepted for processing by the Ministry of Mines.
Myanmar is home to a rapidly evolving and complex regulatory environment for foreign investment. While mining remains one of the most heavily regulated and complicated sectors of the economy, the geological potential of the country holds tremendous allure for companies with the right risk profile and a long-term return-on-investment tolerance. Government relations strategy, partner identification, screening and detailed due diligence will
be among the most important activities for any firm venturing into this emerging economic space. While the road to Myanmar's mineral wealth will not be without some bumps along the way, the mining industry as a whole has the potential to be a key driver of both economic growth and foreign investment success.



Also view

"From prison to parliament" – National League for Democracy MP Phyo Min Thein discusses torture, ethnic violence and Myanmar's long road towards democracy