Since the volcano began rumbling last week, more than 56,000 people have been evacuated from their homes to centres outside Mount Mayon's danger zone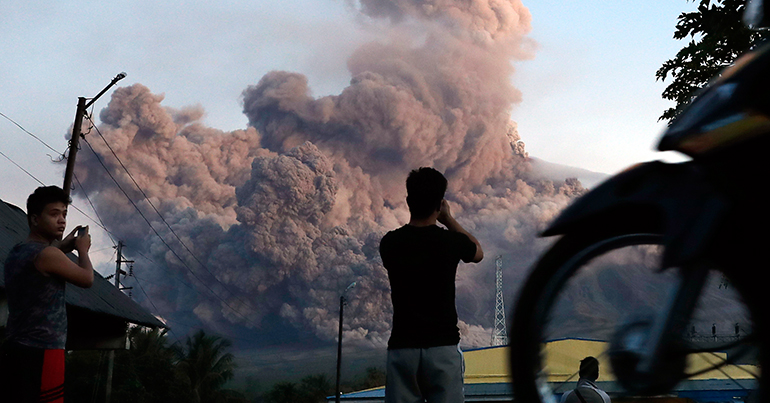 A series of dangerous explosions between Monday night and Wednesday morning at the Philippines' most active volcano forced red-hot lava to shoot metres into the air above Mount Mayon, with the impending threat of a huge and more violent eruption becoming more of a pressing concern.
Since volcanic activity was first detected at the mountain last week, more than 56,000 people have been forced into evacuation centres.
On Wednesday morning, the Philippine Institute of Volcanology and Seismology updated the situation at Mount Mayon with a report that indicated that pyroclastic flows ­– fast-moving waves of super heated gas – had traveled five kilometres down from the volcano's crater.
The institute also reported that between Monday night's initial eruption and Tuesday there had been three additional explosions, with the first episode seeing lava reach 700 metres above Mount Mayon's crater and ash plumes rising three kilometres.
In the last of these explosions on Tuesday night, spectators on the scene were treated to a loud and fiery show that has since been described as the volcano's largest lava display since it began erupting last week.
"We couldn't sleep last night because of the loud rumblings. It sounded like an airplane that's about to land," Quintin Velardo, a 59-year-old farmer, told the AP.
LOOK: Glowing red lava continues to flow from the summit of Mayon volcano in Albay province as of 10:15 PM. (Photos by Joshua Eric Dandal) pic.twitter.com/pbnI1L5hjQ

— The Philippine Star (@PhilippineStar) January 22, 2018

The alert level has been raised to level four on a scale of five, indicating that a hazardous eruption is imminent, while the danger zone was extended from a six to eight kilometre radius around the volcano.
Despite the strong warnings from officials, some locals remain eager to re-enter the zone to check on their homes and livestock, the AP reported.
Speaking at a news conference, Cedric Daep, a provincial disaster response official, said he recommends that the water and electricity within the danger zone be turned off in order to discourage residents from returning, insisting that it is extremely dangerous.
"If pyroclastic flows hit people, there is no chance for life," Daep said. "Let us not violate the natural law, avoid the prohibited zone, because if you violate, the punishment is the death penalty."
Pyroclastic flows are a combination of superheated gas and volcanic debris that race down the slopes at extremely high speeds, destroying anything in their path. They can occur in cases of violent eruptions.
Pacific Ring of Fire active today. #switch2sendai #earthquake #volcano
– PH : Mayon Volcano erupted, 1,000s evacuees
– Japan: Volcano causes avalanche, one death
– Indonesia: 5.3 earthquake jolts Jakarta, buildings swayed
– Alaska: 7.9 Magnitude earthquake led to tsunami alert. pic.twitter.com/q1rz0Dbvxr

— UNISDR (@unisdr) January 23, 2018

There have so far been no reports of deaths or injuries, although several domestic flights have been cancelled as a consequence of the billowing ash clouds.
Within the evacuation centres, the government has provided the staff with more than 30,000 ash masks and around 5,000 sacks of rice, along with medicine, water and other supplies, Office of Civil Defense regional director Claudio Yucot told the AP.
The last time Mount Mayon showed signs of increased volcanic activity was back in 2014, which resulted in the evacuation of around 12,000 families.
Related reading: