On a chilly early morning in the north of Cambodia, Pech Mogn climbed deeper into the jungle tumbling out in front of us, alert and focused. As our feet crunched over a thick, bouncy carpet of leaves and twigs, he halted suddenly – as still as stone – and planted his tall, shiny telescope in the ground, motioning for us to peer up at the canopy above us. "Can you see them?" he whispered. The forest was so silent that even the creaks of bamboo branches grinding against each other were audible. Then, a rustle in the trees and a flash of toffee-coloured fur peeking through the green. A moment later, out into full view they dangled: three odd-looking yet endearing animals with yellow, puffy cheeks peered back at us for a moment before swinging back through the trees. "That's $90 into the villager's kitty," Pech said with a grin.
Pech, a wildlife-watching guide from the acclaimed eco-tourism outfit Sam Veasna Center (SVC), was referring to a new community fund project the centre is implementing in one of their newest destinations in Mondulkiri, a province famous for its undulating forests, coffee plantations and uncharacteristically cool climate in Cambodia's far north-east.
The tour takes intrepid travellers 30km south of Mondulkiri's capital Sen Monorom, to the Jahoo Gibbon Camp, a joint tourism project run by the Wildlife Conservation Society (WCS), SVC and the indigenous Bunong minorities from the nearby village of Andong Kraloeng. The camp serves as the base for guided treks into Keo Seima Wildlife Sanctuary, a biodiversity hotspot covering 3,000 square kilometres, where tourists can spend between two- to seven-days on a safari through thick jungle in search of the 1,000 or so elusive and enigmatic Yellow-cheeked Crested Gibbons that call the place home. This is one of the biggest populations of the primate species in the world.
Visitors also learn about the area's indigenous Bunong culture – an ethnic minority group that have long lived off the Mondulkiri forests but who, in recent years, have been forced out as land concessions proliferate and illegal logging persists. The new community development fund kicked off in late 2016 (SVC have been using the model in other Cambodian destinations since 2006 though) and is part of the Jahoo Gibbon Camp's mission to show locals that conservation can pay off through tourism dollars.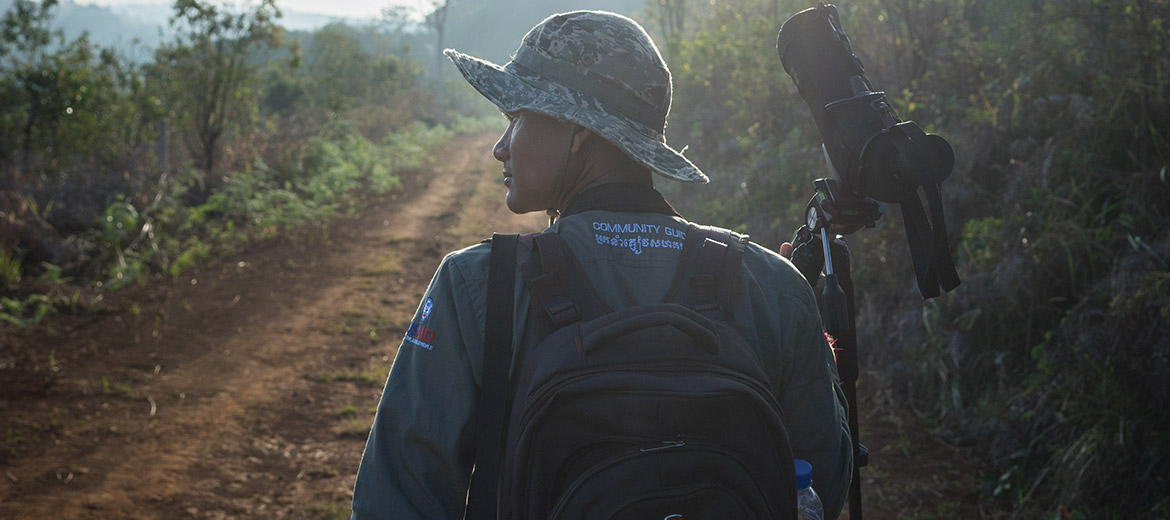 The particular patch of Seima that we explored is part of a "community forest", which means the Andong Kraloeng community can still farm cassava and cashew plants there. In high season, villagers are employed as cooks, guides and gibbon researchers, while in low season training takes place. But each time a tourist spots a key species, SVC donate $15 into the community development fund, (with a maximum of $30 per person) with a Bunong committee set up to decide how it's spent. Currently, there is $4,000 sitting in the bank, Pech told us – enough for the construction of a new system of wells to provide clean, safe drinking water for the community. What's more, in the last year alone, Andong Kraloeng has seen an 81% rise in tourism thanks to the camp.
Just 30 minutes into our early morning gibbon sighting expedition we first spied the family of three yellow-cheeked primates – there are 155 living within a three-kilometre radius of Andong Kraloeung alone. We also learned Seima contains the largest population of the endangered Black-shanked Doucs (a brightly-coloured species of monkey) in the world, tipped to be in excess of 20,000, as well as almost 2,000 Germains Silvered Langurs and Pig-tailed Macaques. Also present are giant squirrels, the endangered Asian elephant, two species of bear, and at least five species of wildcat.
The eco-friendly camp is made up of five safari-style canvas tents, a rustic bamboo dining hut with daybeds and offers sublime golden hour views of the forest, homemade rain showers and even an eco-friendly composting toilet. Over our two-day hiking tour, jungle missions were punctuated by delicious Bunong meals such as trav chouk (a spicy mix of eggplant, fiery chillies, indigenous herbs fish paste and pork fat that's pounded to a pulp) as well as milder, traditional Khmer curries served with rice and washed down with fresh Mondulkiri coffee.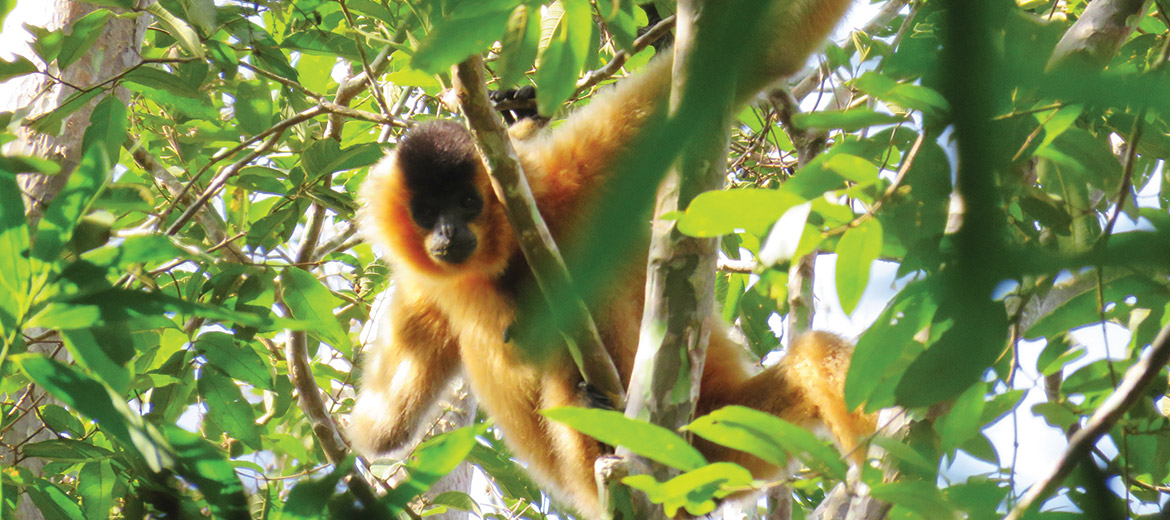 Just like many indigenous cultures around the world, the Bunong's traditions and lifestyle are rapidly changing as development and modernisation sweeps over Cambodia. Over the last 20 years, land concessions given to powerful companies close to the government have pushed many ethnic tribes off their land and have taken from the Bunong the resources they needed for their traditional livelihoods – resin from Trach and Chheuteal Toek trees (considered a luxury wood, most have been depleted), rattan for handicrafts, indigenous herbs and leaves used in traditional cooking. Together with mass urban migration, smart phones and the proliferation of Facebook, the Bunong elders are finding it hard to sustain the younger generation's interest in keeping their culture alive.
"So many outside people come in to convince them [to log]," said Khang Soeung, a WSC tourism officer and former law student who grew up in a Bunong village not far from here. "They offer motorbikes, cars and money. How can we compete with that?" he added. "But if we can convince the people to still make these rich traditional foods, the spiritual offerings, to encourage the connection to the forest and wildlife and show them tourists are interested in this, I think it can turn things around."
The work of SVC hasn't gone unnoticed. Last year, the organisation received an award for 'Best Contribution to Wildlife Conservation' at the World Responsible Tourism Awards in London, selected from a shortlist of 75. While based in Siem Reap, the gateway city to Cambodia's ancient Angkorian ruins, SVC organises bird and wildlife watching expeditions all around the country, from day trips out on the Tonle Sap – Asia's largest lake and home to the flooded forests of Preak Toal Bird Sanctuary – to the grasslands of Preah Vihear in the northwest, one of the last strongholds of the critically endangered Giant Ibis.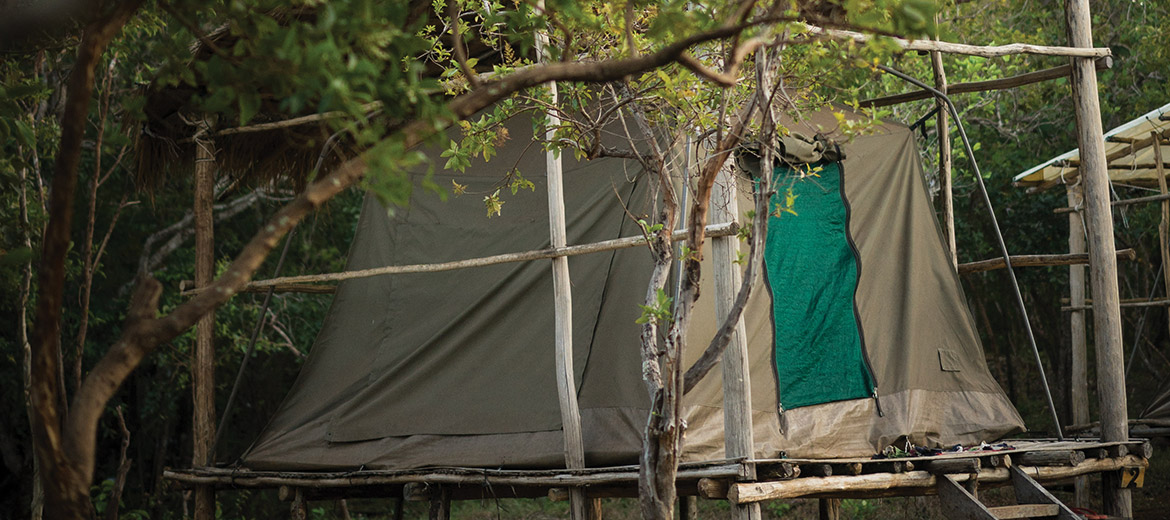 In the Seima forest, Soeung said the Bunong elders have told him they've already noticed changes in the gibbons' behaviour: "Before WCS and SVC worked with us, you couldn't see them, whoosh and they'd disappear. But they're becoming less shy, and more curious; they'll hang around and look at us. These are all great signs that they are healthy and happy."
But according to SVC sales and marketing advisor Alison Curry, all of the good work they and other like-minded organisations, such as Mondulkiri's Elephant Valley Project (EVP) are doing to promote responsible, sustainable travel is at risk due to a recent proliferation of copycat operators spreading false information and "hawkers selling a great story".
"As well as boasting such incredible biodiversity, Mondulkiri is also one of the top five critical areas most at risk globally. Travellers come here specifically for 'nature based' tourism experiences and operators have realised that the tag of 'conservation' is a major draw for visitors who increasingly want authentic experiences that respect people and the planet, and are using them in their advertising slogans. It makes it incredibly hard for a tourist to establish what is genuine and what is just selling an idea with no back up," she said.
What's more, copycat businesses were not just diluting the work of reputable tour operators such as SVC, but were actually harming the communities they claimed to be assisting, Curry said.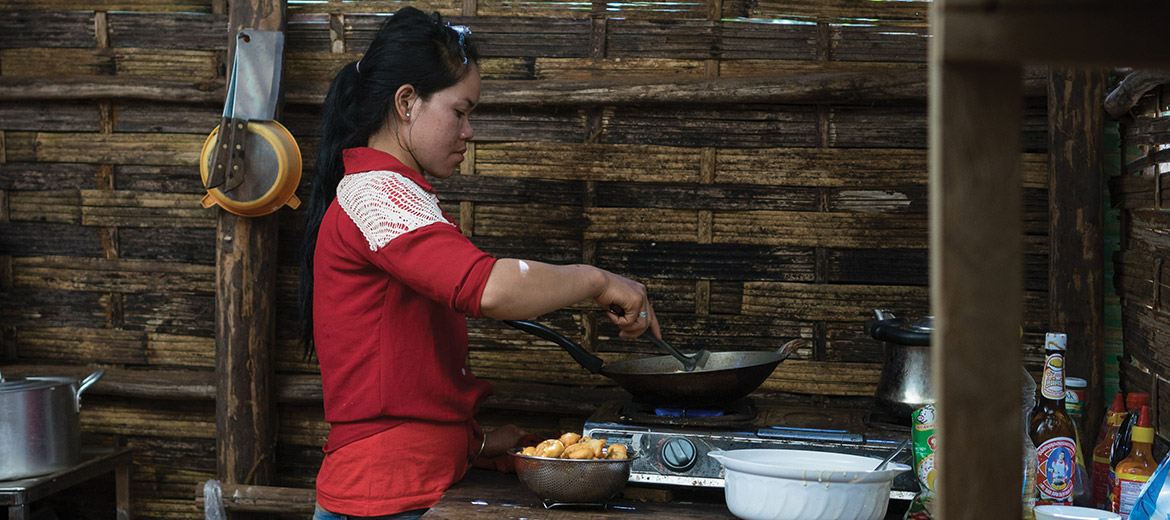 According to WCS technical consultant Harri Washington, recent research they'd completed highlighted that a large number of so-called CBET [community-based ecotourism] experiences were purely operator run and, in the majority of instances, local communities were being exploited and underpaid.
And while EVP's program manager Jemma Bullock said that imitation could be the sincerest form of flattery, she was concerned that the money generated by copycat elephant tour operators was not going where tourists were told it was.
"We are the only true elephant sanctuary here in Mondulkiri and have been here for over ten years. However, there are many other tour options now emerging in this area that are moving away from the traditional elephant riding they used to sell. Most of these may still offer activities like swimming with the elephants or riding the elephants in the river that we do not condone. However, this is also our dream, that this idea will eventually start to be replicated and more elephants will not have to work trekking with baskets on their back and have a better life," she said.
Most worrying was the opaque nature around where copycat outfits were funnelling funds, donations and fees. "We worry that this form of imitation is going the same way as that of the growth in orphanage tourism which multiplied rapidly in Cambodia," she said, adding that the government should be doing more to regulate the CBET industry.
Still, Curry said there are pointers tourists could look out for to ensure they were supporting genuinely responsible travel outfits. Looking for clear and provable benefits and an equitable setup with the communities involved was one, whether through asking in person or through researching the operator's website. "Travellers to somewhere as unique and vulnerable as Mondulkiri need to take responsibility for where they spend their dollars," she said. "The reality is that the those who have a strong model will by nature be a bit more expensive – conservation, building, supporting and investing in these communities on an equal footing, or providing sanctuary and proper care for elephants costs money! If that $15 'community-based ecotourism forest trek with rescued elephants' seems too good to be true – it most definitely is."