A month after the startup received $600 million in funding, the Chinese bike-sharing app has announced a new partnership with Mastercard. But its rapid success hasn't pleased everyone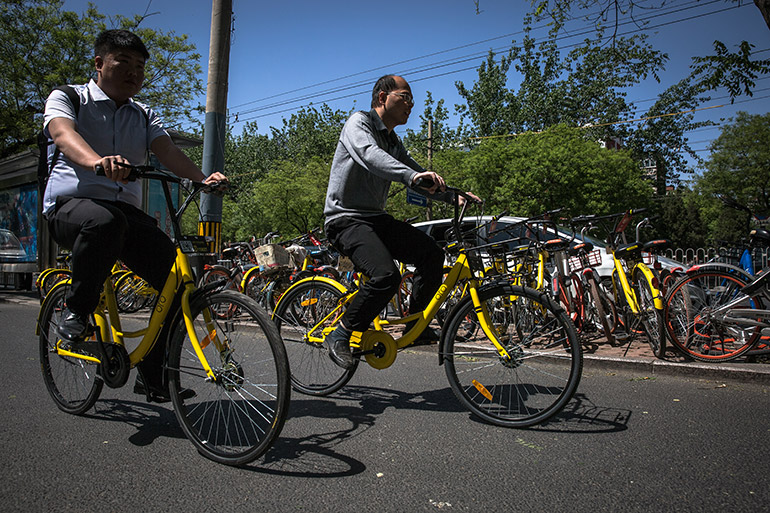 To celebrate their 100th day operating in Singapore, the Chinese bike-sharing app Mobike announced an exclusive partnership with Mastercard today.
According to a company press release, the partnership with Mastercard's Masterpass payment system will "bring tangible insights into the way urban residents travel, and enable local city planners to examine Singapore's transportation systems and how they can be made smarter and more flexible".
It's another success for Mobike, which allows customers to pick up bikes with GPS trackers and leave them wherever they like by using a mobile application. Already operating in 130 cities, the company plans to expand to 70 more destinations by the end of the year.
Mobike is the latest among three private bike-sharing apps operating in Singapore, which together have about 30,000 bikes in use around the city. The success of the apps has given rise to a number of issues related to parking: users are often failing to park their bikes legally and bike-sharing apps have yet to commit to pay for the cost of building new parking spaces across the city-state.
Parliamentarians have called for greater control of the often illegally parked bikes, which they say can cause congestion issues in a city that is plenty crowded as it is.
While plans are in place to make parking these bikes more accessible, patience from the Land Transport Authority (LTA )appears to be waning.
"It is in [the bike-sharing apps'] interest to cooperate with the authorities," Lam Pin Min, senior minister of state for transport, told the Straits Times. "Any public backlash may make the business model unsustainable."
Correction: An earlier version of this article incorrectly said that Mobike had 30,000 bicycles in use in Singapore. That figure was an estimate of all bicycles put in use by three private bike-sharing apps. The article also incorrectly said that Mobike was currently operating in 100 cities; it is operating in 130.