With shins and elbows hard as stone, and muscled bodies sheened with sweat in the 30°C heat, Cambodia's Bokator Mixed Martial Arts Academy fighters stand in military-style rank and file, kicking slowly above their own heads. Their young master, Kru Darith Ung, walks among them, making corrections and whispering words of encouragement. Long, slow kicks build amazing strength and control, but they are deceptively taxing on the body: upon the command to switch legs, the fighters all but collapse.
The training session started 30 minutes earlier with the fighters kneeling and reciting traditional prayers to Bret Brom (Brahma), the patron saint of the Cambodian heritage martial art of bokator. They pray for strength and for the spirits of their ancestors; after prayer and meditation comes bokator training – a flurry of kicks, punches, knees and elbows. Bokator is renowned for having more knee and elbow techniques than almost any other fighting art, and many more kicks than kickboxing.
Children as young as ten have come to learn this traditional art. Once the general training is finished, Kru Darith Ung takes charge of these protégés while Kru Chan Reach, a 25-year-old Cambodian-American from Brooklyn, New York, oversees the older fighters and teaches them the modern skill of Mixed Martial Arts (MMA).
MMA is a fighting art popularised by the Ultimate Fighting Championship (UFC), a US-based organisation that has dominated the sport of MMA since their first broadcast in 1992. Fighters compete in an octagonal cage with a diameter of about five metres, for three five-minute rounds, using any combination of martial arts. Wins come by way of knockout, choke, submission, a referee stoppage, judges' decision, or the famed 'tap out' (voluntary surrender). It is one of the fastest growing sports in Asia.
Cambodia began officially competing in MMA in 2011, when four skilled bokator practitioners were chosen to form the Kingdom's first MMA team. The team flew to Malaysia to compete in Mayhem II, the largest MMA tournament ever held in Asia. The four fighters earned three wins between them out of seven matches at the tournament – a respectable return for any nation's first foray into a new sport.
Many of the techniques used in MMA – kicks, punches, knees, elbows, grapples, chokes and submission holds – are also present in bokator. Following Mayhem II, there was much interest in encouraging Cambodian fighters to return to Malaysia for future tournaments, including from One Fighting Championship – the biggest MMA organisation in Asia.
However, the tournament had proved that although the bokator practitioners had a good base, they needed sustained training in modern MMA techniques such as wrestling and grappling, which are core components of the sport, with many fights going
to ground.
Near the end of 2012, David Minetti, owner and operator of K-1 Fight Factory – an MMA academy in Phnom Penh – worked together with Vath Chamroeun, the first Cambodian to wrestle at the Olympic Games and vice-president of the Cambodian Olympic Committee, to form the Cambodian MMA Federation.
Minetti, technical director of the federation, hopes to launch the first Ultimate Khmer Championships, an MMA event, this year.
"We are actually negotiating with Cambodian Television Network (CTN) and MyTV to produce our MMA Show," said Minetti, whose K-1 academy is sponsoring the training of the Khmer fighters who will compete. "Khmers seem to be very enthusiastic about seeing MMA shown in Cambodia. It's the beginning of a huge adventure and I'm proud to be the one who brought MMA to Cambodia. I'm sure Khmer fighters will compete at the highest level."
According to Aaron Leverton, an executive producer at CTN, work is also underway on an MMA reality show on MyTV called Khmer Warrior Champion. The same channel is due to broadcast One Fighting Championship's Singapore-based MMA events, which are the largest in Southeast Asia. Unlike most overseas sports events, Cambodia will send broadcast teams to cover the events and commentate in Khmer.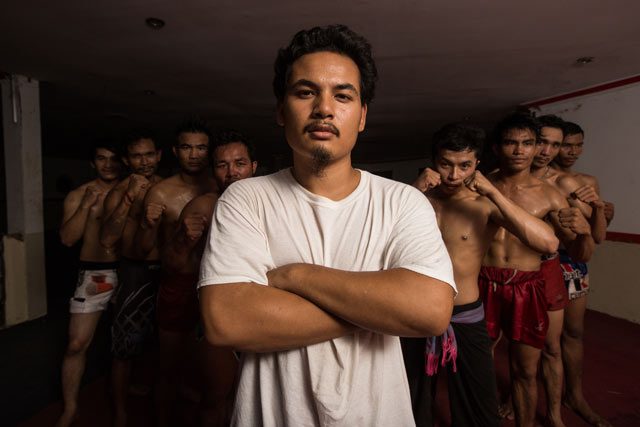 Such developments are indicative of the rise of MMA in Cambodia, which has been aided by the arrival of several overseas practitioners. Coach Kru Chan Reach is one such example. He arrived in 2011, an excellent grappler with 13 professional MMA fights under his belt, to help Khmer fighters with their much-needed wrestling and grappling skills.
"I was born in Brooklyn, but I was raised traditional Khmer," said the 25-year-old, who quit his job as a paramedic and came to Phnom Penh after seeing Cambodians being beaten by French fighters in a local 2011 MMA tournament that was uploaded to YouTube.
"What I'm doing is adding wrestling and jiu jitsu to their game," continued Kru Chan Reach. "The strength that these guys have acquired through training in bokator is very useful and the stand-up [striking] techniques are really unorthodox, so a lot of people won't expect the kind of attacks that we have: the different varieties of elbow strikes, the different angles of how they throw their knees, and the angles they use in general.
All these guys, they don't want to fight other Cambodians any more, they want to fight foreigners

Kru Chan Reach
"One of the main difficulties in training them is getting the fighters to convert to the ground game [that is so crucial in MMA]. They've been training at their art for so long that when you try to teach them something new, they will learn it, but it will be hard for them to put it to use. Overall, though, they're still young, they're still learning, so in time they will be really good."
A new academy was formed earlier this year when master Kru Darith Ung and a handful of black belts broke away from the old bokator grand master to concentrate on integrating modern MMA and bokator, as well as fighting professionally against competitors from other disciplines and countries.
"All these guys, they don't want to fight other Cambodians any more, they want to fight foreigners," said Kru Chan Reach.
Previously, bokator students fought only once a year, in the national bokator championships. This younger generation have started to make their presence felt, driving the future direction of the ancient art of bokator. The academy's master, Kru Darith Ung, is just 29 years old. Bringing a youthful energy to the sport, he has engendered an atmosphere where many fighters are multilingual and know how to take advantage of social networking sites, which could be crucial to bokator's survival. There are some dissenting voices, however. "Some of the [traditional] boxers feel threatened by MMA, because they think MMA wants to take over," said Chann Seiha, a local professional fighter. "Actually, MMA is just a way to fight for your [original] art; to show it to the world."
Alvaro Leal de la Torre, a French MMA trainer who helped prepare the Cambodian team that fought in Mayhem II, agreed that it will take time for the sport to be "accepted by the local Khmer culture" and, although he also foresees the age-old problem of funding and equipment making its presence felt, he is confident of a bright future for bokator and MMA in Cambodia.
"The lack of proper training facilities and adapted training programmes may be a problem for the Cambodian fighters," Leal de la Torre said, "but from what I saw, they are not lacking in motivation, courage and heart."