Bernard Forey, a French entrepreneur of the old school, hopes his bottled water from the hills of Cambodia will drown the competition
By Christian Vits
It was a business idea by chance. "When we first came to Cambodia, we were looking for a plantation," said Bernard Forey, the founder of the country's first locally sourced mineral water producer, Kulara Water.
"The idea came one day when I was with my son who is a pilot. We flew over Phnom Kulen and I saw there was a waterfall at the top of it. I said: 'We must try to find water at the foot of the mountain.' This is how we started. Just by luck."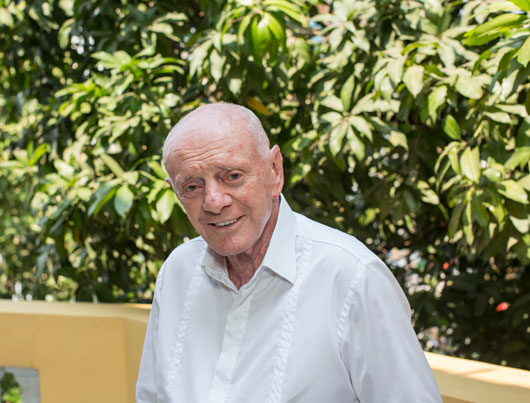 Four years later Forey's company now fills 6,000 to 7,000 bottles per hour with mineral water from Phnom Kulen, a mountain in northeastern Cambodia. The bottles are then sold under the brand name Eau Kulen.
By the end of the year, the 85-year-old will have invested $10 million in the plant, which is run by a Frenchman and employs 36 Cambodians.
"We want to become the number one mineral water producer in Cambodia," Forey said.
"We plan to take 15% of the overall Cambodian bottled water market within three to five years." He estimates Cambodia's market for mineral and purified water at 500 million litres and expects annual growth rates of 5% to 10% in coming years.
Currently, Kulara Water is focusing primarily on Cambodia but is already considering exporting water and building another production site in Myanmar where there is no local bottled mineral water yet.
In Cambodia, Eau Kulen competes with foreign brands such as Evian and San Pellegrino, which have to be shipped all the way from Europe. "We hope that the amount of imported water will decrease slowly because people realise that they can find something locally for the same quality and at a lower price," Forey said.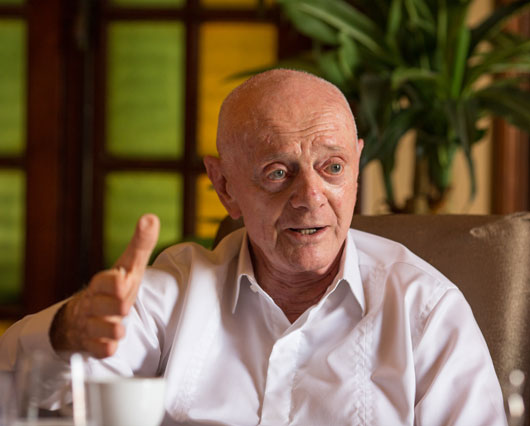 Local competitors, meanwhile, only sell purified water, which is slightly cheaper than Eau Kulen.
"The problem is the competition of companies who are selling filthy water. This water mostly comes from the city and has been treated with a lot of chemicals, which is absolutely awful," Forey claimed.
"These companies are selling their water for between 50 and 70 cents for a 1.5 litre bottle. That means that [with Eau Kulen's retail price of 70-80 cents] we are close. All these other drinking waters might be good for the battery of your car but not for your body," he added with a smile.
Forey is a classic entrepreneur with a sense for opportunities. Before building his business in Cambodia, he set up a variety of enterprises including a tuna fishing and canning company in Indonesia, a hygiene products factory in Myanmar and a vineyard in Australia.
Forey also launched a mineral water bottling plant in Vietnam – La Vie, now owned by Nestlé – and bought two more water companies in Australia. Once they were established, he sold the businesses.
As Forey's managing director, Jacques Marcille, a long-time business partner and friend, phrases it: "Bernard is an enthusiastic entrepreneur, but when the business is running by itself, he gets a bit bored and starts to think about the next project."
Bernard Forey has a very interesting vitae. In one of his first positions, as a geophysicist, he searched for oil under harsh conditions in the Sahara. He arrived in Southeast Asia in 1963, conducted research in the Sumatran jungle for a timber concession and later bought the 360,000-hectare operation. In 1977, the president of France named Forey a chevalier of the Ordre National de la Légion d'Honneur. He moved his focus to Cambodia in 2010 and launched Eau Kulen in April last year.