On a sultry Christmas Day in 2013, as most Filipinos were just waking up, still rubbing their bellies from noche buena feasts forked down the previous night, the police were preparing to raid an unassuming farm outside Lipa City, in Batangas province.
Discovering 84kg of methamphetamine – worth $9.4m locally – they also arrested Gary Tan, a Chinese-Filipino man who the authorities alleged was a leading contact in the Philippines for Mexico's notorious Sinaloa cartel, the largest drug trafficking organisation in the world. Three Mexican nationals were later arrested in connection to the raid, including Horacio Hernandez, a "mid-level Sinaloa cartel" operative, according to Philippine police.
Five years earlier, in 2008, three Mexican brothers were arrested in Malaysia, also accused of producing methamphetamine. Natives of Mexico's Sinaloa state, the homeland of the Sinaloa cartel, the brothers have repeatedly denied the accusations but, in April 2015, Malaysian courts upheld the charges and their death penalties.
Further north, the South China Morning Post reported last June that there was evidence of two major Mexican cartels targeting Hong Kong's lucrative cocaine market, while similar reports have emerged out of Japan and China. And a 2012 UN report stated that Mexican cartels are even attempting to penetrate lesser-developed Southeast Asian countries, including Vietnam and Cambodia, which are often used as drug transit points.
"Mexican cartels are already here," said Jeremy Douglas, regional representative of the United Nations Office on Drugs and Crime (UNODC) for Southeast Asia and the Pacific. Although, he added, cautious not to sensationalise the issue, they are not yet here in great numbers.
Which is nevertheless cause for concern. More than 150,000 murders have been recorded in Mexico since 2006. Not all are cartel-related, but a majority are. Today, the Mexican drug war is a full-scale insurgency fought between the government, the two largest cartels – the Sinaloa cartel, led by the recently apprehended Joaquín 'el Chapo' Guzmán, and the powerful Los Zetas – and a number of smaller illegal outfits. Some commentators even believe the protracted conflict may one day bring down the Mexican state, the 15th richest country in the world.
And now this menace is taking hold in Southeast Asia.
Drug trafficking
The story begins in 2005, when the US government passed the Combat Methamphetamine Epidemic Act. This forced many of the country's crystal meth cooks to flee south of the border and straight into the welcoming clutches of Mexico's cartels. But they found that the raw ingredients needed to produce the drug were hard to source.
"Right away, [the cartels] saw Asia as the big producer of methamphetamine," said Ioan Grillo, a British journalist based in Mexico City and author of El Narco: Inside Mexico's Criminal Insurgency. "There is strong evidence that [they] have been all over Asia, buying the raw materials for crystal meth, moving them to Mexico, producing it there and then trafficking it into the US."
The UN's Douglas confirmed this, but said things have changed in recent years. Meth cooking no longer requires the same base chemicals, yet this has not ended the Mexican cartels' transpacific enthusiasm. Instead, they have expanded their operations.
There is sound evidence that methamphetamine produced in Southeast Asia is now being trafficked into the Americas, and "organised crime from Asia will be looking to hook up with organised crime in the Americas for big deals", Douglas said. The reverse is also true. In March 2014, Philippine police intercepted a shipment of methamphetamine from Mexico at Zamboanga International Airport, on the island of Mindanao, that was supposedly bound for Malaysia.
It is also probable that Mexican cartels are seeking to carve out their own chunks of Southeast Asia's lucrative methamphetamine market. The UNODC estimates that transnational organised crime in the region is worth $100 billion per year on average, with drugs contributing a third of the sum total. "Southeast Asia is the biggest methamphetamine market in the world," said Douglas, adding that prices of crystal meth have soared in recent years and Mexican cartels will "come to where profits are to be made".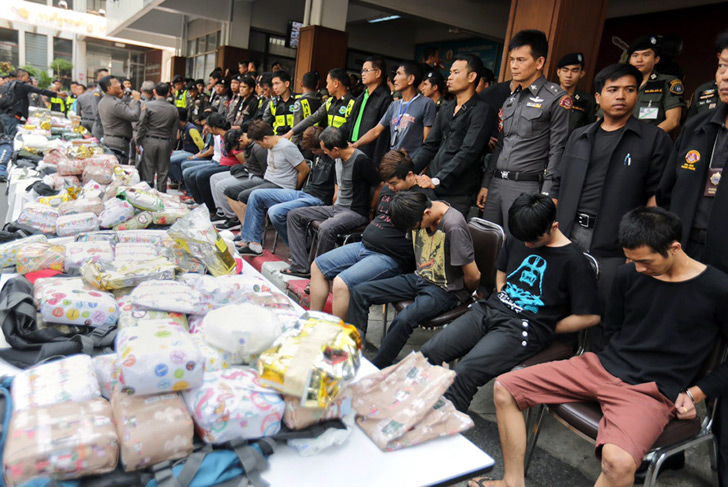 However, it might not only be the methamphetamine market that has intrigued Mexican cartels. According to the UNODC's latest World Drug Report, demand for cocaine is increasing in Asia and Southeast Asia due to rising disposable income and the middle class' voracity for a more 'sophisticated' drug.
"There's strong evidence that Mexican cartels are taking a renewed interest in Asia's dormant but potentially huge cocaine market," said Patrick Tibke,a graduate of the Southeast Asian studies programme at the School of Oriental and African Studies.
However, Asia's cocaine consumption levels are a mere sniff of the size of the methamphetamine market. There are an estimated 1.1 million cocaine users in East and Southeast Asia – 0.07% of the overall population – according to the World Drug Report. And the Southeast Asian share is significantly lower.
Economies of scale, however, somewhat offset this. A gram of cocaine costs up to $100 in Bangkok and $300 in Jakarta, explained Tibke, compared to as little as $20 on the streets of New York City. A quick calculation suggests that one Indonesian cocaine user is the financial equivalent of 15 users in the US.
This also raises a chicken-and-egg situation: are there so few cocaine users in Southeast Asia because of a lack of demand or because of a lack of accessibility? And, if Mexican cartels were able to smuggle more into the region, would rates of usage increase?
According to Tibke, Southeast Asia's cocaine market is likely to continue swelling and the number of users could, in the coming decades, comprise 1% to 1.5% of the region's adult population, similar in proportion to Europe and North America.
"In a market as lucrative as the global cocaine trade – worth $85 billion in 2014 – an expansion of just 0.5 or 1% equates to literally hundreds of millions of dollars," he said.
Mexican cartels are taking cues from President Obama's playbook and undergoing a 'pivot to Asia'.

Patrick Tibke
The coca leaf, which contains the psychoactive alkaloid used to make cocaine, only grows in three South American countries: Colombia, Peru and Bolivia. They remain the world's largest producers of the drug.
Today, cocaine entering Southeast Asia could even be coming straight from these sources without going through Mexico, said Grillo. According to media reports in late 2014, Mexican cartels are now seeking to control South American export markets as well. After police seized eight tonnes of cocaine leaving Peru for Europe that September, Peru's former anti-drug tsar Ricardo Soberon told GlobalPost: "For Mexicans to be running drugs from Peru to Europe, without it ever going anywhere near Mexico – wow!"
According to Grillo, cocaine could be entering Asia directly from Peru, or transported via Panama, which borders Colombia, where there is "an enormous amount of ships going to Asia".
Last May, Bangladeshi customs agents seized almost 100kg of cocaine, mixed into sunflower oil, from a shipping container that had previously docked in Singapore and originated in Uruguay.
International trade treaty
"Southeast Asia is a relatively easy region to ship stuff through," Douglas said. "The capacity of the law enforcement is all over the place. With globalisation and the significant increase in movement between continents, one thing that has become apparent is that policing systems were not designed for this volume of movement, nor intended to cooperate internationally the way they have to now."
He added that this will likely worsen with the inauguration of the Trans-Pacific Partnership, the world's largest free trade agreement, which includes Brunei, Malaysia, Singapore and Vietnam, as well as Mexico and Peru.
"If you double the number of shipping containers moving from one place to another, you double the chances of illegal trade," Douglas said. "There needs to be the systems in place to deal with this, but sometimes it isn't the case and countries will have to play catch-up. The opportunistic criminals know that and are ready to move stuff quickly, without hesitation. They'll be ready to capitalise on big trade agreements."
For Tibke, whose views on what an influx of Mexican cartels means for Southeast Asia are at the more severe end of the spectrum, the region runs the "risk of escalating drug-related violence… rampant corruption and, in a worst-case scenario, [creating] failed states, especially in countries where the rule of law is already weak."
It is a fact that the Southeast Asian drug industry has, historically, not engaged in the gruesome violence that has been seen in Latin America. But Tibke fears this might change if Mexican cartels seek to displace the criminal organisations that have long controlled Southeast Asian markets. To date, most cases in the region involve Mexicans working with the outfits that are dominant locally: Chinese, West Africans and Middle Eastern gangs. While Mexican cartels do tend to value alliances, they also have a track record of removing their allies if it is financially or strategically profitable to do so.
Inevitably, there will be a turf war [in Southeast Asia] between the Mexican cartels, which, as you may have noticed, have a penchant for warring with and even beheading one another.

Patrick Tibke
Douglas was not so sure. He baulked at the idea of 'failed states' and said it is still debatable whether Mexican cartels will continue with local allies or attempt to control the region's entire drug market. It largely depends on how the organisations want to play it, which is more often than not highly unpredictable.
Regardless of any Mexican influences, methamphetamine production is not only increasing in the region, recent UNODC reports show that it has also expanded from its mainland Southeast Asia heartland south into the Philippines and Indonesia. At the same time, UNODC has found that opium production in Myanmar has tripled since 2006.
The arrival of well-trained and brutal drug organisations from Mexico will only cause things to deteriorate even more. Or as Tibke put it: "Throw a few Mexican cartels into the region and you have a disaster waiting to happen."