One Monday a month, in the early hours of the morning, Ibrahim B. Jakob drives his taxi for almost an hour through the congested streets of Kuala Lumpur to the Ad-Deeniah mosque, which is nestled in the grounds of the University Malaya Medical Centre. Upon arrival, he takes off his shoes and proceeds to perform his spiritual ablution. Once that's done, he begins to pray.
After reciting his prayers, the 61-year-old heads to the back room of the mosque, where two young doctors are already waiting for him. They check his file, give him a quick medical exam and then write out his prescription for methadone, an oral medication used to treat people dependent on opioids, such as heroin or morphine. On occasion, they also order a random urine test. But not today. With all these steps completed, Jakob can slip out of the mosque and head to the university pharmacy just across the street to pick up his month-long supply of the drug.
Malaysia has an estimated 170,000 intravenous drug users, with heroin being the most commonly used substance. After decades of committing addicts to public rehabilitation centres, where they were forced to go 'cold turkey', the authorities approved the use of methadone as a replacement drug in the treatment of opioid users in 2005 and rolled out a nationwide, government-funded medication programme. Today, according to University Malaya researchers, there are about 7,000 addicts receiving methadone from government-run clinics and hospitals.
But Ibrahim is not one of them. Instead, he is one of about 70 recovering heroin addicts currently participating in what many see as a pioneering treatment that combines medical and spiritual approaches to tackling substance abuse, called the Spiritual Enhancement Drug Addiction Rehabilitation Programme (Sedar). The initiative is run by doctors from the University Malaya Centre for Addiction Sciences (Umcas) in cooperation with the Malaysian Islamic Religious Development Department and was recognised by the World Health Organisation in 2011 as the world's first methadone programme operating out of a mosque.
Abdul Rashid, the doctor in charge of the participants' medical checkups, is eager to highlight why it is crucial that it operates out of a mosque.
"Most people in Malaysia, and hence most drug users, are Muslim and by coming here they can both pray and receive their methadone," the young doctor says. Perhaps most importantly, Rashid goes on, being able to pray at a mosque and talk to the imam "makes the patients feel less stigmatised", adding to their sense of belonging, which by default aids retention rates.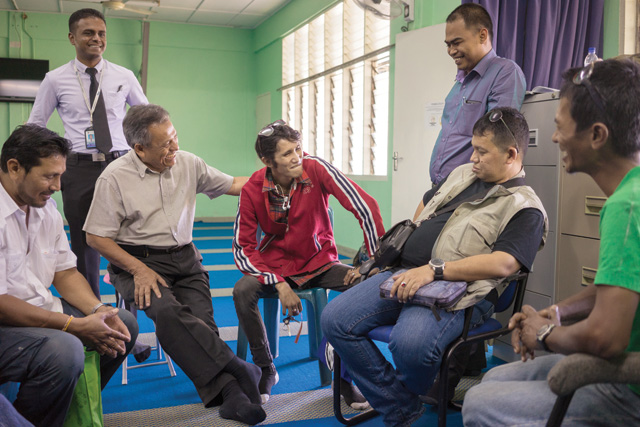 For the first three months of the treatment, all patients are required to attend the mosque once a week and can only receive their methadone prescription after they complete voluntary prayers, called tahyatul, according to Rashid.
"If they don't relapse and we see they are committed to staying sober and getting a job, in the end we only require them to come in once a month, like in Ibrahim's case," he says as he goes through his patient's file. "It's an incentive."
Jakob's story, or at least the beginning of it, is not much different from those of other heroin users. His years of addiction led to him losing his job and his family, though the taxi driver feels he is luckier than others, as he did not end up in prison and was never forced to sleep rough on the street. Thanks to the programme, he says, he was able to regain control of his addiction and his life.
The great success is that I have a job now. Here, I tried to forget about drugs and build my confidence. I was also able to get my family back. The fact that I can pray here helps too.

Ibrahim B. Jakob
Another cause for celebration, according to Dr Rusdi Abd Rashid, the head coordinator of Sedar, is the retention rate of patients participating in the programme and their reintegration into society as valued individuals who are able to hold a job and lead a more or less normal life.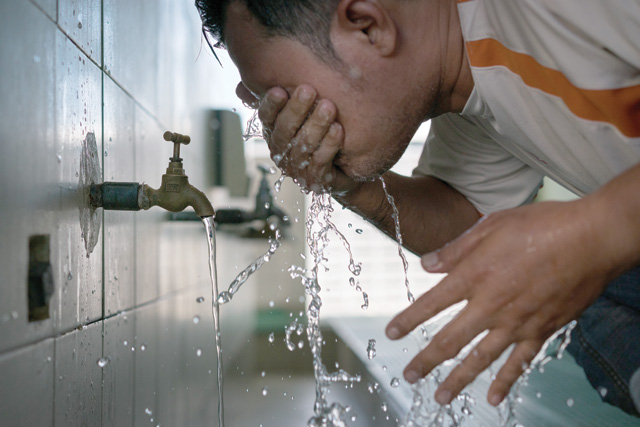 "Our study revealed that the programme is as good as the government's [methadone] initiative. In fact, the spiritual addition to the treatment approach has yielded even better outcomes, with 83% of addicts sticking to the programme for a year. And most of them are gaining employment and being reintegrated into society," he says.
With government clinics packed to the brim, Dr Rusdi and his colleagues are eager to launch the programme in other mosques and possibly also in Hindu temples across the country. However, their efforts have been stifled by a lack of funding and prejudice against the addicts – those associated with illicit drugs still face social stigma and exclusion in the Muslim-majority country, where penalties for heroin use vary from five years imprisonment to whipping.
The difficulty of convincing people of the virtues of this approach is best illustrated by what happened when the programme was launched in 2010 at another Kuala Lumpur mosque, Ar-Rahman Masjid. The surrounding communities, together with the newly appointed imam, rallied against the presence of heroin addicts at their place of worship, accusing them of stealing valuables and money from donation boxes.
"Sometimes community members don't understand how the programme works and are prejudiced. They don't know that we screen everyone very carefully and that we don't just let anyone into the programme" says Dr Megat Haris, the programme's psychiatrist and motivational coach, who is a regular at the mosque.
So somebody's shoes went missing. Was it the addicts? I don't know. Maybe, maybe not. Shoes are stolen at mosques all the time.

Dr Megat Haris
As for the religious authorities, he goes on, some imams believe that the use of methadone in order to treat heroin addiction is haram – forbidden in Islam. But this attitude, he points out, is at odds with the rulings of the Fatwa Committee of Malaysia's National Council of Islamic Religious Affairs, which proclaimed that methadone is halal – meaning 'allowed' in Arabic – provided it is prescribed by a doctor for drug-treatment purposes.
Because of these attitudes, and to the dismay of some 50 recovering heroin addicts at the time, the original Ar-Rahman Masjid programme was put on hold back in October 2012.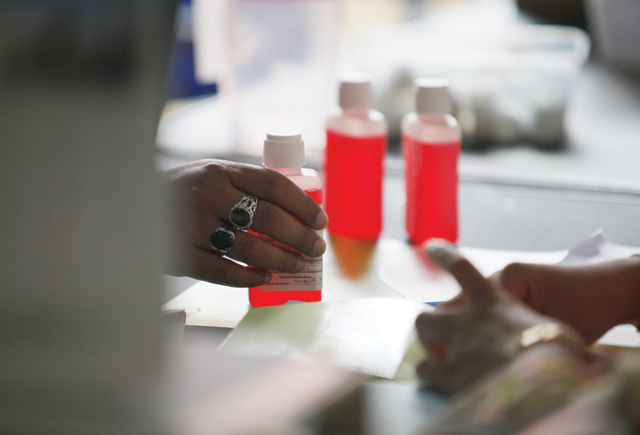 Committed to keeping it operational, Umcas doctors swiftly moved it to the current location. "We have been operating out of this mosque for two years now. And we have no problems with the imam here," Haris says with a large grin.
"Here he comes. Sal'm Aleykum," Haris says as he gets up and greets the imam, who is dressed in a fashion that in no way indicates he is a spiritual leader.
The 37-year-old imam is a firm believer in the effectiveness of what he calls "the Islamic intervention".
I don't like to wear any special clothes here. They make me look too official and I'm here to talk to people about their problems.

Iman Karmal Isaac Matisa
"I think that combining the methadone aspect with the spiritual aspect leads the people who come here to learn and try to change. Maybe before they didn't pray but now they know how to do it. The religious aspect makes them want to become a good person and also gives them structure; that's why it's so successful," he says. Iman Karmal Isaac Matisa
As the morning progresses and more men trickle into the back room of the mosque, the connections they make here, along with the support from their peers and those running the programme, seem to play a pivotal role in their recovery process. There are hearty handshakes, sometimes even hugs, accompanied by – perhaps surprisingly – many jokes.
And everyone is more than willing to talk and share his or her success story.
"I've been with the programme for almost five years. I had only one relapse in the beginning. I have been clean since then," says a man who asked to be identified as Mohammad, as everyone sits down in a circle for a discussion. "I didn't have to be here today. I already picked up my methadone earlier. But I come here as often as I can so I can meet my friends."