Young designers are taking notes from centuries-old traditions while adding modern European-inspired twists and their own artful touches as they work to put the Kingdom on the fashion map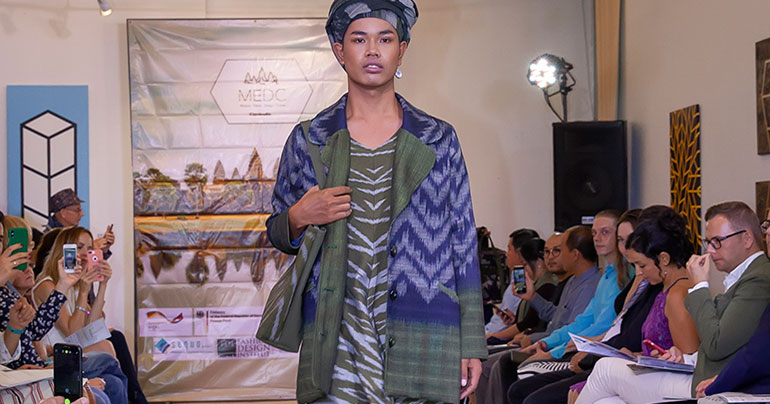 Stalking the runway in red-soled heels, the model's purple cloak trails behind him like a Roman emperor's. Crowned with a violet headdress slashed with the jagged diamonds of Cambodia's antique heritage, he throws back his shoulders, thrusts out his clutch like a sceptre and scowls for the cameras.
Min Yusof, the young Cambodian designer whose androgynous works adorn the local Adonises strutting their stuff for the crowd in Phnom Penh's Meta House, said the striking shapes of his creations paid homage to one of Cambodia's most ancient art forms.
"My fabric is all cotton and silk, and I use the traditional Cambodian technique of ikat," he said. "Before, it was only used with silk, but now we've transferred the technique to cotton for a different look."
Immortalised in the stone dresses clinging to the carved celestial dancers of Angkor Wat, the Cambodian tradition of ikat – in which woven bundles of threads are twisted into kaleidoscopic shapes before being dyed – has been a staple of the nation's silk weavers for centuries. For young designers like Yusof, this age-old art offers the fledgling fashionista a chance to connect with his cultural heritage, and also to transcend it.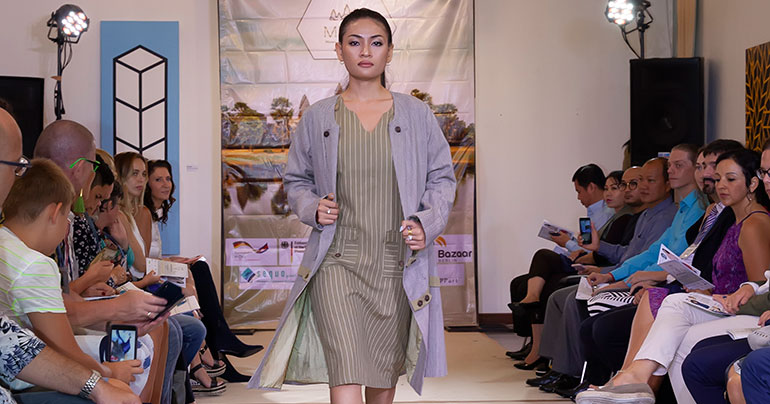 "I was so nervous before the show," he said. "It was my first time doing a collection – before I just worked as an assistant designer. I want to be a designer to create traditional styles with a modern look."
Yusof is one of five young designers who will be exhibiting their collections at the prestigious Bazaar Berlin trade fair in Germany. These up-and-coming designers were selected from a cohort of Cambodian students from the Modern Ethnic Design Centre, a European-funded training centre in Phnom Penh headed by Dusseldorf-based designer Annika Geiger. Now they're working to tear down an image of Cambodia's fashion industry that relegates locals to the factory floor.
Exhilarated as she watched her students' designs strutting down the runway, Geiger told Southeast Asia Globe that the programme drew upon both millennia-old Cambodian traditions and more contemporary fashion trends.
"We tried to use the Cambodian fabrics with the Cambodian traditional weaving and the traditional ikat dyeing technique as well, and they're really proud of that," she said. "We did have a lot of very traditional fabrics, and we tried to put them into European designs to make them fit the European target group as well. We looked at some of the trend colours, trend patterns, cuts that are in right now and that the target group wears right now, and tried to transfer that into a sort of modern look with the traditional Cambodian fabrics, because that's what the designers are really proud of. They all use hand-woven fabrics made from cotton and silk, all hand-spun. That's their Cambodian culture."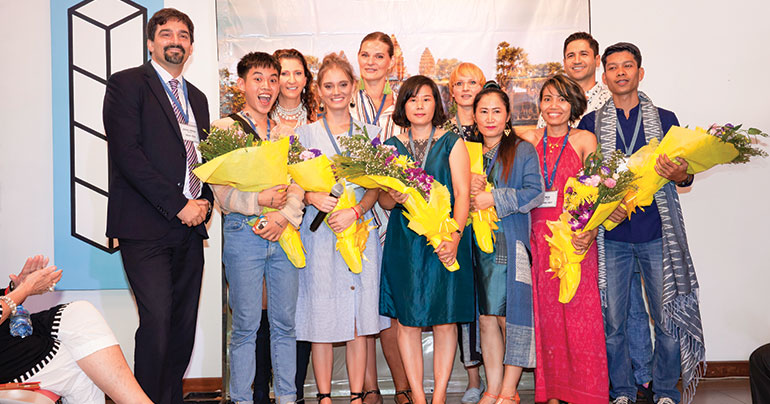 Designer Chhem Saron's collection draws not upon the faded patterns etched into Cambodia's towering temples, but the lopsided paper animals figures folded by her young son. A far cry from the silken capes slung across the shoulders of the slender models gliding down the runway, her playful designs clothe her diminutive models with all the gentle delight of childhood.
"I'm a mum, so when I go out to a market to shop, it's for my children, my nephews and my nieces first. That's me," she said. "We homeschool, so when I take my son out, I like to watch the children play. When the children play, they really have their own imagination. Even when they play alone, they have their own imagination, they're super creative. So that's how I came up with the designs. I wanted something creative but still Cambodian. And I want something fun for a child so they can carry their own story."
Ngorn Vanntha, whose collection entwines the silk work of generations of women with an understated elegance, was optimistic about bringing her designs to a more international audience.
"I think this is a good programme for Cambodians, especially to empower and promote the local products to international markets," she said. "We make different kinds of silk handicrafts, but the target customer is in an international market. So I think this is a good test that the programme provides us the opportunity to design and to test the flavour for the German market."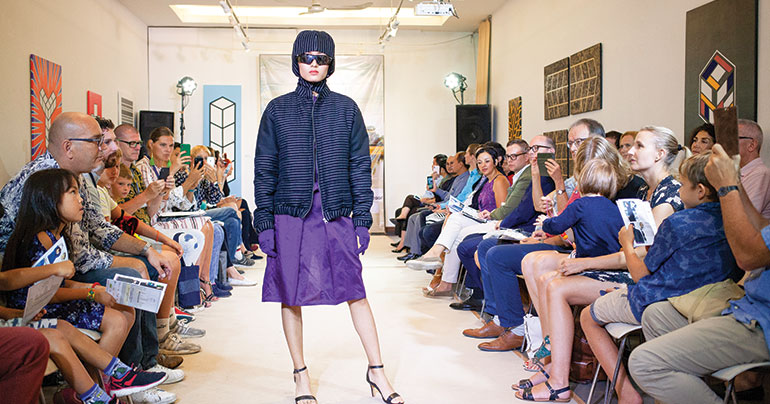 Vanntha believes that connecting Cambodia's young fashion designers to buyers in Berlin is essential to helping the Kingdom's ethically sourced silk sector find a sustainable business model.
"So one, we have a market, and then we can provide more employment opportunities to rural women, and especially to young girls who have quit school and women who are not working in acceptable conditions in factories," she said. "The factory is a completely different working environment with completely different conditions. So we want to provide these permanent jobs and regular incomes to those groups in rural areas – and we want to provide a fair, straight price and a fair fashion to the people."
Vanntha, whose social enterprise Color Silk employs more than 500 rural women as silk weavers, said that finding the right buyer for Cambodia's emerging fashion industry would provide essential employment for women left behind by the nation's increasing urbanisation.
"It's very, very important to me that I find or innovate something which makes the weaving sustainable in terms of the market – otherwise the women cannot continue," she said.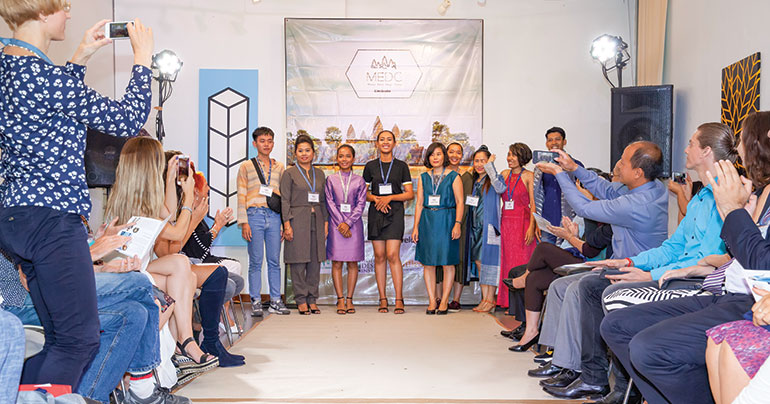 For head designer Geiger, helping a new generation of Cambodian fashion designers realise their vision of a contemporary twist on their cultural heritage was a victory in itself – one that she hopes will inspire other young fashionistas to follow in her students' footsteps.
[manual_related_posts]
"We try to get students that are interested in developing and in taking the Cambodian culture into Europe – not just having it here in Cambodia, but evolving and using the traditional patterns and elements and putting that onto the Western market," she said. "So we try to find students who are interested in putting that tradition out there and helping their country evolve to spread their traditions – but also in a modern way."
This article was published in the October 2018 edition of Southeast Asia Globe magazine. For full access, subscribe here.